Toilets of the World
Welcome to the Toilets of the World, where you can view toilets and other plumbing from all around the world. Are you wondering how to use a bidet, or even what a bidet is? Curious about what the toilets are like in a specific country such as France, Turkey, China, Greece, Japan, or many others? Would you like to see some of the worst toilets in the world? Or maybe you're interested in historical toilets, from ancient Greece and Rome, or even the Stone Age? Do you wonder who invented the flush toilet? (It wasn't Thomas Crapper) You've come to the right place!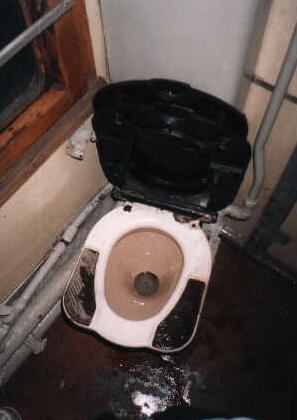 Notice the footpads on this toilet on board a
Latvian passenger train
. This passenger car was built in Russia during the days of the Soviet Union, when rail cars provided squatters for passengers from Central Asian Soviet republics.
Lower the seat and it's a raised throne. With the seat up, as seen here, it's an elevated squatter.
The tricky part is balancing on those foot pads as the train sways and bounces along poorly maintained rail lines! See the dedicated
train toilet page
for many examples from railroads around the world.
Check back tomorrow for another featured toilet!
Follow @ToiletGuru
Tweet
Google+
delicious
Tour the Toilets!
Let's get to the toilets!
---