Toilets of the World
Welcome to the Toilets of the World, where you can view toilets and other plumbing from all around the world. Are you wondering how to use a bidet, or even what a bidet is? Curious about what the toilets are like in a specific country such as France, Turkey, China, Greece, Japan, or many others? Would you like to see some of the worst toilets in the world? Or maybe you're interested in historical toilets, from ancient Greece and Rome, or even the Stone Age? Do you wonder who invented the flush toilet? (It wasn't Thomas Crapper) You've come to the right place! The Toilets of the World are ready for your visit. Learn about toilets, bidets, urinals, sinks, tubs, and other plumbing from all around the world.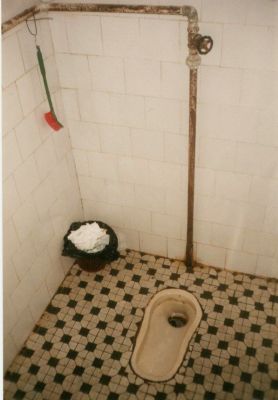 This basic
squat toilet
is in Guangxi Province in south-eastern China, but its fundamental design is common world-wide.
Did you know that many people argue that
squat toilets
are better for your health? They certainly are
easier to clean
!
See the dedicated page for both sides of the question:
Squat or Sit?
Check back tomorrow for another featured toilet!
Follow @ToiletGuru
Tweet
Google+
delicious
Tour the Toilets!
Let's get to the toilets!
---