Toilets of the World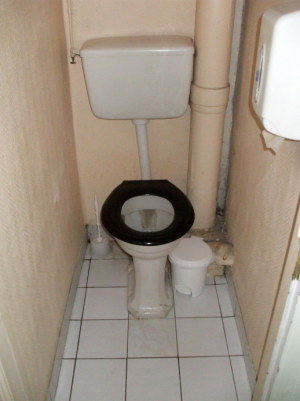 Lower-cost French hotels
, the far more interesting ones where you meet and talk with the owners, sometimes have
en suite
rooms (with their own toilets) but they frequently feature a
toilette au couloir,
a toilet down the hall as seen above.
The shower may be down the hall, or even on a different floor. Go to the front desk and get the shower key, and make sure to return it when you're finished!
I have an extensive collection of
French toilets
, including
pissior publics
, brasserie
toilets
, the
Paris sewers
, on board the high-speed
French trains
, and the
automated public toilets
invented in France years ago and only recently appearing in the U.S.,
Check back tomorrow for another featured toilet!

Welcome to the Toilets of the World, where you can view toilets from all around the world. Are you wondering how to use a bidet, or even what a bidet is? Curious about what the toilets are like in a specific country such as France, Turkey, China, Greece, Japan, or many others? Would you like to see some of the worst toilets in the world? Or maybe you're interested in historical toilets, from ancient Greece and Rome, or even the Stone Age? Do you wonder who invented the flush toilet? (It wasn't Thomas Crapper) You've come to the right place! The Toilets of the World are ready for your visit. Learn about toilets, bidets, urinals, sinks, tubs, and other plumbing from all around the world.
Tour the Toilets!
Let's get to the toilets!