Toilets of the World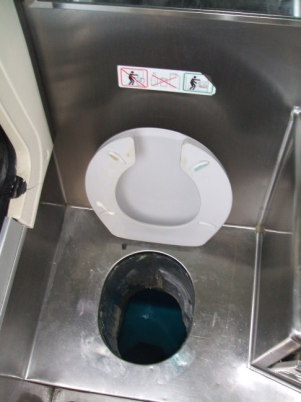 Inter-city buses
are not really the best setting for a
mobile toilet
. This example is from the U.S. Greyhound line.
U.S. buses
are not very nice ways to travel. The Greyhound line in particular seems to have a market whose brand loyalty is based on fond memories of rides home from prison. Megabus provides much nicer rides avoiding the Greyhound stations, which often are the worst places in cities. But their
on-board toilets
are almost identical.
National Express, Citylink, and other U.K. intercity lines have
much nicer on-board toilets
.
Check back tomorrow for another featured toilet!

Welcome to the Toilets of the World, where you can view toilets from all around the world. Are you wondering how to use a bidet, or even what a bidet is? Curious about what the toilets are like in a specific country such as France, Turkey, China, Greece, Japan, or many others? Would you like to see some of the worst toilets in the world? Or maybe you're interested in historical toilets, from ancient Greece and Rome, or even the Stone Age? Do you wonder who invented the flush toilet? (It wasn't Thomas Crapper) You've come to the right place! The Toilets of the World are ready for your visit. Learn about toilets, bidets, urinals, sinks, tubs, and other plumbing from all around the world.
Tour the Toilets!
Let's get to the toilets!