Toilets of the World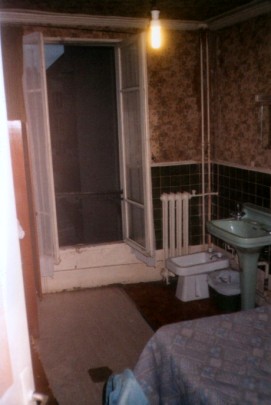 This bidet and sink in
l'Hôtel de Médicis
in Paris is just like that in the room directly above, the room occupied by
Jim Morrison
in 1970 and 1971.
L'Hôtel de Médicis was a traditional family-owned small hotel in the
Latin Quarter
in Paris, just south of the Sorbonne.
By 2009 the family had given up the hotel business and l'Hôtel de Médicis was gone. But not before I stayed there and
photographed its plumbing
!
Check back tomorrow for another featured toilet!

41 days until World Toilet Day
Welcome to the Toilets of the World, where you can view toilets and other plumbing from all around the world. Are you wondering how to use a bidet, or even what a bidet is? Curious about what the toilets are like in a specific country such as France, Turkey, China, Greece, Japan, or many others? Would you like to see some of the worst toilets in the world? Or maybe you're interested in historical toilets, from ancient Greece and Rome, or even the Stone Age? Do you wonder who invented the flush toilet? (It wasn't Thomas Crapper) You've come to the right place! The Toilets of the World are ready for your visit. Learn about toilets, bidets, urinals, sinks, tubs, and other plumbing from all around the world.
Tour the Toilets!
Let's get to the toilets!