Toilets of the World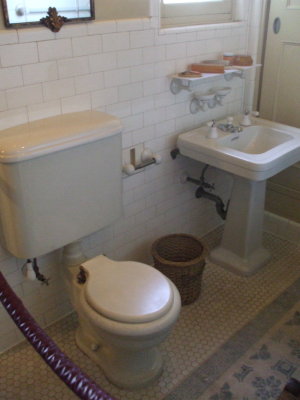 William Randolph Hearst
was an amazingly influential man. Teddy Roosevelt wanted a war, and Hearst's newspapers gave it to him by driving public opinion to support the war with Spain in 1898. But Hearst, like any man, still needed ordinary
toilets and sinks
.
This is one of the many
guest bathrooms
at Hearst's mountaintop estate at San Simeon along the California coast. He continually designed, built, re-designed, and re-built the complex over the period from 1919 through 1947.
Guests using
these guest rooms and baths
included Winston Churchill, Calvin Coolidge, and Franklin Roosevelt, along with many Hollywood figures.
Check back tomorrow for another featured toilet!

Welcome to the Toilets of the World, where you can view toilets and other plumbing from all around the world. Are you wondering how to use a bidet, or even what a bidet is? Curious about what the toilets are like in a specific country such as France, Turkey, China, Greece, Japan, or many others? Would you like to see some of the worst toilets in the world? Or maybe you're interested in historical toilets, from ancient Greece and Rome, or even the Stone Age? Do you wonder who invented the flush toilet? (It wasn't Thomas Crapper) You've come to the right place! The Toilets of the World are ready for your visit. Learn about toilets, bidets, urinals, sinks, tubs, and other plumbing from all around the world.
Tour the Toilets!
Let's get to the toilets!
---