Toilets of the World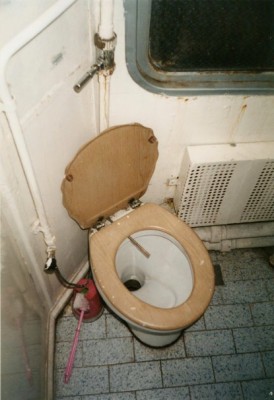 Some
Turkish toilets
are raised porcelain commodes, like many (but not all!) those found on trains and in hotels and restaurants catering to foreign visitors.
Turkish raised commodes
typically have a somewhat intrusive copper tube providing cleaning water, as seen here.
Turkish squat toilets
are accompanied by a water spigot and a small bucket or pitcher, which for mysterious reasons is almost always red.
Turks have traditionally used
water for cleaning
, with tissue paper only provided rarely for drying oneself. But a recent trend has rolls of toilet paper appearing throughout Turkey.
Check back tomorrow for another featured toilet!

Welcome to the Toilets of the World, where you can view toilets and other plumbing from all around the world. Are you wondering how to use a bidet, or even what a bidet is? Curious about what the toilets are like in a specific country such as France, Turkey, China, Greece, Japan, or many others? Would you like to see some of the worst toilets in the world? Or maybe you're interested in historical toilets, from ancient Greece and Rome, or even the Stone Age? Do you wonder who invented the flush toilet? (It wasn't Thomas Crapper) You've come to the right place! The Toilets of the World are ready for your visit. Learn about toilets, bidets, urinals, sinks, tubs, and other plumbing from all around the world.
Tour the Toilets!
Let's get to the toilets!
---