Toilets of the World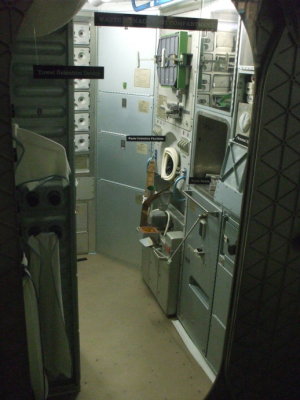 Skylab was the U.S. space station in the 1970s. An additional unit was built and could have been orbited if funding hadn't been cut, it's now in the National Air and Space Museum in Washington D.C.

This is Skylab's Waste Management Compartment. The square opening into the bulkhead at right is the Wash Basin. The white oval plastic device and the surrounding plumbing are the Waste Collection Facilities.

My page of Spacecraft Toilets includes toilet systems from the Soviet/Russian Mir (or Мир) and Soyuz (or Союз), and urine and fecal collection systems from Apollo 11, the first manned lunar landing, from the early Mercury program, and the later Space Shuttle.
Check back tomorrow for another featured toilet!
delicious
New! Test your lavatorial knowledge with our toilet quizzes!
Tour the Toilets!
Toilets from throughout history:
Toilets of artists and authors:
Answer for your important questions:
Who is the Toilet Guru?
I am Bob Cromwell, my main site is here. This part of my site spun off onto its own domain in 2010.
Am I obsessed with toilets?
No! I'm just willing to admit that I find the topic somewhat interesting. I've taken lots of other travel pictures. And hey, I'm not the person reading this page, probably after doing some sort of web search for toilets! Why are you reading this?
When you travel off the beaten path, it doesn't take long until the question comes up. "Well, you know, how did you, well, when you had to, well, uh, what was it like?" So here are pictures I have taken of toilets I have encountered.
We've all been there. Nature calls and the only answer is a toilet with more levers, switches, and buttons than Wile E. Coyote's latest invention. What to do? If you're Bob Cromwell, the answer is obvious: You take a picture. Dedicated to the man and the latrines he's dared to use, Toilets of the World features photos and captions from Bob's many encounters with the cryptic, the seatless, and the downright weird. During his travels through Russia, East Asia, and South America, Bob never met a commode he didn't want to remember. From an Ottoman-era throne of a more modest variety to a hole-in-the-ground kind enough to offer tips on feet placement, you're bound to gain a quick appreciation for Bob, the Indiana Jones (and Ansel Adams) of latrines.
Do Foreigners Have Strange Toilets?
Whoever you are, you are going to think that other countries have strange toilets. But remember, they are thinking the same thing about your peculiar plumbing. Someone from the U.S. wrote me: "I visited Italy 3 years ago and had no idea that some restaurants had in-ground toilets. I was just aghast when I went into the john, but eventually figured it out."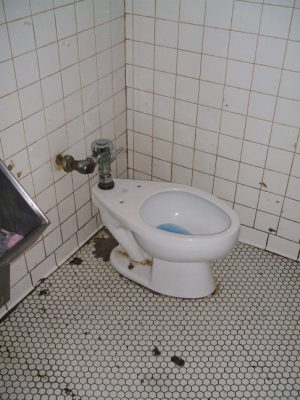 As I replied to her, try to imagine the poor visitor to the U.S. They have just been subjected to what is among the world's rudest and most intentionally intimidating border crossings. Then they enter a dirty American airport restroom. They are now expected to press their bare flesh against a plastic seat against which untold thousands of strangers have rubbed their bare buttocks since its last thorough cleaning. And just what is this mysterious fluid dribbled all over the seat? This is the product of an advanced civilization?
So, yes, everyone's toilets are different. But "different" doesn't mean "worse". For example, the squatter is a far cleaner design for a public toilet.
Sadly, squeamishness and a fear of the unfamiliar contribute to keeping so many Americans from learning about other countries and cultures. I started collecting these pictures and building these pages after so many Americans told me something along the lines of, "Well, I would like to travel, but I just could not deal with foreign toilets." Then they smile proudly, as if their fear and ignorance were somehow virtues. If foreigners can put up with nasty American public toilets, then surely Americans could deal with other countries' relatively clean ones.
Before venturing overseas for the first time, Americans really need to know the answers to a few basic questions:
Let's get to the toilets!
Why is there no picture of your favorite toilet?
Before you complain that I have not yet visited and photographed your favorite one, realize that (with one exception) these are all places I have been. If you would like to send me an airline ticket to Hawaii, Kenya, India, coastal China, or wherever, please just contact me for the shipping details. Until then, don't expect my pages to always show your favorite toilet. To clarify, I do not:
Have pictures of toilets that you have visited but I have not. (nor do I want your pictures)
Have any specialized toilet graphics for your clip-art collection.
Want to get involved with your toilet artwork project.
Know how to ask "Where is the toilet?" in any languages other than the 83 listed on the travlang.com site (really, some people complain about this!)
Guarantee any accuracy for the Farsi or any other linguistics on the travlang.com site (and really, some people complain to me about this!)
Plan to respond seriously to any requests for bids for: As you can see from those links, I will respond. But not in any useful fashion.
Have any archives of images of Queensland toilets of the 1970's, Nepalese mountainside toilets, Chinese farm toilets, or any other toiletological arcana which I have not visited.
Want to help you sell your toilet-related invention or promote your bizarre enema regimen. And seriously, if it's someone else's enema regimen, it's always bizarre.
Want your pictures of toilets — please don't send them!
I do, however, have quite a few pictures of toilets and some of related plumbing.
Not Just Toilets — Sinks, Vanities, and More!
I have been very surprised at the interest in this collection! Well, toilets are a part of everyday life, at least for some of us (and see the below section for why that isn't the case for everyone).
I have realized that I need to be more generalized in my plumbing photography, photographing sinks, vessel sinks, bathroom vanities, hot water heaters, washing machines, and more.
Here are some suggestions for those of you with broader taste in plumbing:
Message received — watch for expansion of these pages as I take a broader view of plumbing photography!
Recommended Reading
Rose George's The Big Necessity: The Unmentionable World of Human Waste and Why It Matters is a fascinating description of sanitation conditions around the world. To quote from the introduction:
[....] 2.6 billion people don't have sanitation. I don't mean that they have no toilet in their house and must use a public one with queues and fees. Or that they have an outhouse, or a rickety shack that empties into a filthy drain or pigsty. All that counts as sanitation, though not a safe variety. The people who have those are the fortunate ones. Four in ten people have no access to any latrine, toilet, bucket, or box. Nothing. Instead they defecate by train tracks and in forests. They do it in plastic bags and fling them through the air in narrow slum alleyways. If they are women, they get up at 4 A.M. to be able to do their business under cover of darkness for reasons of modesty, risking rape and snakebites. Four in ten people live in situations where they are surrounded by human excrement because it is in the bushes outside the village by in their city yards, left by children outside the backdoor. It is tramped back in on their feet, carried on fingers onto clothes, food, and drinking water.

[....] Poor sanitation, bad hygiene, and unsafe water — usually unsafe because it has fecal particles in it — cause one in ten of the world's illnesses. [....] Diarrhea — nearly 90 percent of which is caused by fecally contaminated food or water — kills a child every fifteen seconds. The number of children who have died from diarrhea in the last decade [1998-2008] exceeds the total number of people killed by armed conflict since the Second World War.
This Page is Scientific, and Award Winning!
Or at least some of the imagery was used in a medical journal. See "Extract from Clinical Evidence: Diarrhoea", in "Student British Medical Journal", British Medical Association, v8, April 2000, pp 107-108. It may still be archived on the net at http://www.studentbmj.com/back_issues/0400/education/107.html
The textbook Consumer Behaviour, to be published by Oxford Press in 2014, will use my picture of the urinal flies at Amsterdam's airport.
Some of the images were used in the "Flushed" episode of the program Ordinary Things on the National Geographic Channel, November 2006.
It was featured in the 12 Feb 2003 Pittsburgh Post-Gazette
One of the photographs was used in "Angie's List", November 2006 (pg 17), published by William S Oesterle, 1030 E Washington St, Indianapolis IN 46202.
It appeared in Phillip Milano's UP-syndicated column "Dare to Ask" originating in the Jacksonville Florida Times-Union and appearing in more than 20 Morris papers in 14 states. The article is archived here.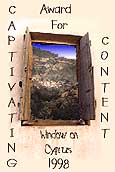 It was almost referenced in the New York Times Business section in 2009, see the Dutch toilet page for details of this.
It was going to be mentioned in the Chicago Tribune in 2005, although the article kept getting postponed.
Despite some controversy over one page's claim that the Germans are overly interested in some toiletological details, it was mentioned in Frankfurter Allgemeine Sonntagszeitung No 15, 2004-04-11. See the Dutch toilets page, among others, for more on the Germanic "inspection plateau".
Also, despite the complete lack of Cypriot toilets, this page was awarded the Window on Cyprus award for captivating content!
Other Pages
If you're not bored yet, you might be interested in (or at least tolerate):
---