Toilets of the World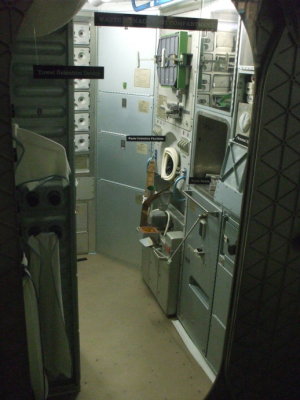 Skylab
was the U.S. space station in the 1970s. An additional unit was built and could have been orbited if funding hadn't been cut, it's now in the National Air and Space Museum in Washington D.C.
This is Skylab's
Waste Management Compartment
. The square opening into the bulkhead at right is the
Wash Basin
. The white oval plastic device and the surrounding plumbing are the
Waste Collection Facilities
.
My page of
Spacecraft Toilets
includes toilet systems from the Soviet/Russian
Mir
(or
Мир
) and
Soyuz
(or
Союз
), and urine and fecal collection systems from
Apollo 11
, the first manned lunar landing, from the early
Mercury
program, and the later
Space Shuttle
.
Check back tomorrow for another featured toilet!
Follow @ToiletGuru
Tweet
Google+
delicious
Welcome to the Toilets of the World, where you can view toilets and other plumbing from all around the world. Are you wondering how to use a bidet, or even what a bidet is? Curious about what the toilets are like in a specific country such as France, Turkey, China, Greece, Japan, or many others? Would you like to see some of the worst toilets in the world? Or maybe you're interested in historical toilets, from ancient Greece and Rome, or even the Stone Age? Do you wonder who invented the flush toilet? (It wasn't Thomas Crapper) You've come to the right place! The Toilets of the World are ready for your visit. Learn about toilets, bidets, urinals, sinks, tubs, and other plumbing from all around the world.
Tour the Toilets!
Let's get to the toilets!
---