Toilets of the World
Seatless Toilets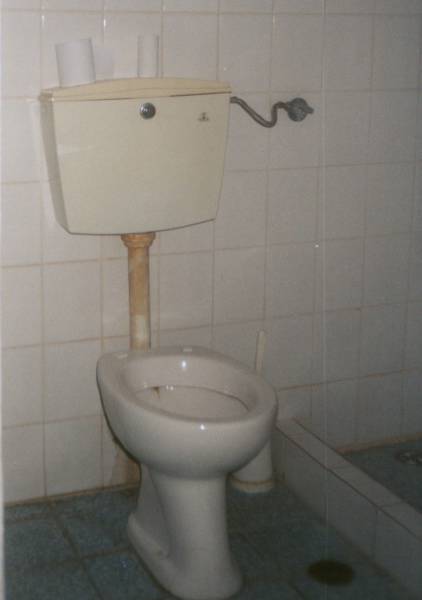 Who Took The Seat? Sometimes you will find that a toilet is missing its seat. I don't mean a squat toilet, but a raised porcelain commode that has holes for mounting a seat and lid but has neither. It seems to need a seat, but the seat is missing. Why does the owner do this? It's for hygiene. Toilets can be much cleaner without seats.
How are you going to use a raised porcelain commode style toilet with no seat?
Toilet seats are made of relatively soft and somewhat porous plastic or painted wood. That soft, porous surface provides plenty of opportunity for dirt and microorganisms to take hold, and it is nearly impossible to get it completely clean.
The bowl itself, however, is vitreous. That is, glass-like. A toilet bowl is extremely hard and non-porous. The outer surface of the bowl is a ceramic glaze that has been fired or baked to convert it to a material similar to glass.
You can be about as harsh or aggressive as you want, mechanically or chemically, in cleaning a toilet bowl.
Meanwhile the entirely non-porous glass-like surface provides no place for microorganisms to hide. So where do you sit? On the rim of the bowl, of course!

Check back tomorrow for another featured toilet!

Only 29 days until World Toilet Day!
Welcome to the Toilets of the World, where you can view toilets from all around the world. Are you wondering how to use a bidet, or even what a bidet is? Curious about what the toilets are like in a specific country such as France, Turkey, China, Greece, Japan, or many others? Would you like to see some of the worst toilets in the world? Or maybe you're interested in historical toilets, from ancient Greece and Rome, or even the Stone Age? Do you wonder who invented the flush toilet? (It wasn't Thomas Crapper) You've come to the right place! The Toilets of the World are ready for your visit. Learn about toilets, bidets, urinals, sinks, tubs, and other plumbing from all around the world.
Keep This Book In Your Bathroom
Rose George's The Big Necessity: The Unmentionable World of Human Waste and Why It Matters is a fascinating description of sanitation conditions around the world. To quote from the introduction:
[....] 2.6 billion people don't have sanitation. I don't mean that they have no toilet in their house and must use a public one with queues and fees. Or that they have an outhouse, or a rickety shack that empties into a filthy drain or pigsty. All that counts as sanitation, though not a safe variety. The people who have those are the fortunate ones. Four in ten people have no access to any latrine, toilet, bucket, or box. Nothing. Instead they defecate by train tracks and in forests. They do it in plastic bags and fling them through the air in narrow slum alleyways. If they are women, they get up at 4 A.M. to be able to do their business under cover of darkness for reasons of modesty, risking rape and snakebites. Four in ten people live in situations where they are surrounded by human excrement because it is in the bushes outside the village by in their city yards, left by children outside the backdoor. It is tramped back in on their feet, carried on fingers onto clothes, food, and drinking water.

[....] Poor sanitation, bad hygiene, and unsafe water — usually unsafe because it has fecal particles in it — cause one in ten of the world's illnesses. [....] Diarrhea — nearly 90 percent of which is caused by fecally contaminated food or water — kills a child every fifteen seconds. The number of children who have died from diarrhea in the last decade [1998-2008] exceeds the total number of people killed by armed conflict since the Second World War.
Who is the Toilet Guru?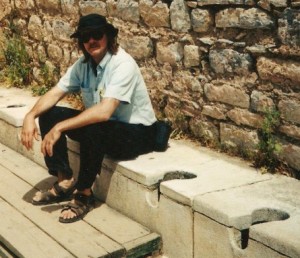 Who is the Toilet Guru? Is he obsessed? What is it like to be the Toilet Guru? How did Yahoo describe him? Why does this site exist?
Read more
Let's visit the toilets!