Toilets of the World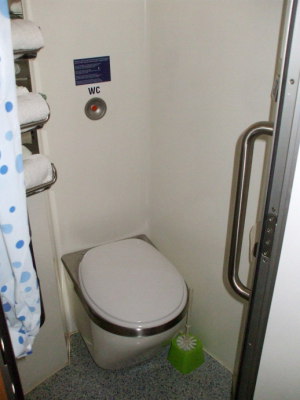 The City Night Line is a
Czech passenger train
providing fantastic service north and west from Prague through Berlin, Köln, and Amsterdam. It includes the common
couchette
overnight accommodations, but it also has luxury first-class sleeper compartments that make it the nicest overnight train I have ever seen!
Above is a
compact private toilet
in a First Class sleeper compartment on the City Night Line. A similarly small compartment houses a private shower.
My collection of
Czech plumbing
includes both stationary toilets and sinks, and a wide variety of train toilets.
Check back tomorrow for another featured toilet!

Welcome to the Toilets of the World, where you can view toilets and other plumbing from all around the world. Are you wondering how to use a bidet, or even what a bidet is? Curious about what the toilets are like in a specific country such as France, Turkey, China, Greece, Japan, or many others? Would you like to see some of the worst toilets in the world? Or maybe you're interested in historical toilets, from ancient Greece and Rome, or even the Stone Age? Do you wonder who invented the flush toilet? (It wasn't Thomas Crapper) You've come to the right place! The Toilets of the World are ready for your visit. Learn about toilets, bidets, urinals, sinks, tubs, and other plumbing from all around the world.
Tour the Toilets!
Let's get to the toilets!
---