Toilets of the World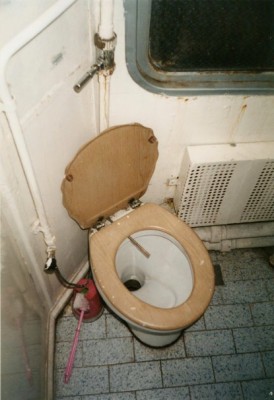 Some
Turkish toilets
are raised porcelain commodes, like many (but not all!) those found on trains and in hotels and restaurants catering to foreign visitors.
Turkish raised commodes
typically have a somewhat intrusive copper tube providing cleaning water, as seen here.
Turkish squat toilets
are accompanied by a water spigot and a small bucket or pitcher, which for mysterious reasons is almost always red.
Turks have traditionally used
water for cleaning
, with tissue paper only provided rarely for drying oneself. But a recent trend has rolls of toilet paper appearing throughout Turkey.
Check back tomorrow for another featured toilet!
Follow @ToiletGuru
Tweet
delicious
Tour the Toilets!
Let's get to the toilets!
---