Greek Toilets — Toilets of the Mainland
Greek Toilets
Ελληνική τουαλέτες
I've been to Greece a number of times. They may have invented western civilization a couple of millennia back, but their plumbing suggests that they've slipped downhill since. Greece seems to me to have the worst public toilets in Europe. Let's take a tour, visiting Greek toilets in hostels and budget hotels, at a monastery, on trains and buses, and public lavatories around the country.
Greece is well to the east of the Paper Curtain, the Bowl-Bin Dividing Line. All toilet paper should be placed in the waste bin and not put into the toilet. Click here for further details on this important tissue issue.
Greek Toilet Logistics:
First, make sure that you can find the correct toilet!
| | |
| --- | --- |
| Where is the toilet? | Πού είναι η τουαλέτα; |
| MEN | ΑΝΔΡΩΝ |
| WOMEN | ΓΥΝΑΙΚΩΝ |
The Προαστιακος or Proastiakos is the regional train, connecting Athens to its airport and running as far as the nearby city of Korinthos.
The Proastiakos runs about every 60 minutes in the middle of the day, so you will probably have to wait some time for a train. This is the toilet on the platform in one of the stations. Below is the graffiti-plagued train on the platform and a εισιτηριο προαστιακος.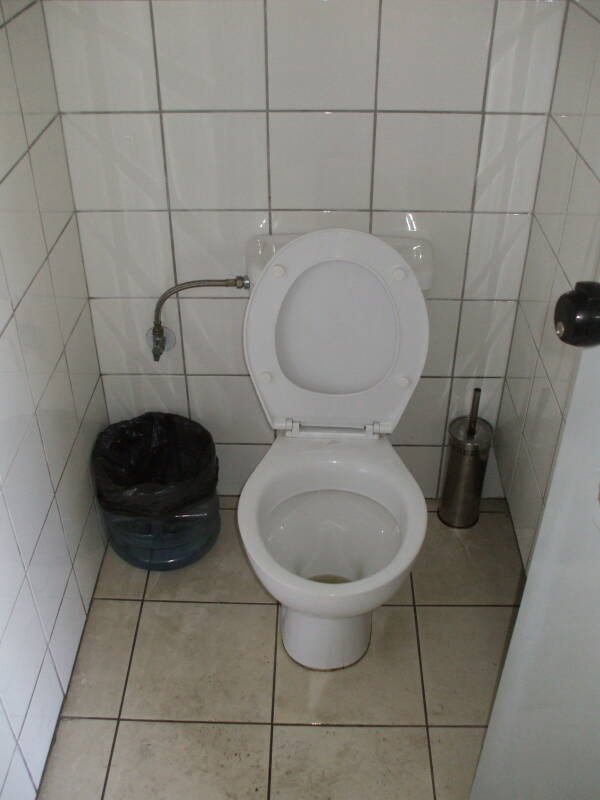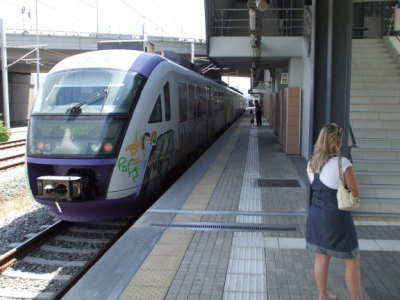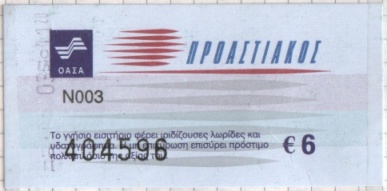 This is one of the toilets in the Travelers' and Students' Inn, a hostel in Athens.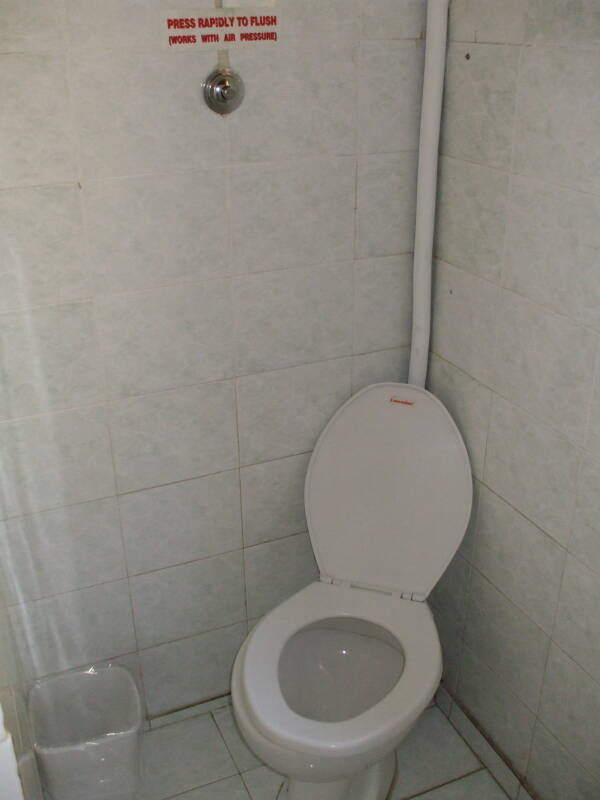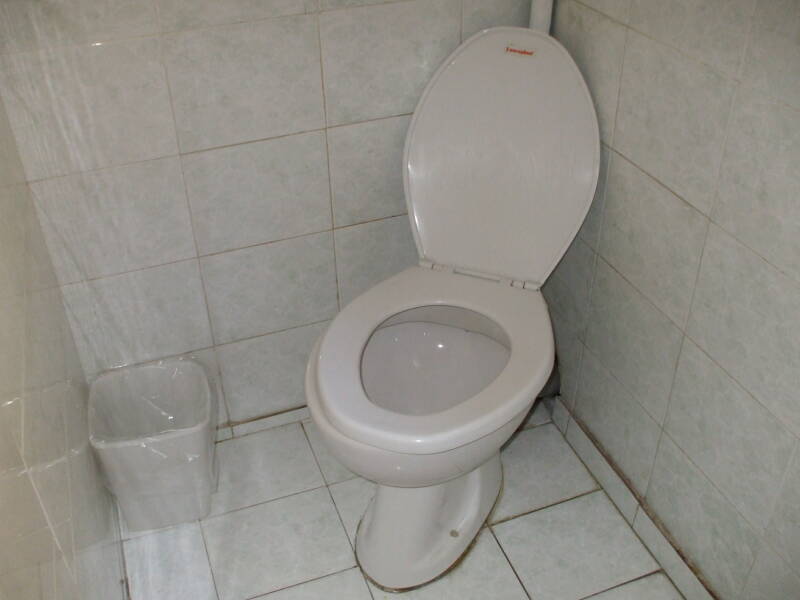 Since most of the people staying there are unfamiliar with some of the peculiarities of Greek toilets, they have a helpful sign.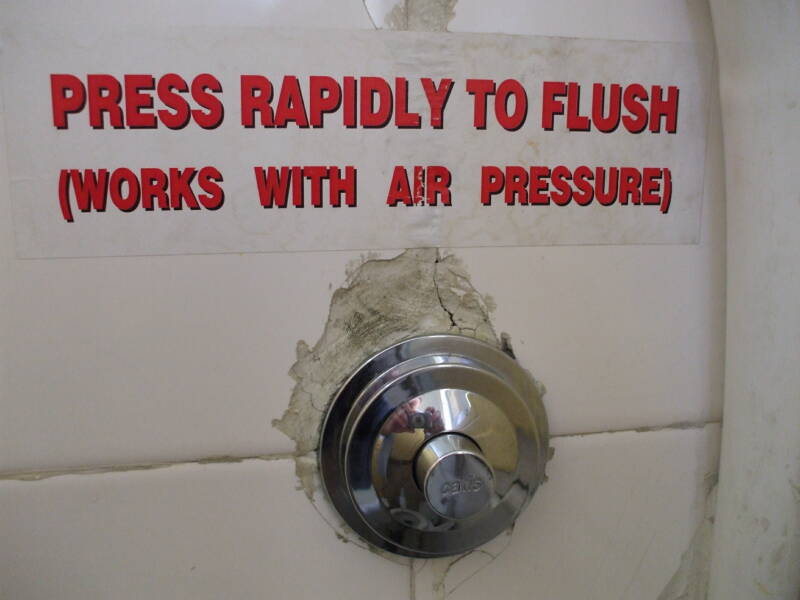 You push a button on the wall to unleash a flush from the tank mounted up near the ceiling. However, the way it works is that the button is a plunger connected to the valve by a length of plastic tubing. You have to do more than simply press it — you have to push it in quickly to provide enough of an impulse to operate the valve.
Don't just press it gently — give it a sharp push!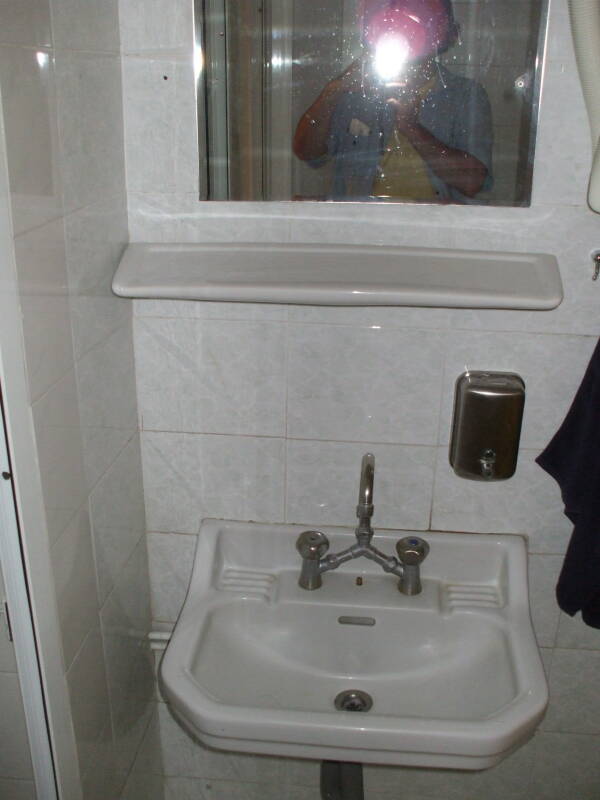 And for those people who just can't get enough plumbing, or who otherwise want pictures of sinks and vanities (or the lack thereof), here is more from the Students' and Travelers' Inn!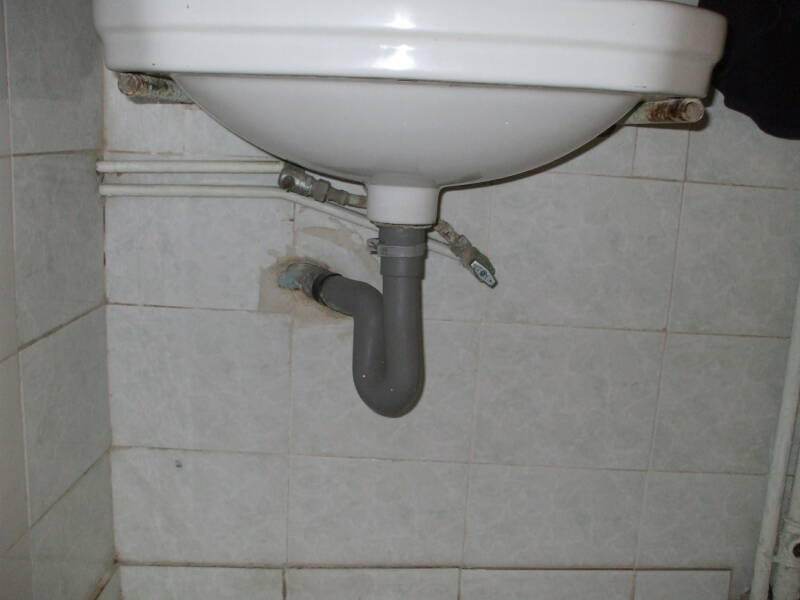 Here is the shared bathroom at the Marble House hotel in Athens.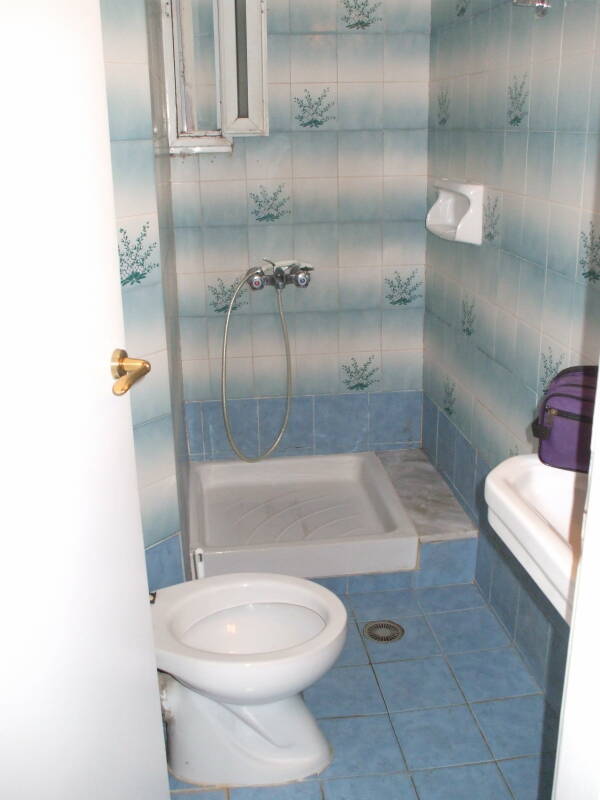 Below you can see the flush tank, mounted near the ceiling. You flush the toilet by pressing in the plunger extending from the bottom of the tank.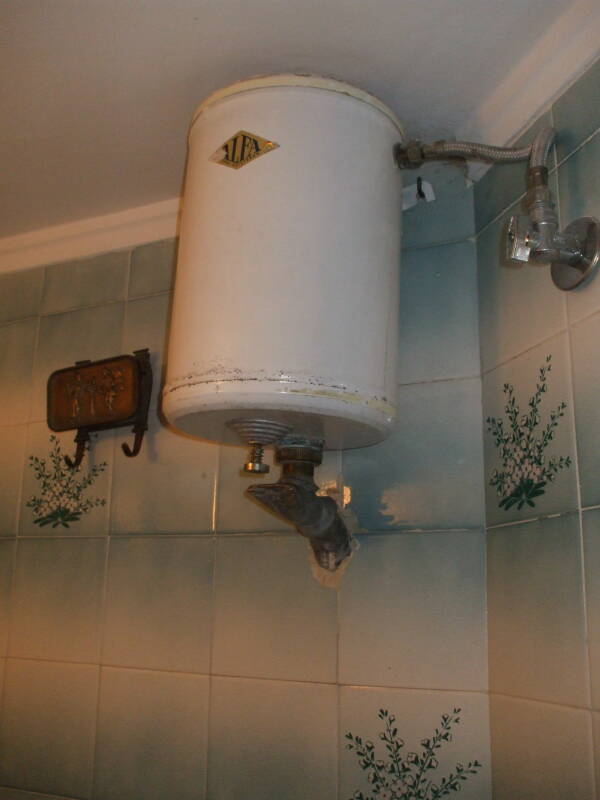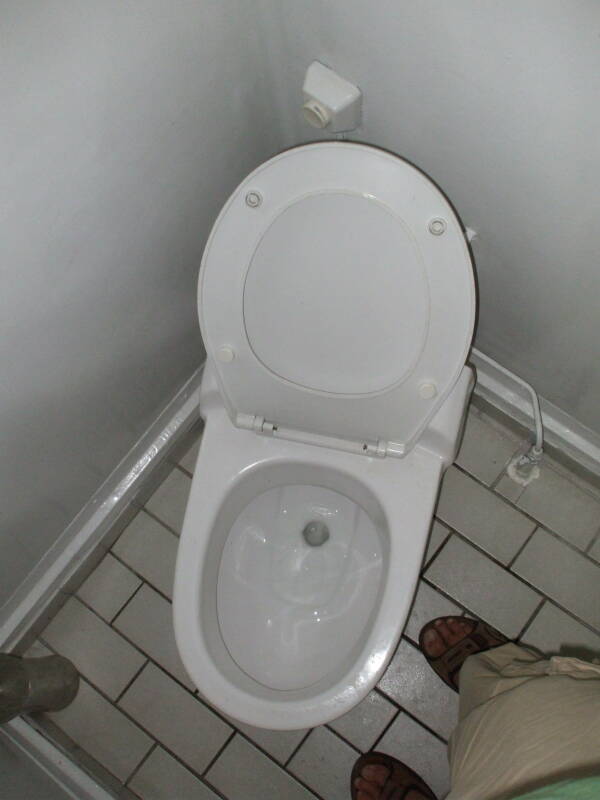 Here is the high flush tank and low toilet in a restaurant in Athens.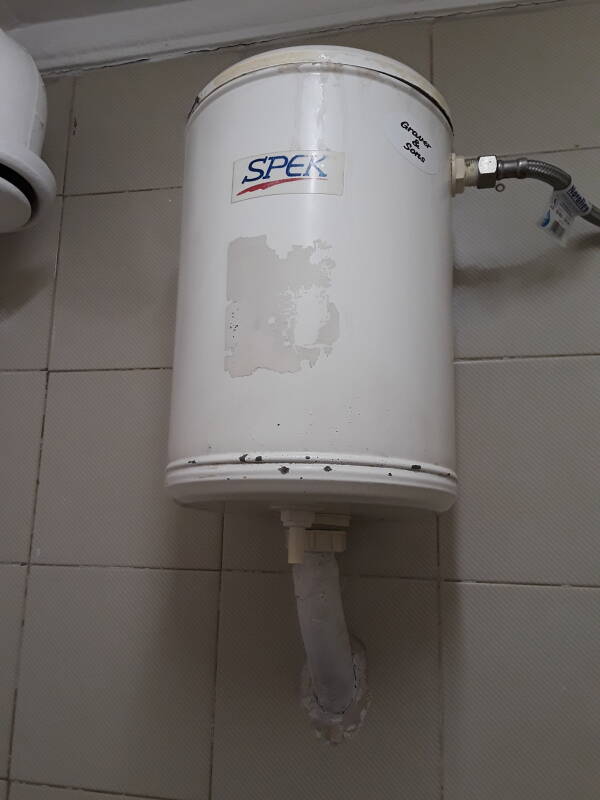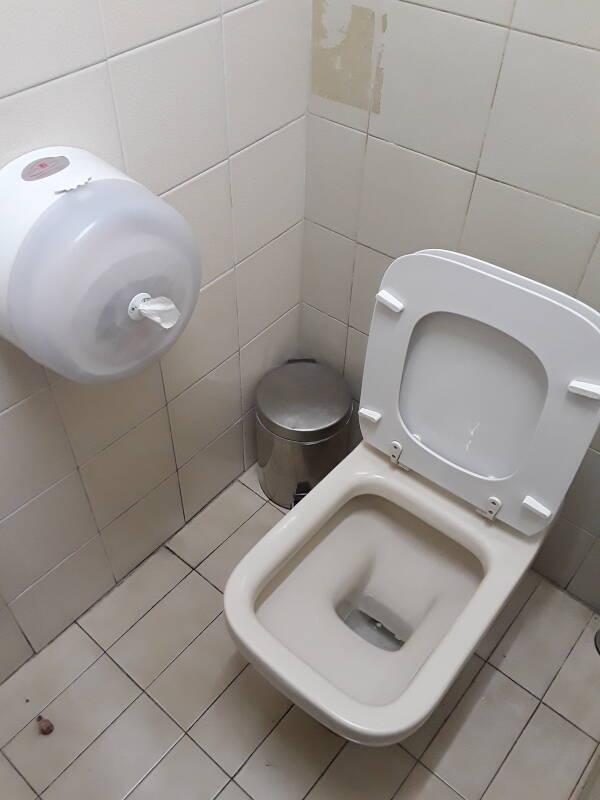 Many businesses in Greece use these large toilet paper rolls that dispense from the center. Sometimes there isn't much paper to take hold of, you're pinching at a tiny corner of paper.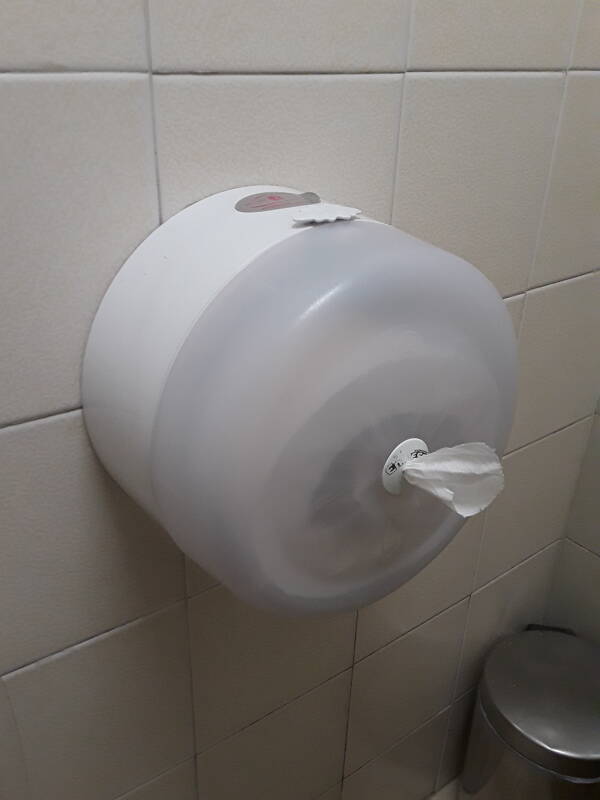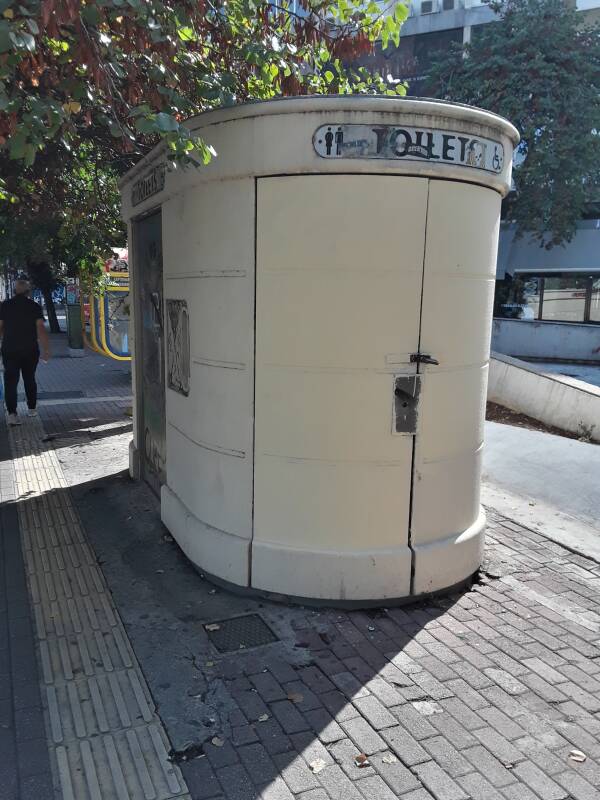 Athens had a brief experimental run of the French-designed high-tech public toilets. It did not go well.
Here is the toilet and shower in a shared room at the Pella Inn in Athens.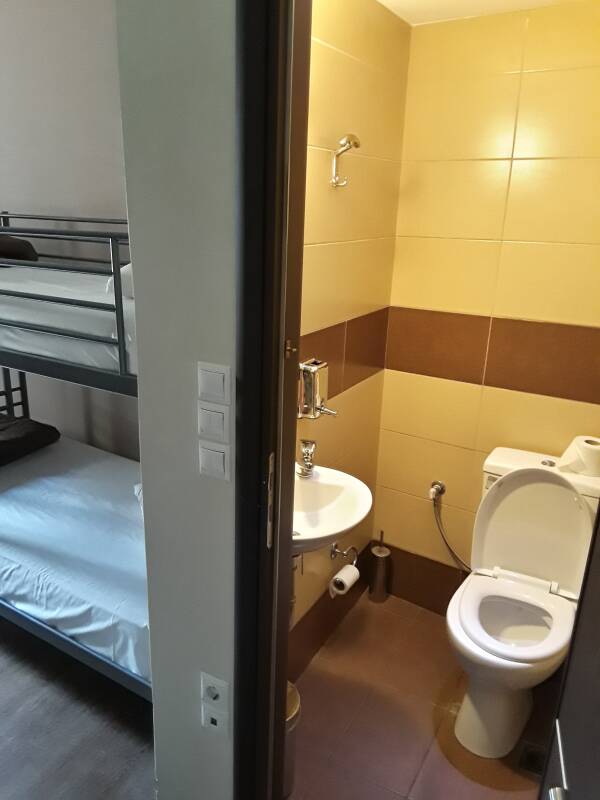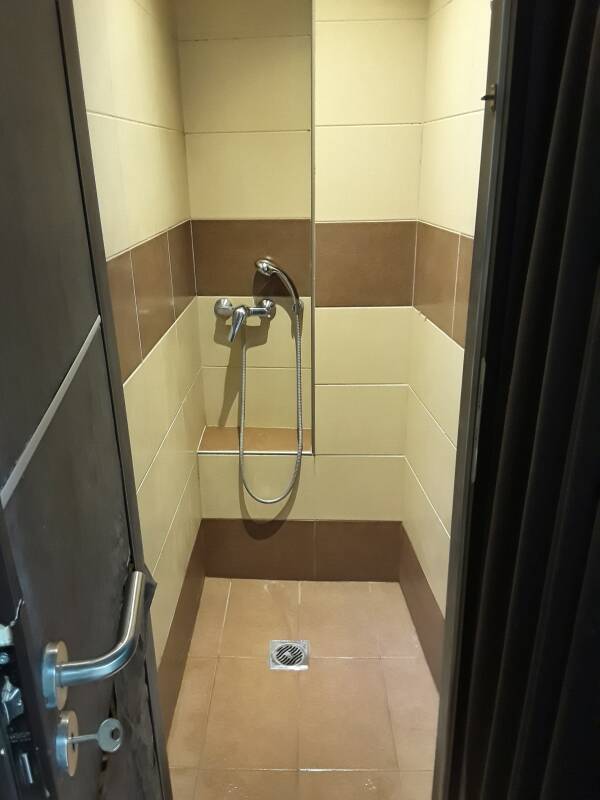 This is a handicap-accessible toilet on board a relatively new train running from Athens to the Kalambaka station at Meteora.
As the sign says:
ΜΗ ΡΙΧΝΕΤΕ ΧΑΡΤΙΑ ΣΤΗ ΛΕΚΑΝΗ
MI RIKHNETE KHARTIA STI LEKANI
DON'T THROW PAPERS IN THE TOILET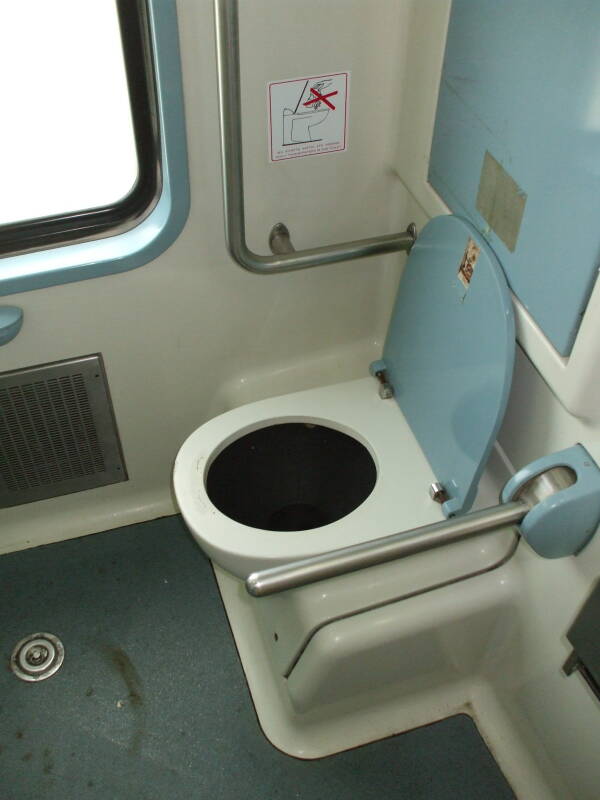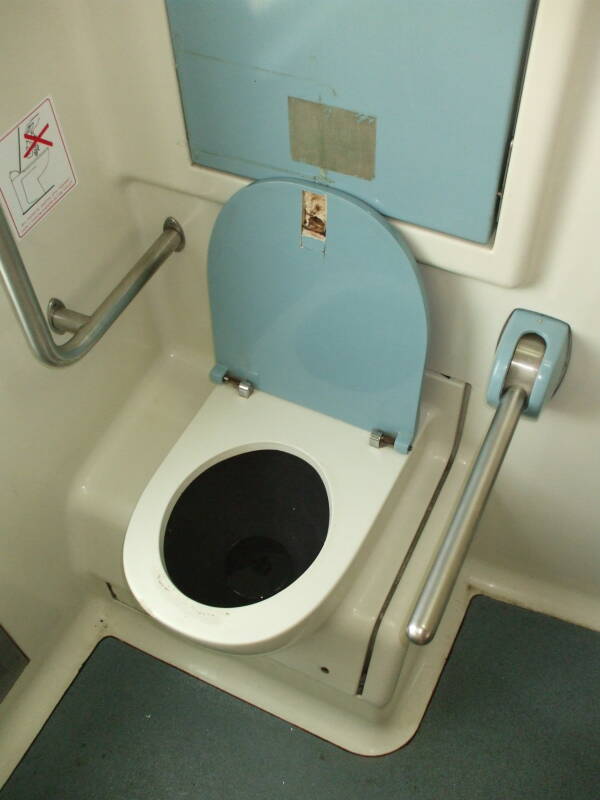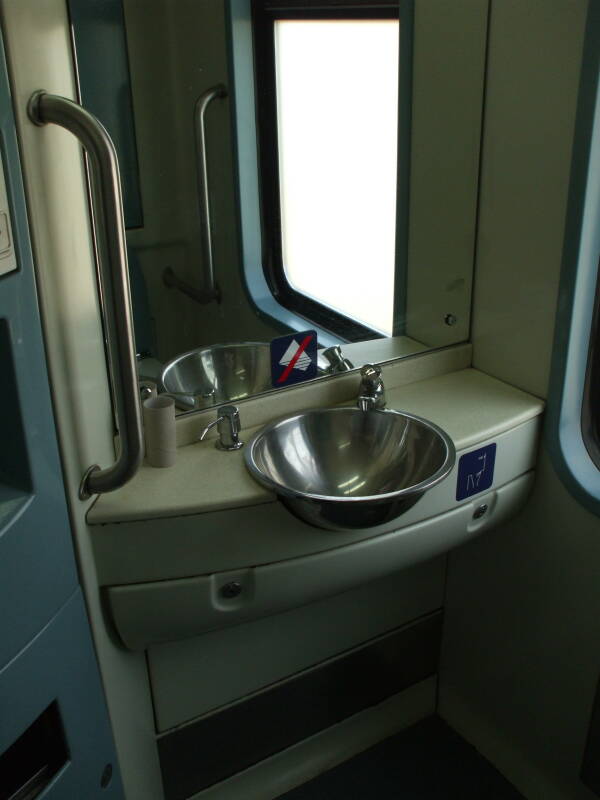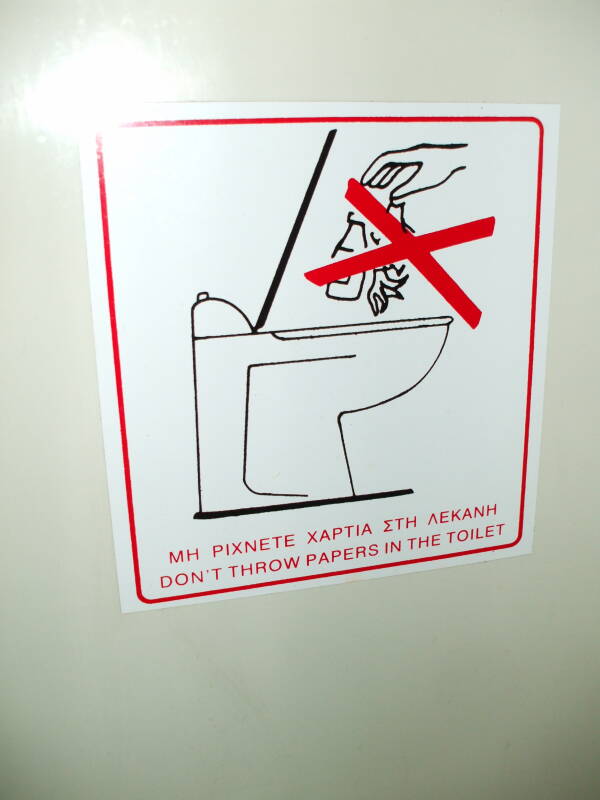 This is a toilet on board Inter-City train number 54, the Αριστοτελης, the Aristotelis (or Aristotle), running from Athens to Thessaloniki. Greek passenger trains aren't painted in a camouflage or Pop Art scheme, but many are almost completely covered with graffiti.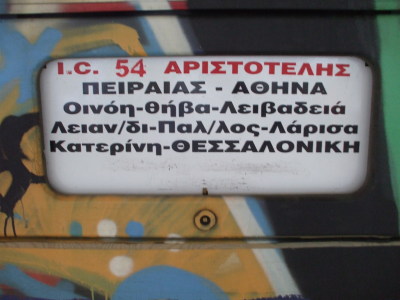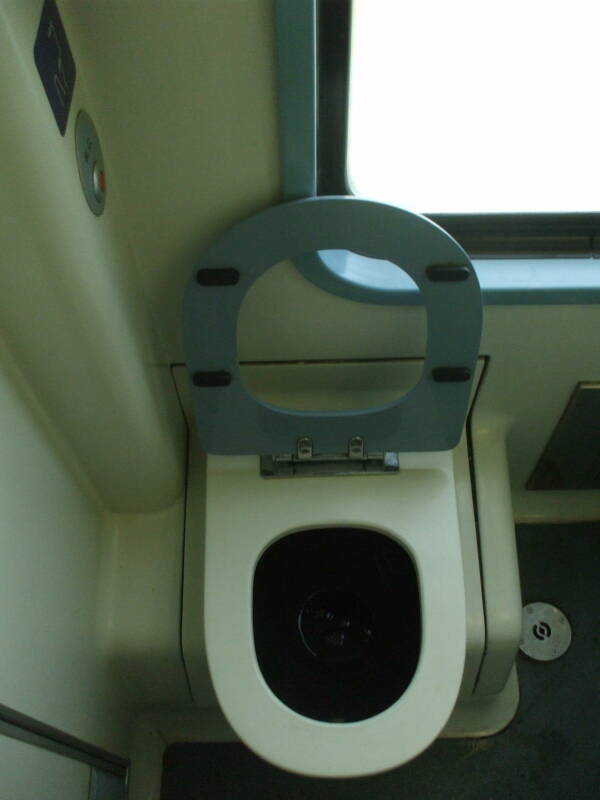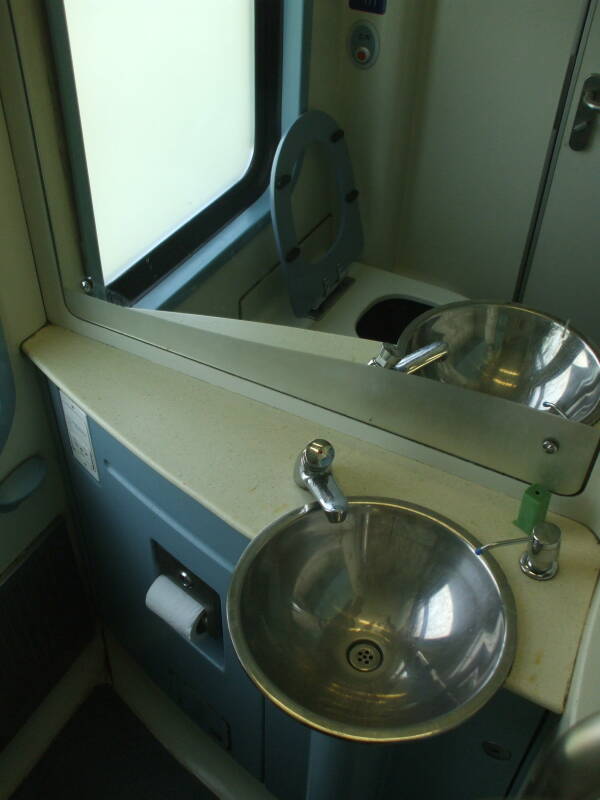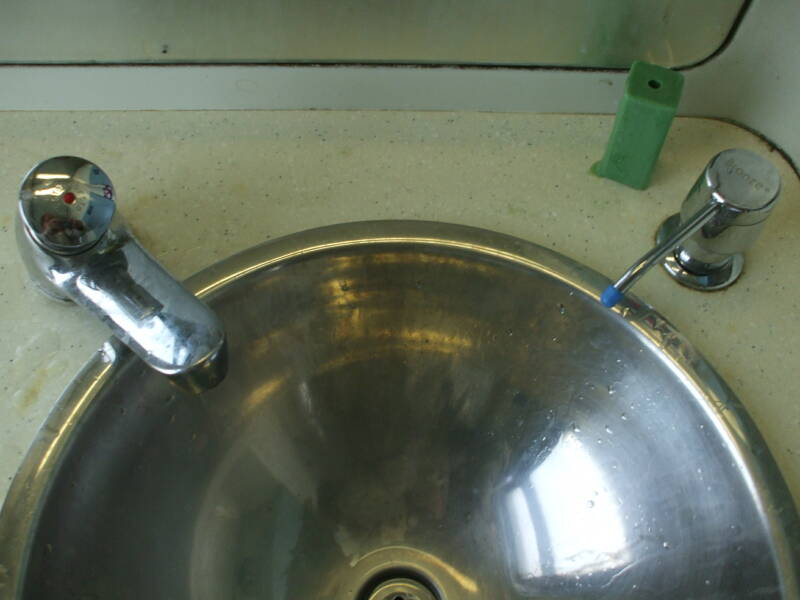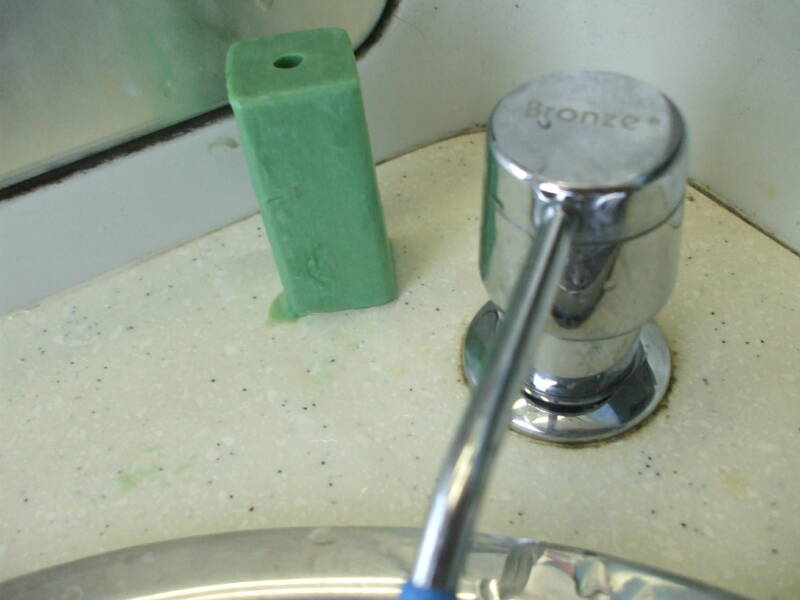 This is the public toilet at the train station in Kalambaka, at Meteora, in northwestern Greece.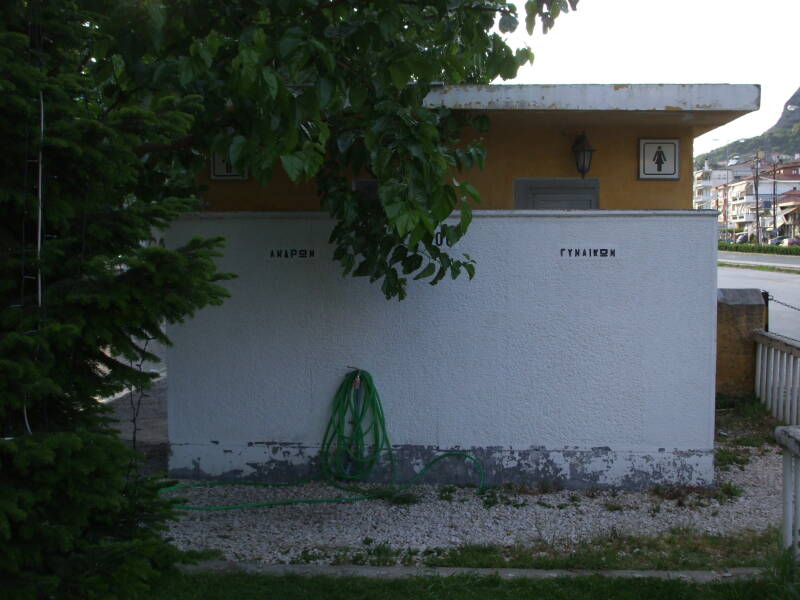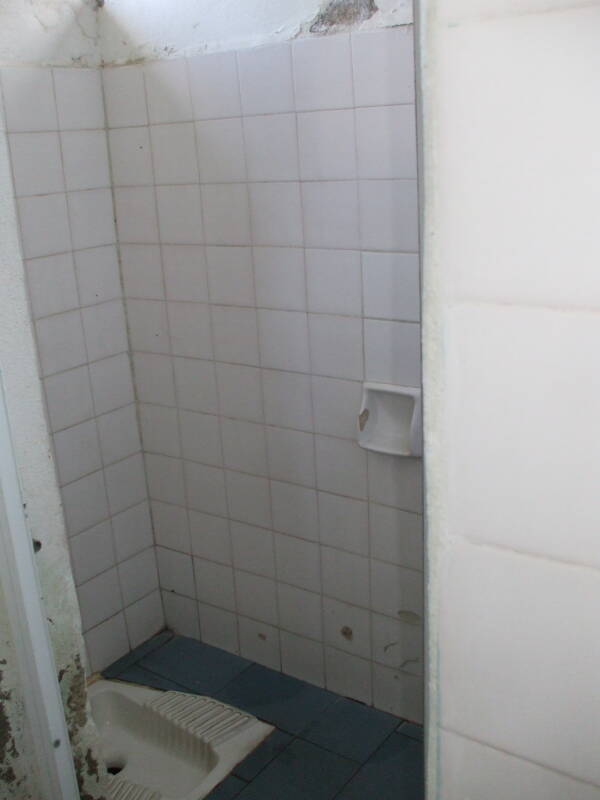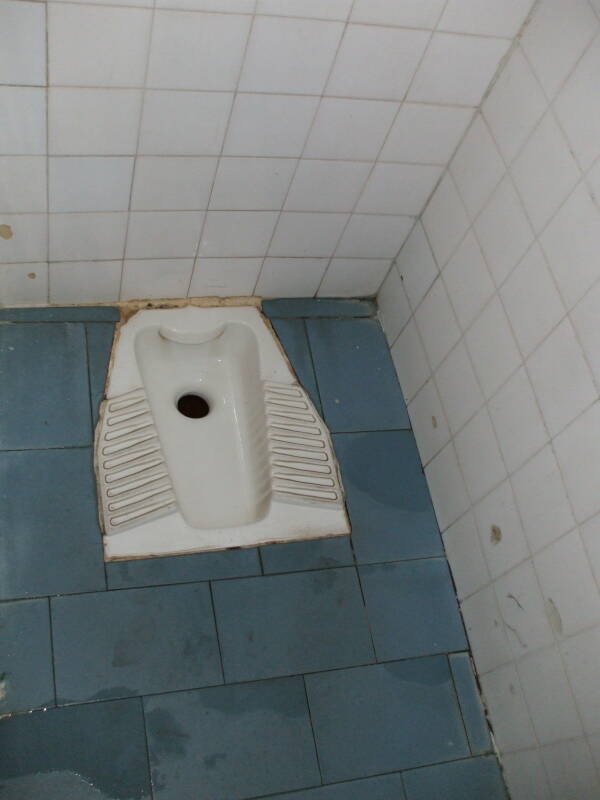 The Sydney Inn in Kastraki, under the rock pillars of Meteora, has nice bathrooms like these.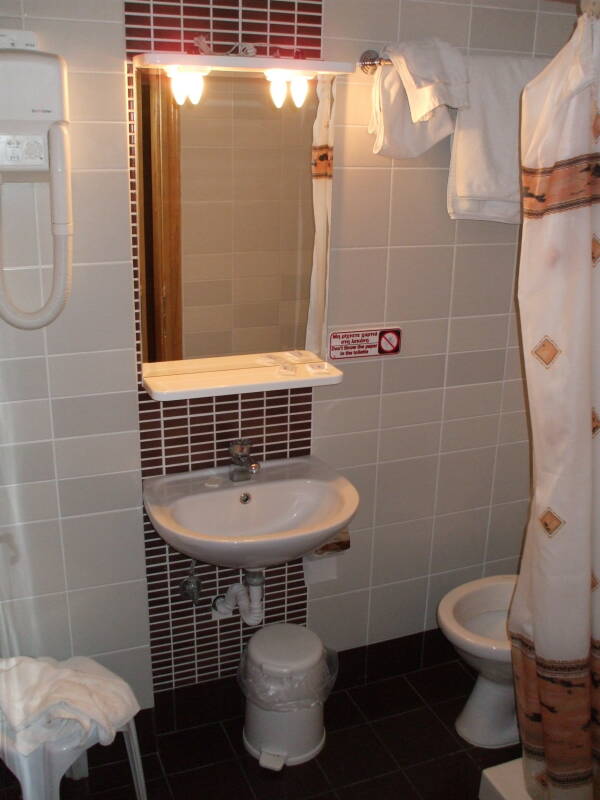 They include a version of the standard sign:
Μη ρίχνετε χαρτιά στη λεκάνη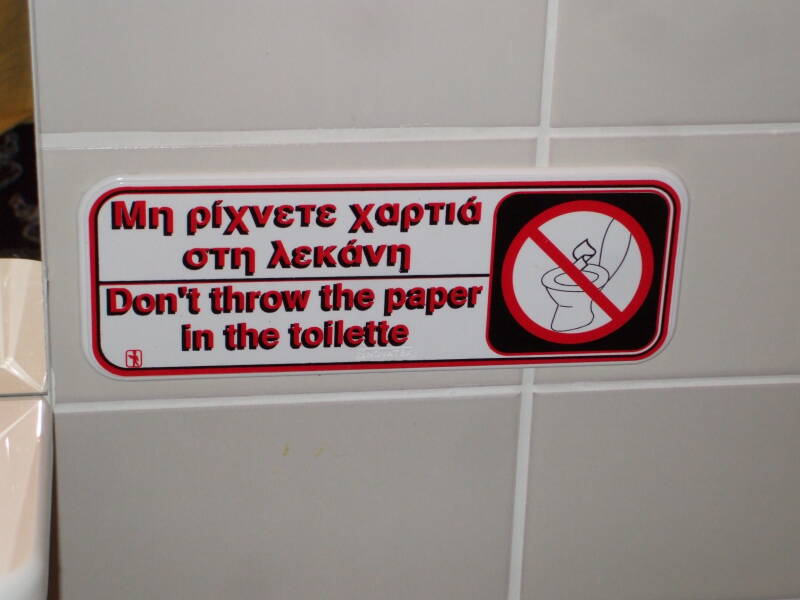 Several people have asked me to include other bathroom fixtures, like sinks and vanities. Well, you'll have a sink, but you won't always have a fancy vanity (nor do you need it). Sometimes you don't even have tops on the light fixtures. That's another thing you don't really need.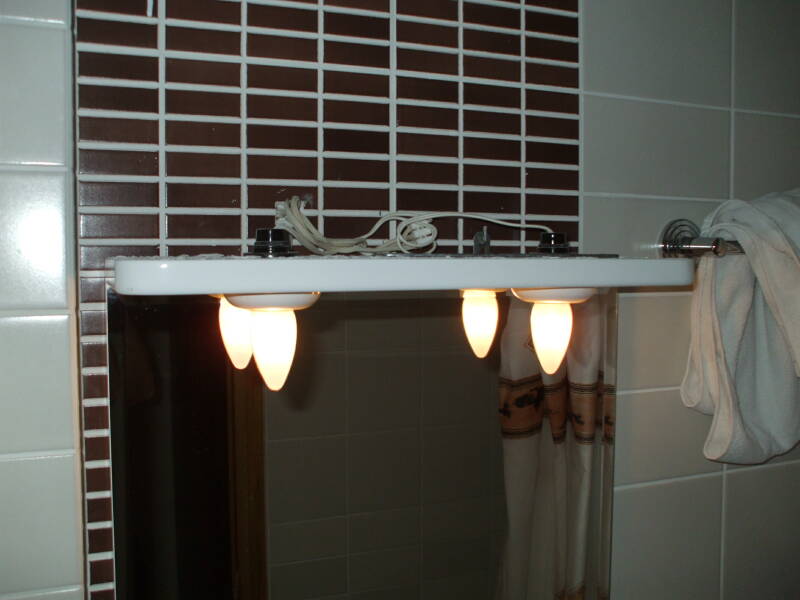 Meteora is a fantastic looking area in northwestern Greece. It has been a monastic center since the 11th century. Byzantine monks built monasteries on eroded rock pinnacles.
The monastery of Moni Varlaam was built in 1541. It was reputed to house the finger of Saint John and the shoulder blade of Saint Andrew.
The cliff faces here are up to 373 meters tall. Access was intentionally difficult. The traditional method of access was to be lifted in a basket suspended by a rope. When asked when the ropes were replaced, the monks famously answered "When the Lord lets them break".
The toilets, however, are very modern. This is one of the toilets for visitors.
Access to the monasteries today is via steep staircases, and in some cases, narrow footbridges. Visiting Orthodox priests have the option of riding a small metal cage carried by a set of steel cables.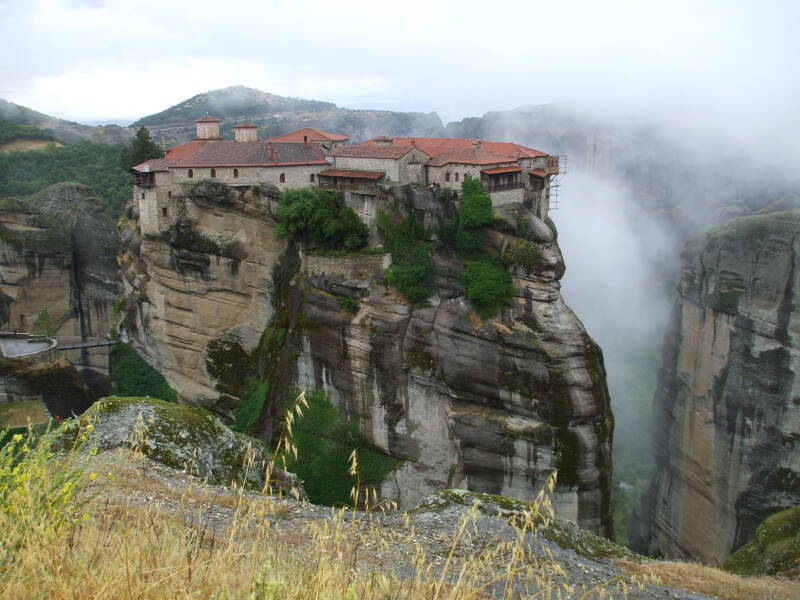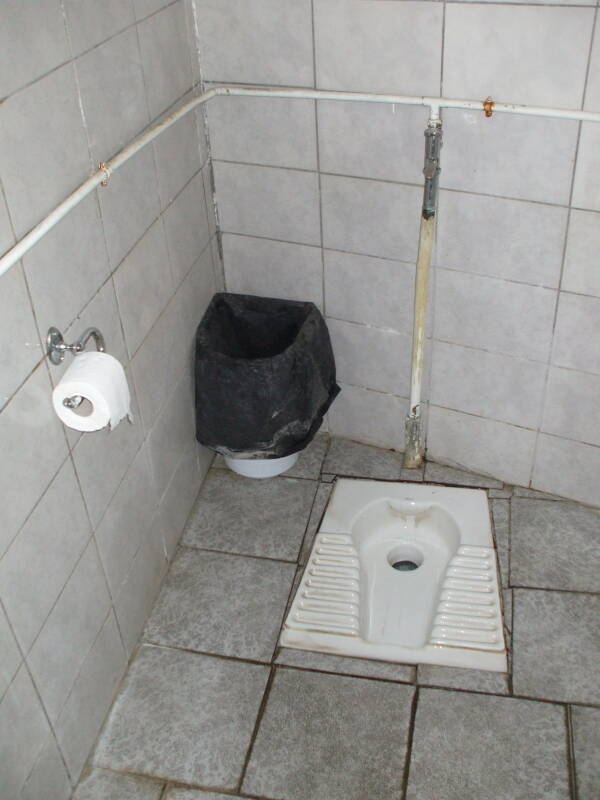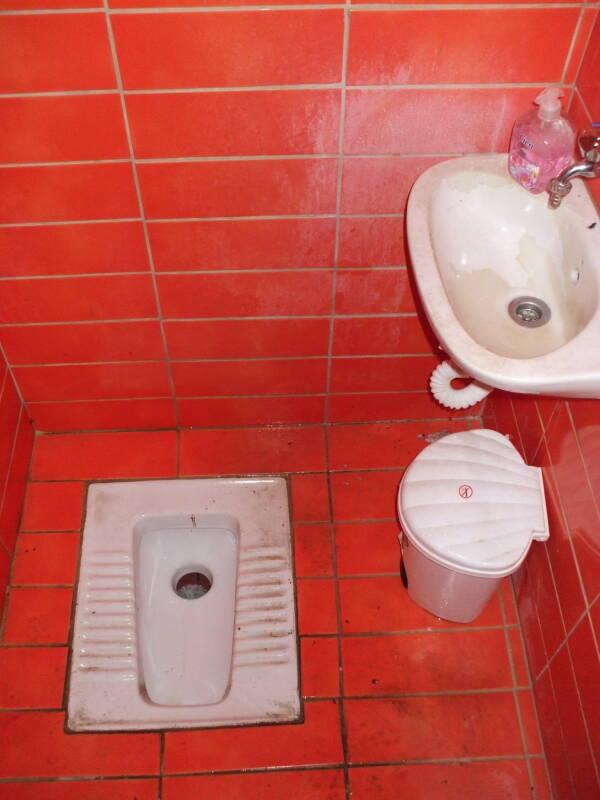 An unusually bright orange bathroom housing a squat toilet awaits you at this taverna in Kastraki, below the rock pillars and monasteries of Meteora.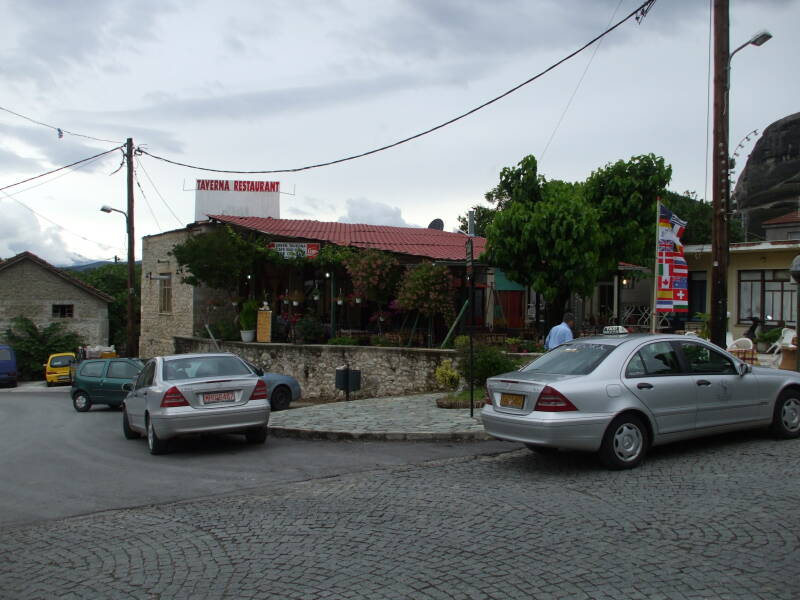 So much of Greece is covered in graffiti, like the public toilet in the central park in Nafplio, south of Korinthos in the Peloponnese.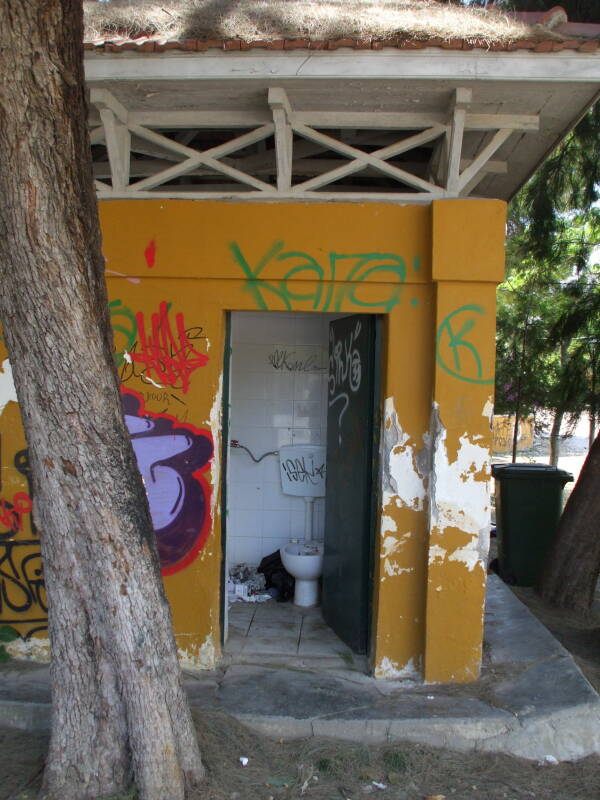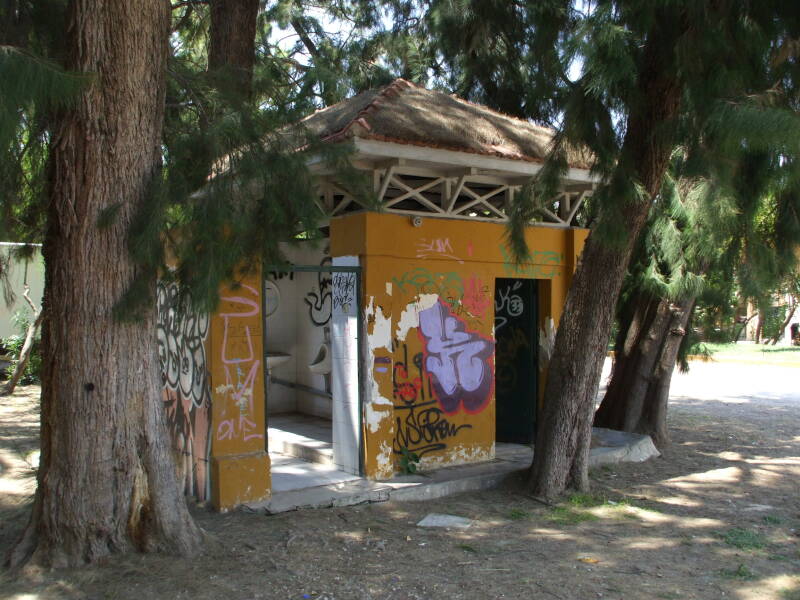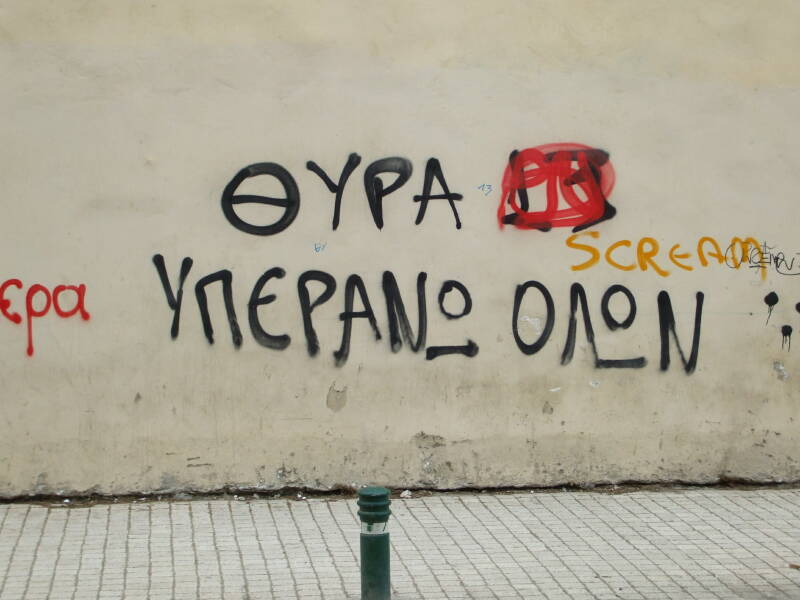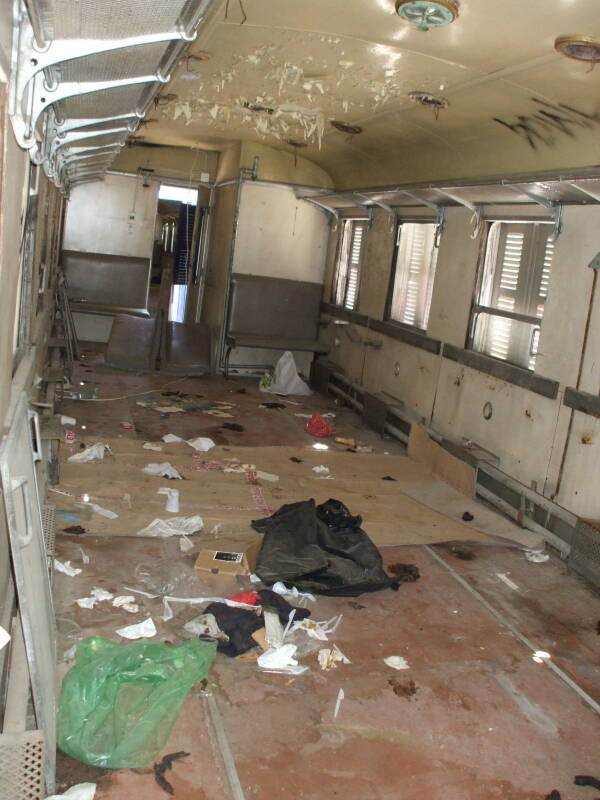 Nafplio, or Ναύπλιον, was captured at the end of November, 1821 during the Greek War of Independence. At least it was spared the fate of Tripolitsa, which had surrendered to the Greek forces on 5 October, 1821. 12,000 inhabitants were massacred by hanging, burning, and impaling. Over 200 Jews were killed for good measure, some of them by crucifixion.
There were awful massacres on both sides. The Ottoman Sultan did not see the Greek revolt as an expression of national self-determination, for two reasons. First, to a large extent it was not any such expression, it was brutal fighting between lawless factions who happened to be based in Greece. Second, the concept of national self-determination was meaningless to the Sultan, who saw the unrest as attempts by greedy individuals to grab power.
Eventually, by 1822, a "Free Greek State" was established in the Peloponnese. Really it was just an anarchy of klepht banditry in a region no longer under Ottoman control. The intellectuals of Greek descent living in European capitals and their Philhellene supporters were appalled. European governments announced that, as far as they could see, there was no Greek government with which to interact.
Some of those European (and even a few American) Philhellene idealists showed up, for a variety of adventures and misadventures. One was Thomas Cochrane, the Earl of Dundonald, who had lived a life of adventure. He had been court-martialed, convicted of fraud and elopement, expelled from the House of Commons, and stripped of the K.C.B. He became a mercenary, fighting in several Latin American independence movements, hijacking half the Brazilian navy at one point, and eventually making it to the Greek debacle.
Lord Byron arrived in 1824 with nine servants, a personal physician, and a collection of several handsome uniforms. Despite having his own physician on hand, in April he died of fever in Missolonghi.
The Battle of Navarino, on 20 October 1827, was the last battle between wooden sailing ships. This was a joint British-French-Russian operation against Turkish and Egyptian (Ibrahim Pasha's fleet) ships. Greece was also the site of the last battle between rowed galleys, the Battle of Lepanto on 7 October 1571. That one was a Papal-decreed Venetian-Spanish move against the Ottoman navy.
Nafplio became the seat of the series of provisional governments of Greece, and was made the official national capital in 1829. Count Ioannis Kapodistrias was named the head of state of Greece, and set foot on the Greek mainland for the first time in Nafplio in January, 1828. He had been born on the island of Corfu, a Venetian possession at the time, and then had served as a diplomat for the Russian Empire. He was living in Switzerland when he was surprised to learn that the newly formed Greek National Assembly had elected him as their first head of state. He was assassinated by local warlords on the steps of the Church of Saint Spyridon on 9 October 1831. This ushered in a period of greater than usual anarchy.
Then the Greek government decided that what they really needed was a king. The Great Powers (the United Kingdom, France, and the Russian Empire) looked around and picked Otto, the Prince of Bavaria, who conveniently was of royal blood and a minority of age, the latter helpful for keeping control in outside hands. Otto and a three-man Bavarian council came to Nafplio, leading to criticism that Greece was controlled by a Bavaritocracy. Nafplio remained the national capital until King Otto decided in 1834 to move the capital to Athens.
Otto was described by Thomas Gallant in "Modern Greece" (Oxford Univ. Press, 2003) as "neither ruthless enough to be feared, nor compassionate enough to be loved, nor competent enough to be respected." He continued running a largely Bavarian government until, with the German troops withdran in 1843, a popular revolt successfully demanded that a constitution finally be written and that it require the Greek government to include some actual Greeks.
In 1853 Otto was considering entering the Crimean War, to fight with Russia against Turkey. This was part of the Great Idea or Μεγάλη Ιδέα, a scheme to more or less re-establish the vast empire of Alexander the Great just as a starting point, and then expand from there. Britain was fighting Russia and didn't want Greece providing any help to the Russians, however limited, and blockaded the Greek ports.
That led to further unrest. A student tried to assassinate Queen Amalia in 1861, and was openly hailed as a hero. Otto went on to be deposed in 1862, and left Greece as he had arrived, on a British warship, on his way home to Bavaria.
The Greek National Assembly now knew that underage Bavarian kings were a bad idea. So, they elected a 17 year old Danish prince, Prince Vilhelm of Denmark. Really. At least he learned Greek fairly quickly. He went by the name of George I, marrying the grand duchess Olga Constantinovna of Russia, and their named their first son Constantine. The Russians knew that they could control the Greeks with allusions to Constantine the Great. George I managed to rule for 50 years before being assassinated in Thessaloniki in 1913.
George I was succeeded by his son, Constantine I of Greece, who abdicated twice, once in 1917 and again in 1922.
Constantine's second son, Alexander I, took over after his father's first abdication in 1917. He was a puppet king, effectively imprisoned in his palace.
Alexander was walking in the grounds of his summer palace at Tatoi on 30 September 1920. His dog Fritz attacked a pet Barbary macaque. The king was breaking up the fight when he was bit by the ape's mate. The King died of septicemia from that bite, lingering until 25 October. The national legislature invited his father Constantine I back to the throne, where he stayed two years before abdicating for the second time.
His successor was George II, who ruled for two years before the military forced him to abdicate. Then from 1924 to 1935 Greece had 23 changes of government, a dictatorship, and 13 coups. By 1935 people were ready to try monarchy again, and they invited George II to return from where he was living in Brown's Hotel in London.
Greece finally did away with the monarchy in 1973. In 1981, Konstantinos Karamanlis refused to attend the wedding of Charles, Prince of Wales, when he discovered that Charles had invited his cousin, the deposed Greek monarch, addressing him as "King" in the invitation.
In 1994 the Greek government seized Constantine's property in Greece and revoked his Greek citizenship. His passport at the time named him as "Constantine, former King of the Hellenes".
Now he has a Danish diplomatic passport giving his name in Spanish as Constantino de Grecia (or "Constantine of Greece").
Authors Boatswain and Nicholson described attempts to rally the Greek people behind a specific and narrow view of Greek history and destiny in "A Traveler's History of Greece": "These efforts to make the Greeks of Asia Minor aware of their heritage were not helped by the imposition of a pseudo-classical language known as katharevousa, an artificial tongue that had never been spoken by anyone. The attempt to impose it as an "official" language cut ordinary people off from government, public life, and even from literature, and its alienating effects were felt until recent times."
This is the toilet at Dimitri Bekas' Rooms in Nafplio, and also the shower and a close view of the graphical admonition to put all paper into the waste bin.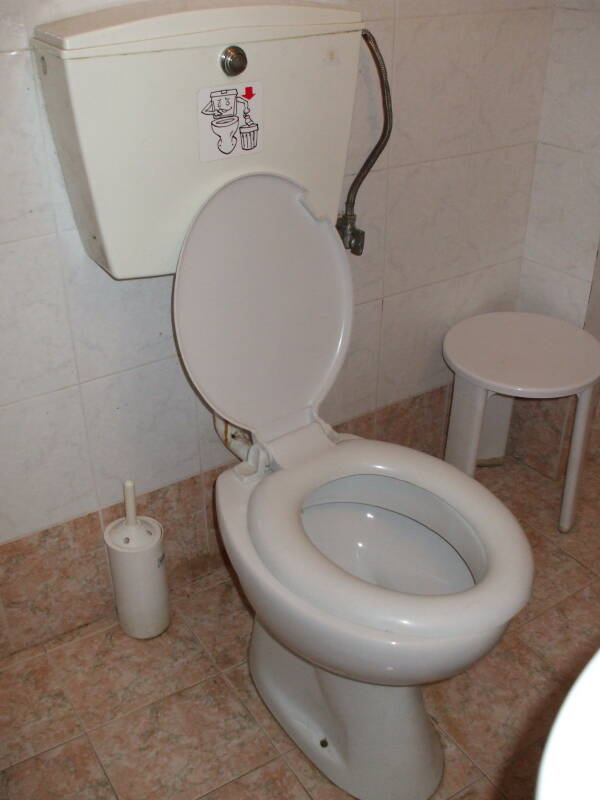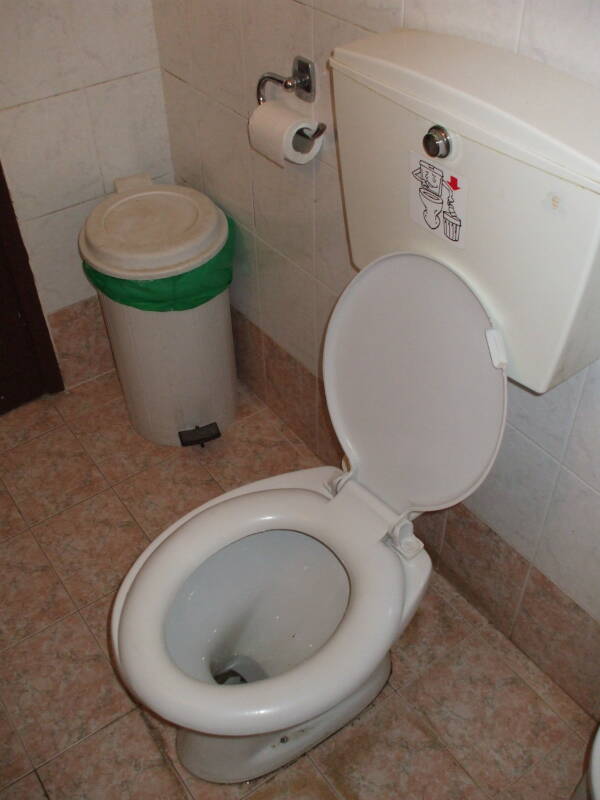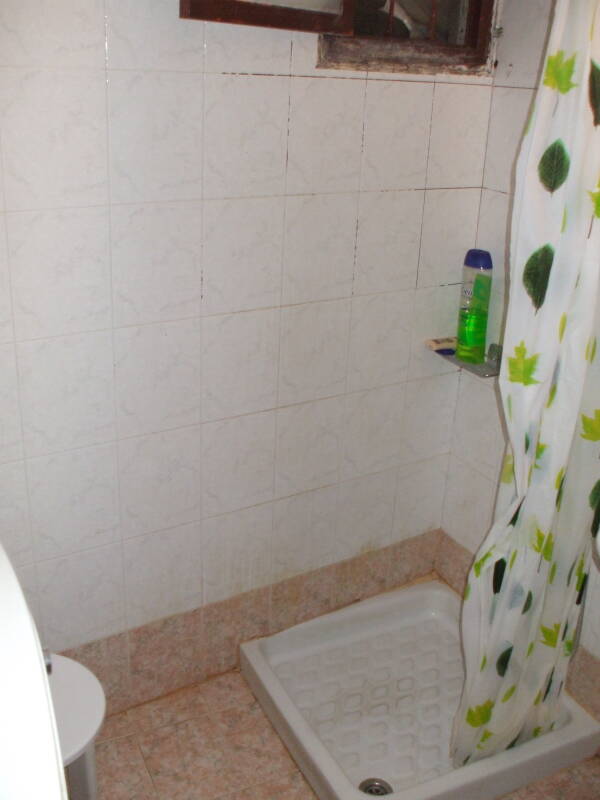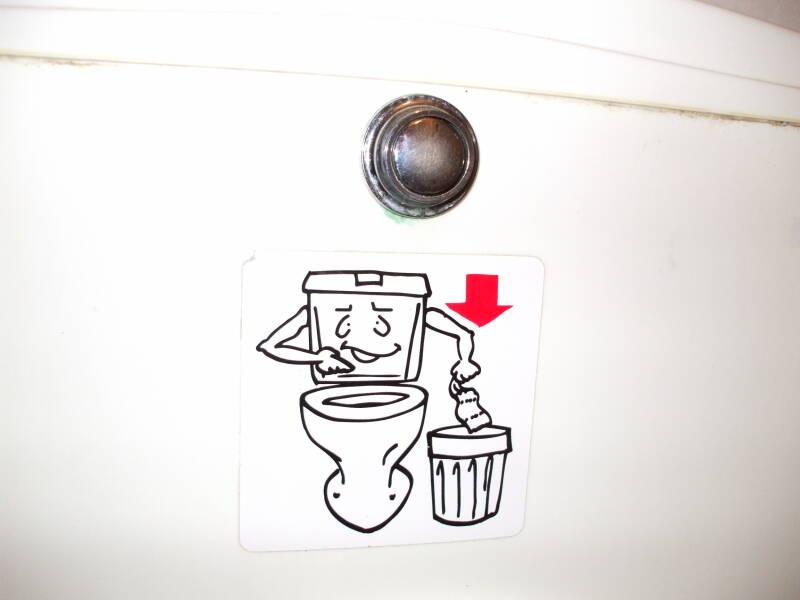 This toilet in a restaurant in Nafplio is not just clean, it is sanitized!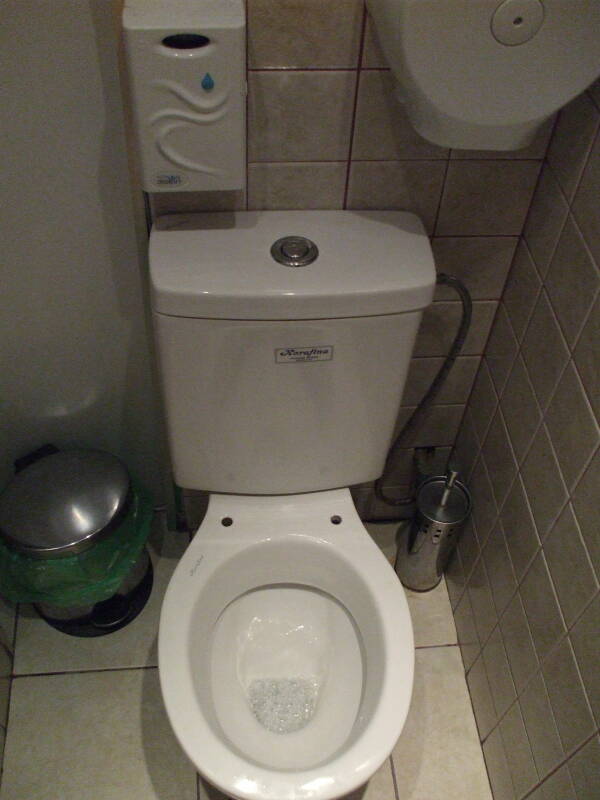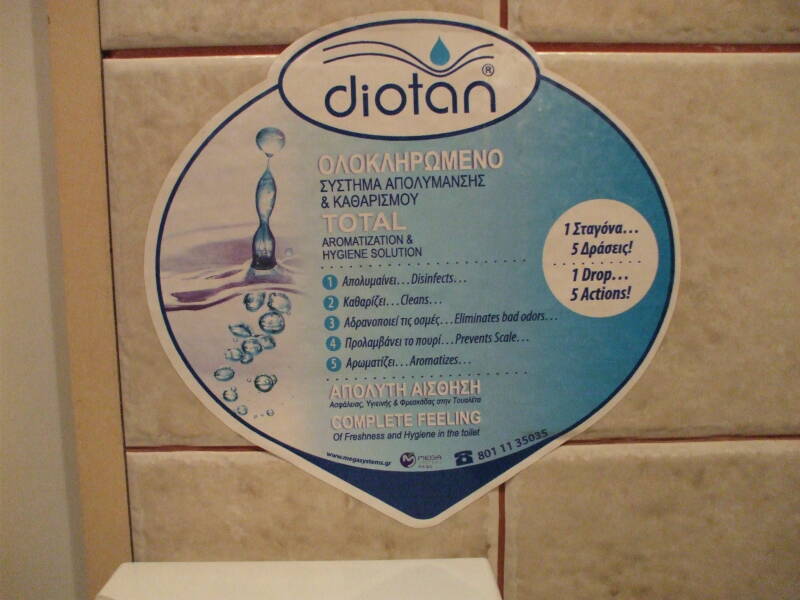 This toilet is in the Thessaloniki train station. It's basic — just a seatless bowl and stainless steel waste bin and brush. But as train station toilets go, it's pretty nice.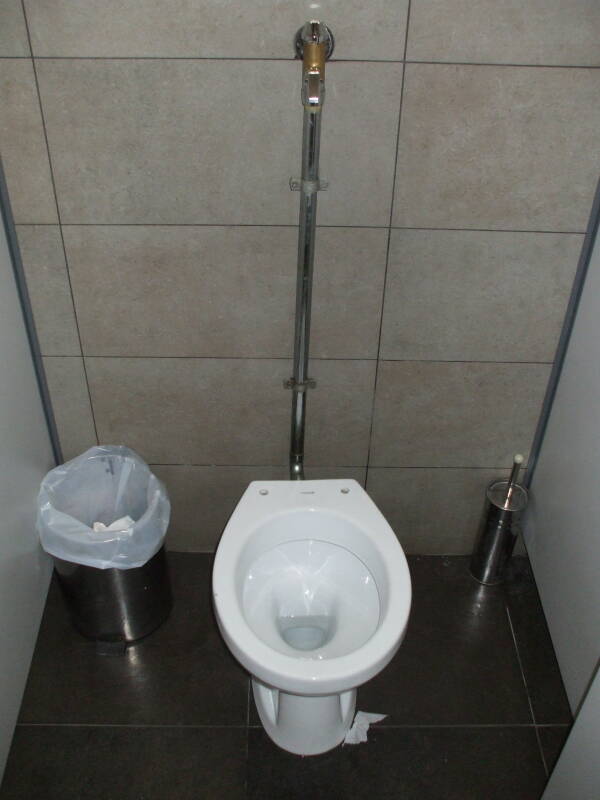 KTEL, the national bus company in Greece, has some buses with on-board toilets.
Most of the on-board bus toilets I have seen are at the right rear, replacing maybe two rows of seats. The Greek ones, however, are down in the center stairwell. They look like they would be awfully small.
I don't know, and I can't put the blue Sani-Flush border around this picture, because they seem to routinely be locked shut.
Yes, they have toilets. But you can't use them.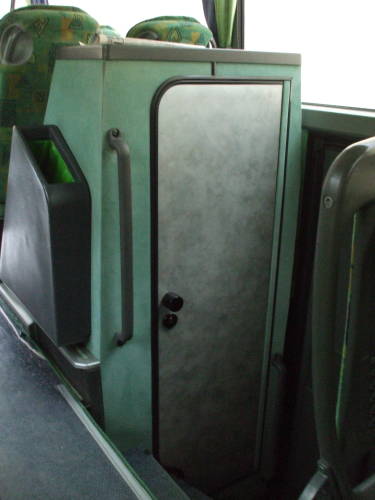 This toilet in the Korinthos train station in the Peloponnese is an example of the relatively rare mainland European squatter. Well, relatively rare in western Europe anyway, outside French bars.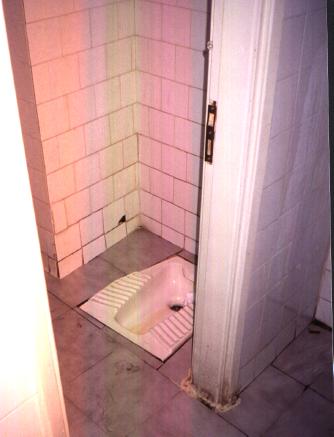 This austere seatless example is in the Akti Hotel, in Korinthos.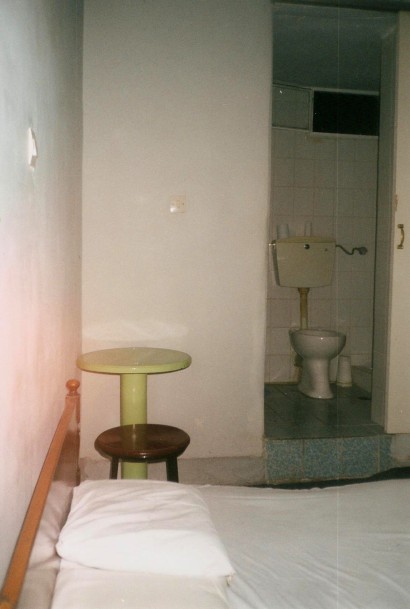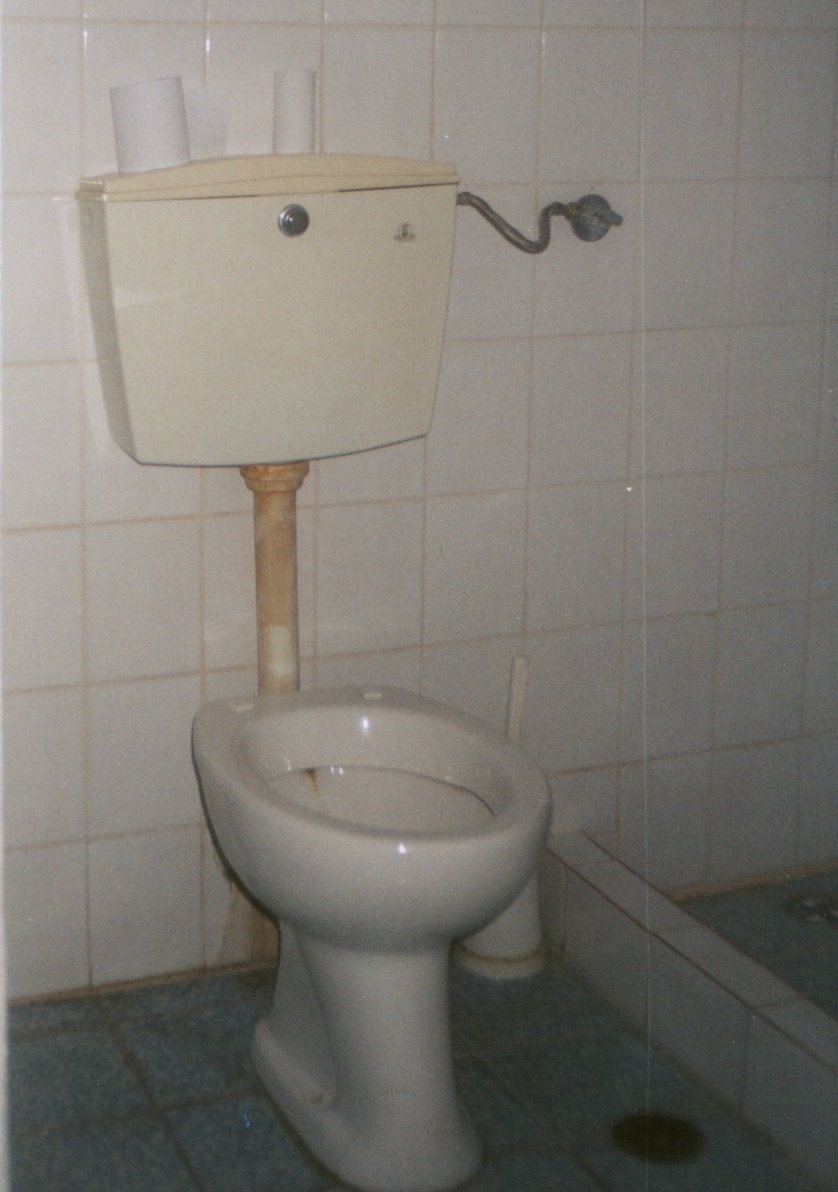 At Olympia, in the Peloponnese, you can visit the site of the original Olympic Games and the Temple of Olympian Zeus, one of the Seven Wonders of the Ancient World.
This seatless toilet is no wonder, however.