Icelandic Toilets
Iceland in Winter
My visit to
Iceland
I visited Iceland over Christmas and New Year's because of course you go to high latitudes in winter. In the summer it never gets dark, and that's just exhausting. Plus, you can see the aurora during the winter if the geomagnetic field and weather cooperate.

The toilets are like so much else in Iceland: modern, clean, and designed with a cool Nordic style.

Other interesting Icelandic plumbing includes their hot water, largely supplied by thermal springs.

Icelandic children spend 11% of their time between ages 6 and 16 studying modern languages other than Icelandic. The result is that almost everyone in the country speaks English. The toilets will be labeled with graphical stick figures plus WC, and if you have to ask for directions, anyone can help.

This page will follow my order of discovery as I drove the Ring Road around Iceland in a counter-clockwise direction.
Eyrarbakki
This egg-shaped toilet was in my first overnight stop along my journey, at Guesthouse 77 in the small town of Eyrarbakki on the south coast. What a sleek design!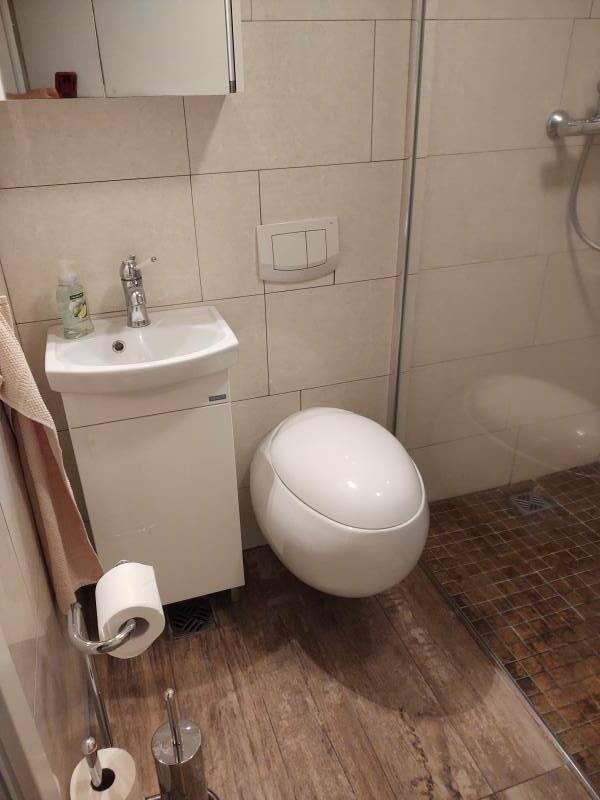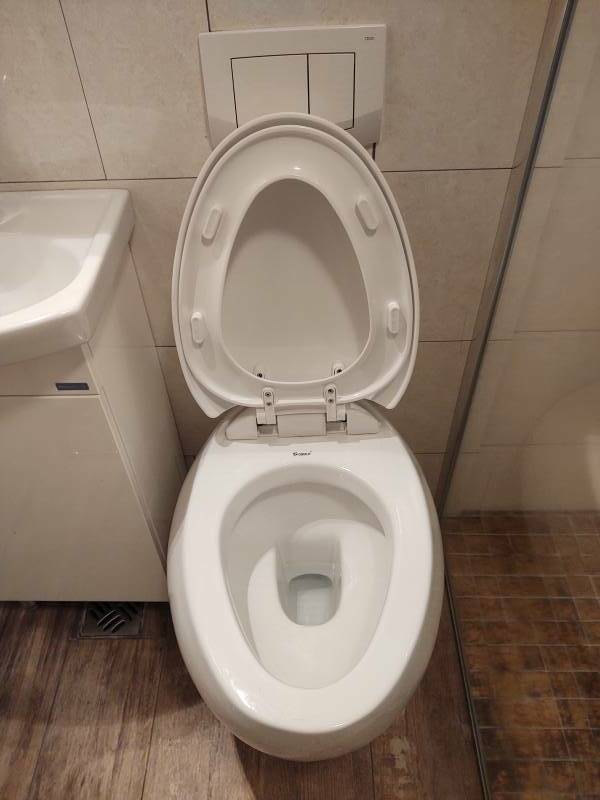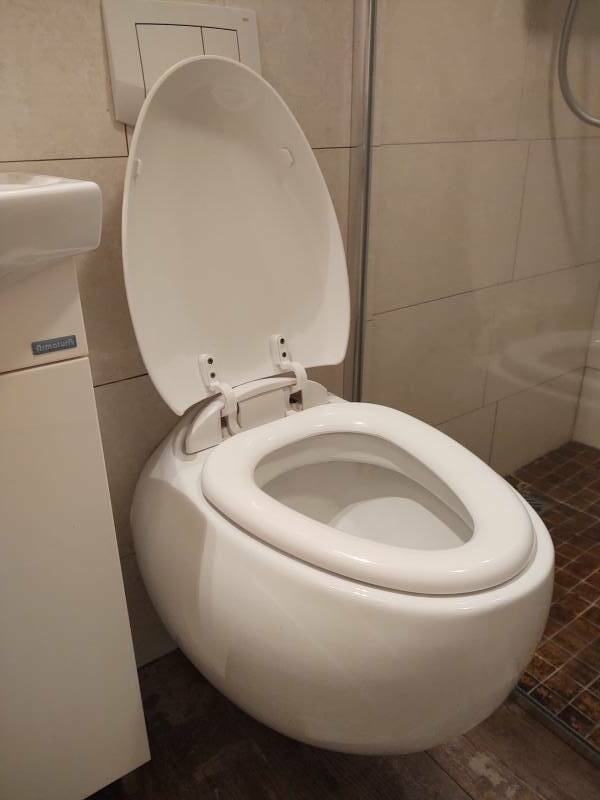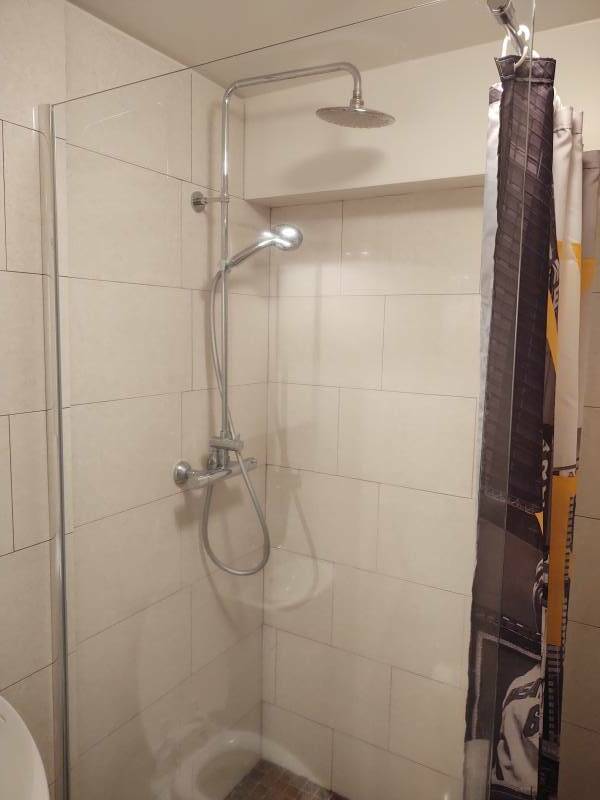 Nearly 20% of Iceland's electrical supply plus nearly 90% of domestic heating and hot water requirements are provided by geothermal power. I found that once in a while the hot water in the shower had a slight sulphur smell. Almost all the rest of the electrical and heating power comes from hydroelectric systems. Less than 0.1% of Icelandic power comes from fossil fuels.
Here is a small part of the Reykjanes Power Station on the Reykjanes peninsula south of Keflavík. That power station sends 100 MW of electrical power and 150 MW of thermal power to the local district.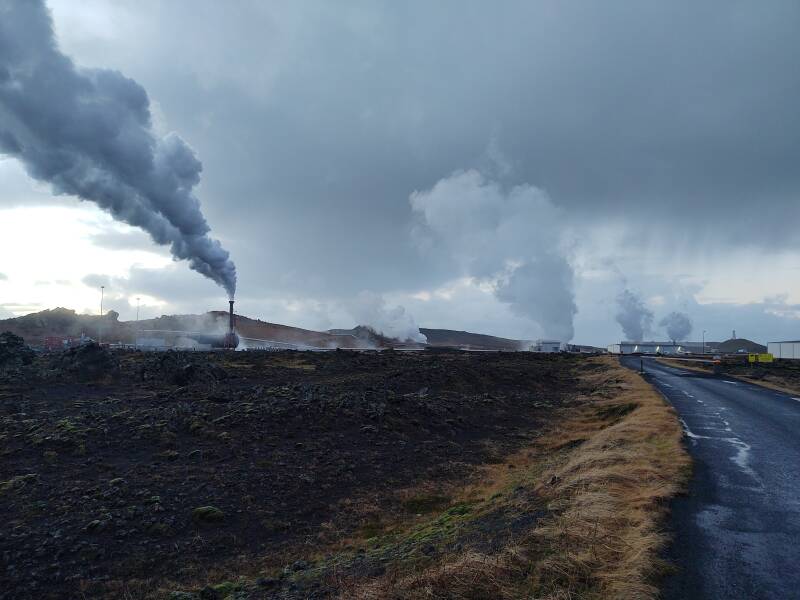 Iceland is Expensive
Here's the door to the bathroom at an N1 gas station south of Keflavík. If you haven't purchased anything, you have to pay 200 Króna, which at the time was 1.36 € or 1.54 US$.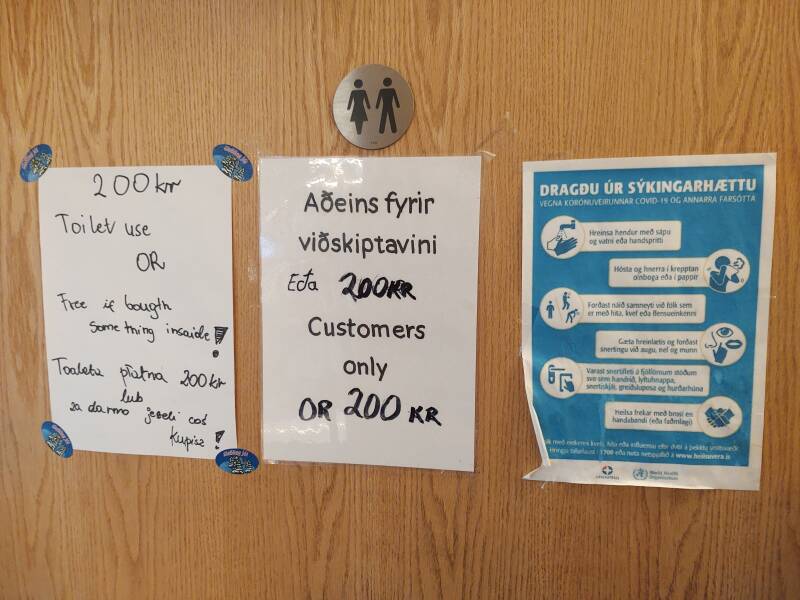 I had purchased a sandwich, so while that was the most expensive gas-station sandwich I had ever purchased (so far), at least the bathroom was free.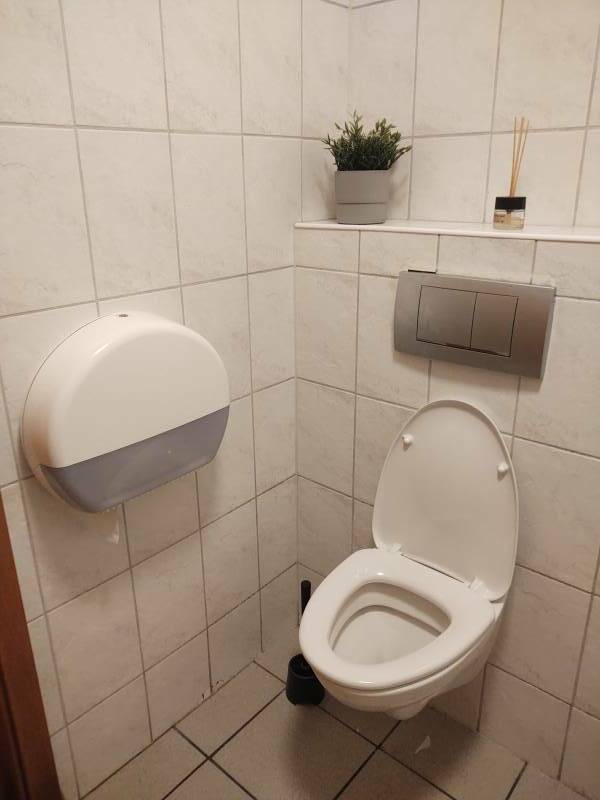 Seljalandsfoss
Seljalandsfoss is one of several spectacular waterfalls or foss in Iceland. Here is the toilet: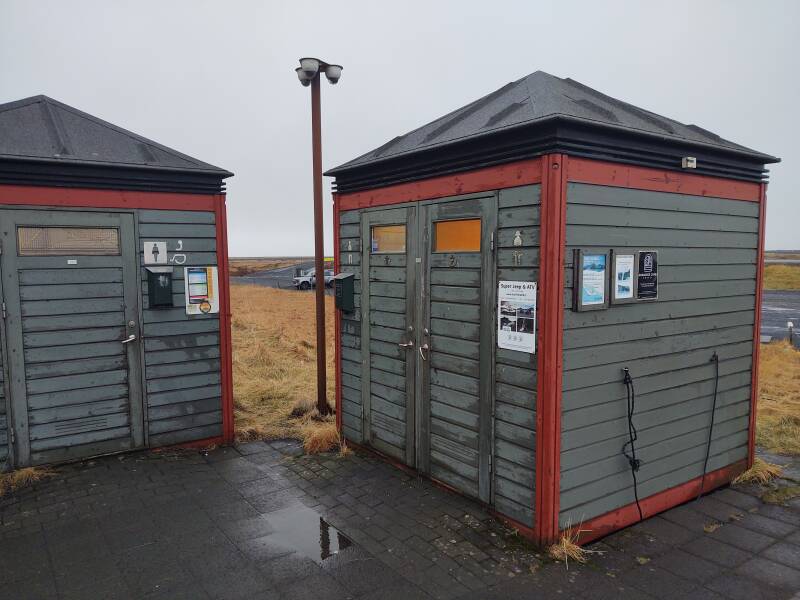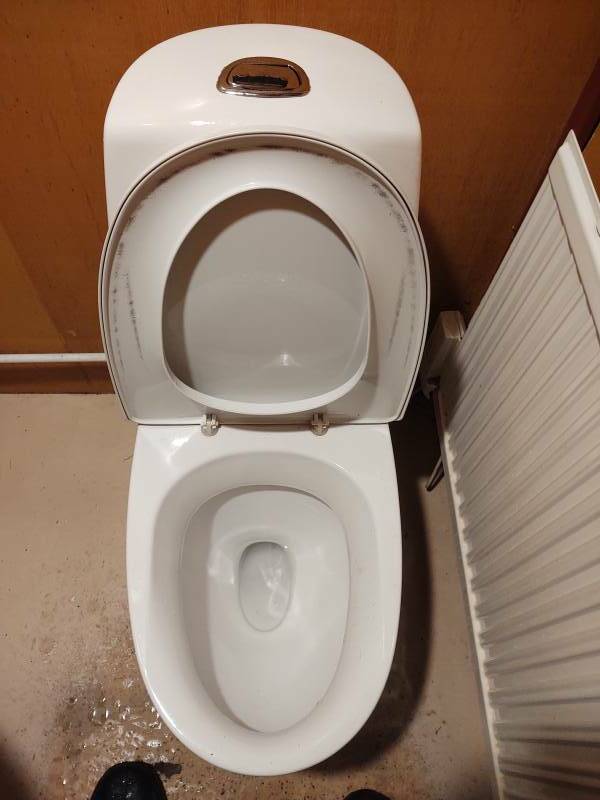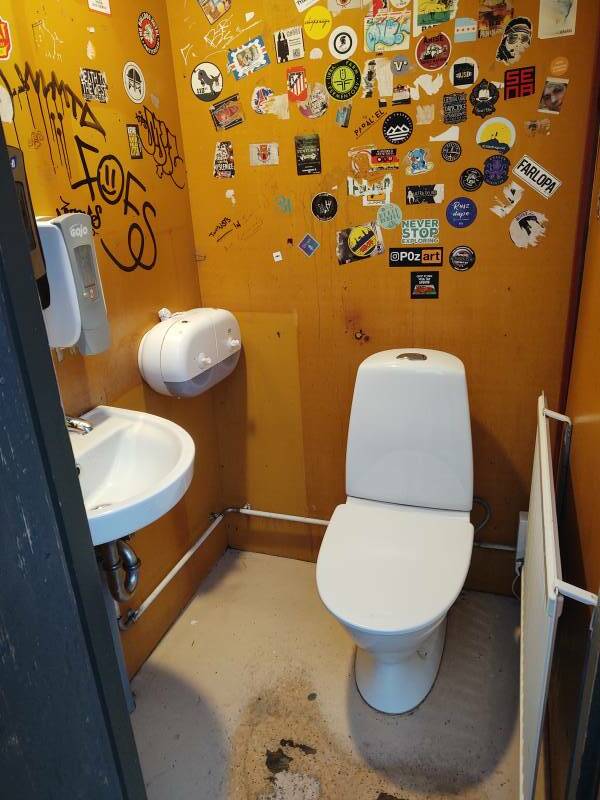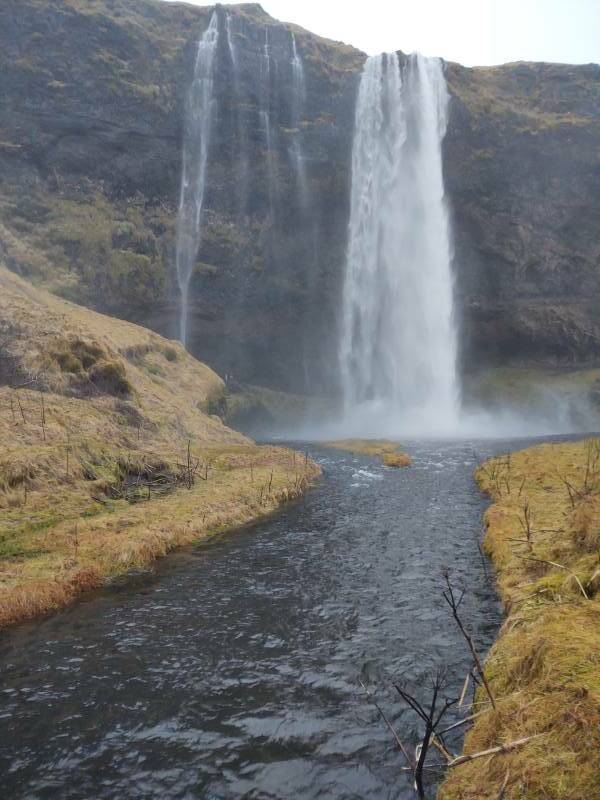 Maybe listening to the falling water will make you need to go.
Don't Go Here
This cave at Steinahellir along the Ring Road was used to house sheep for centuries.
In 1818 it became the area's parliamentary assembly site and was used for that until 1950.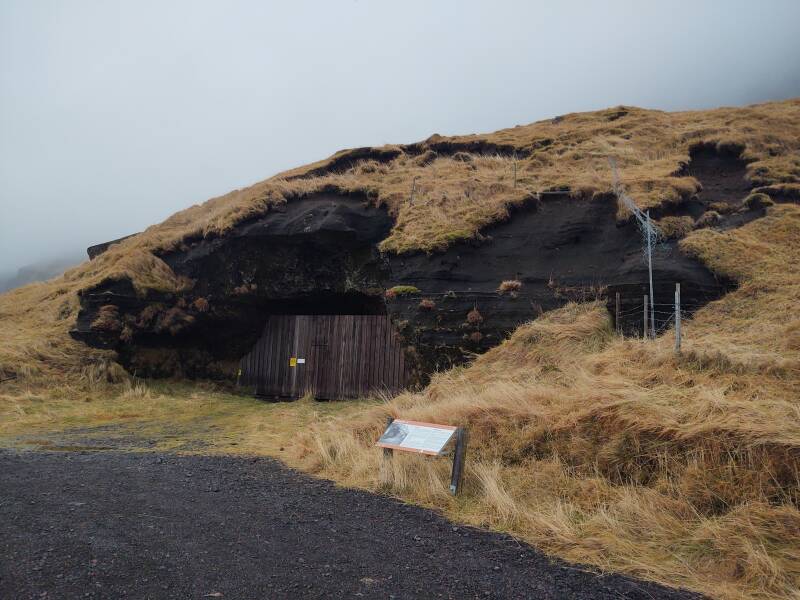 The cave began as a naturally occurring feature, but people manually enlarged it over time. House more sheep, have larger assembly meetings, that sort of thing.
There are many stories of supernatural happenings around this cave — apparitions of ghosts and spectres, people getting cursed.
Don't poop here. Don't even pee. You might be cursed.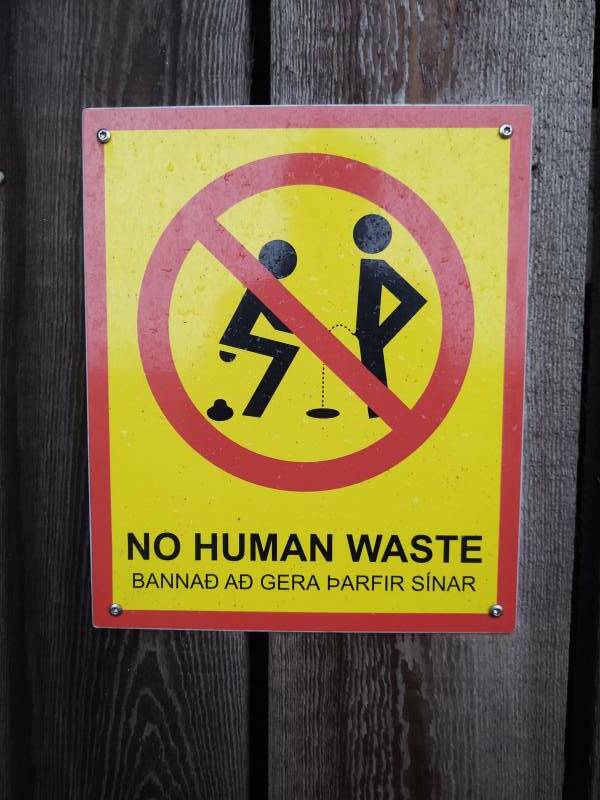 Toilets in Vík
Vík is Iceland's southernmost town. Vík is Old Norse for "cove" or "bay", and has come to mean "port" or "harbor" today. The nation's capital, Reykjavík, and many other towns including Keflavík, Breiðdalsvík, Husavík, and others reference a specific vík.
Then there are several towns simply named Vík, like this one. They have more complete names to tell them apart. This one, the largest Vík of all with a population of 750, is fully known as Vík í Mýrdal.
Here's the toilet at Smiðjan Brugghús, the local brewpub.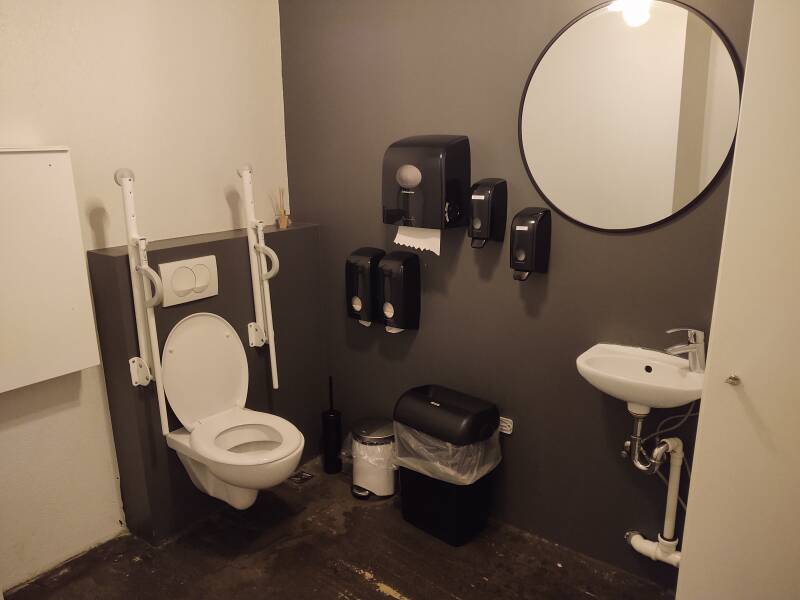 Here's a toilet and shower at the Norður Hostel, where I stayed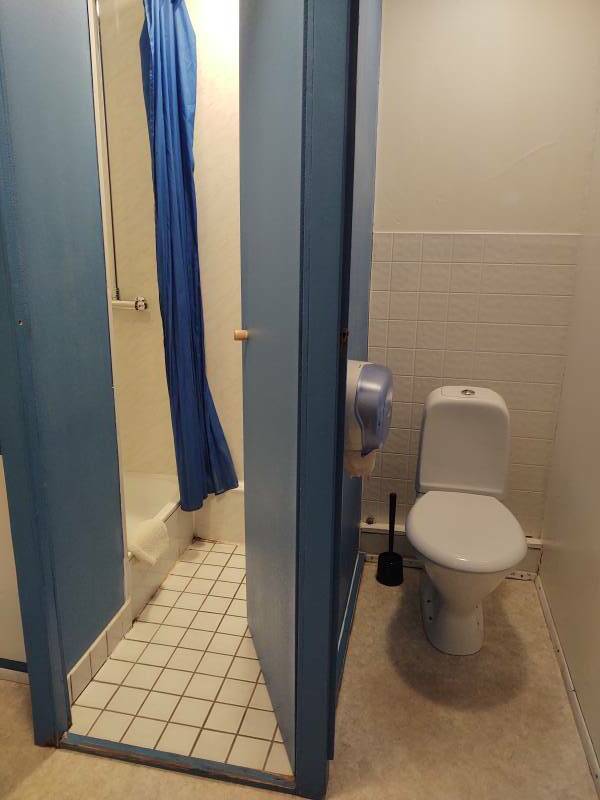 Dyrhólaey
Dyrhólaey is a promontory outside Vík. It is the southernmost point of Iceland, a former island formed by a volcanic eruption about 100,000 years ago.
Here are the urinals and sinks at the parking area.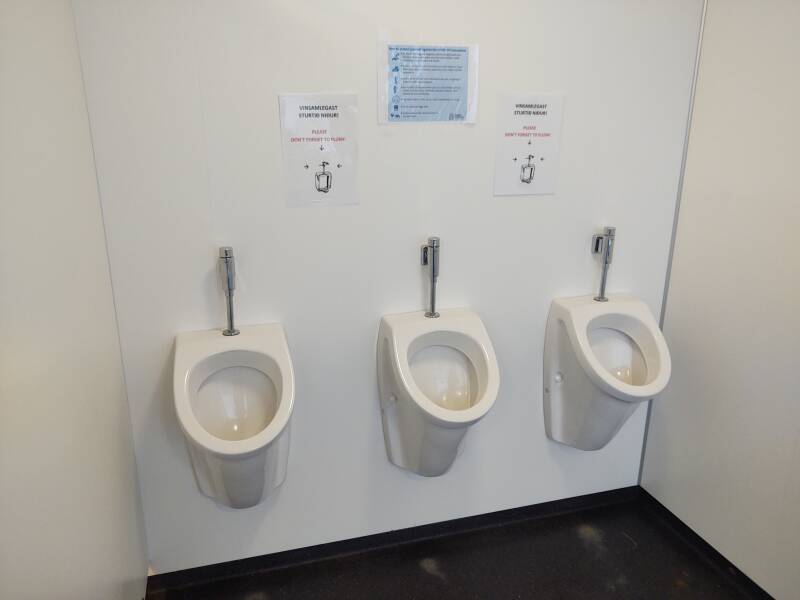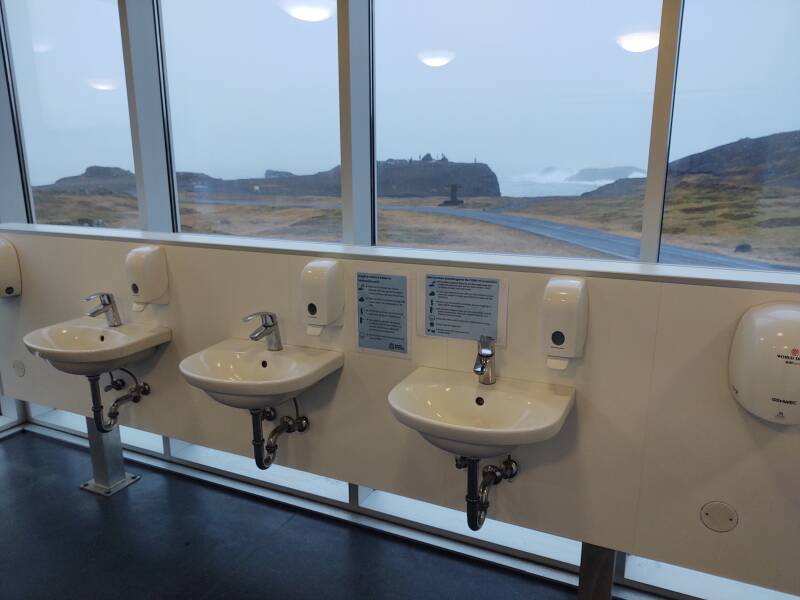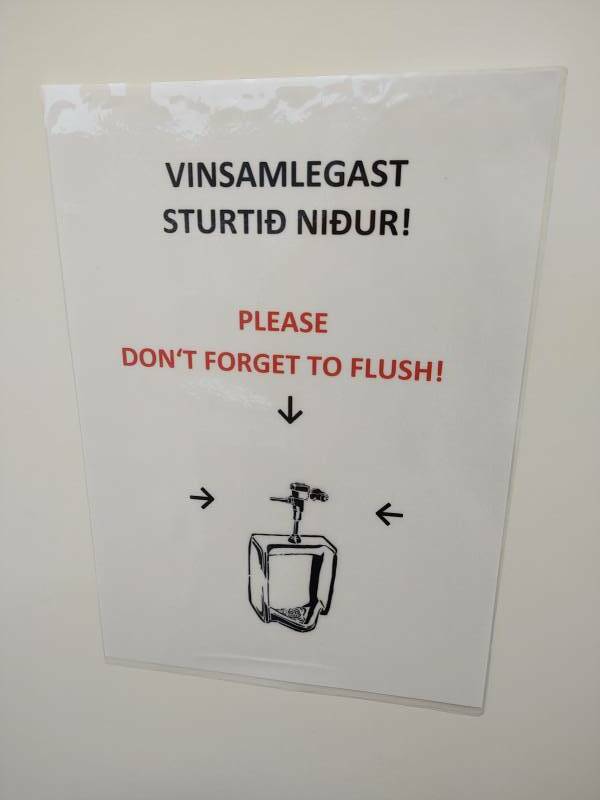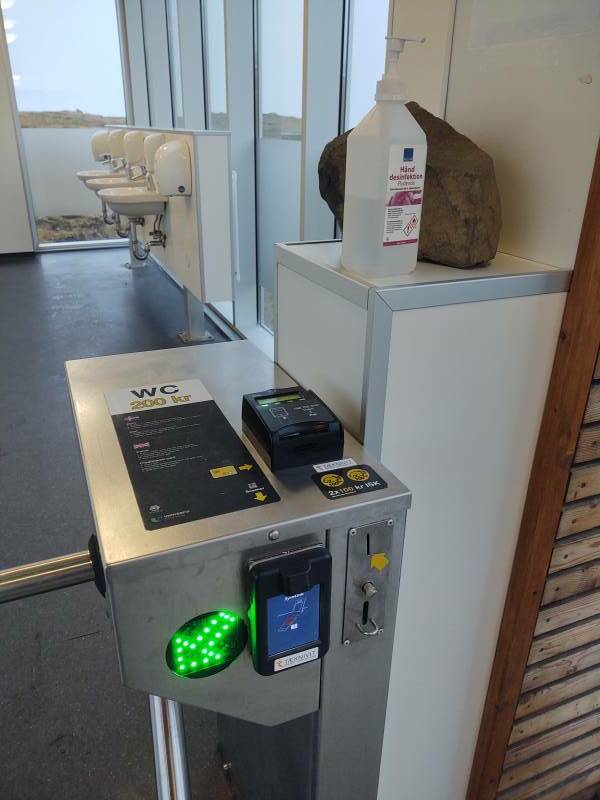 It costs 200 Kr to enter.
Maybe listening to the crashing waves will make you need to go.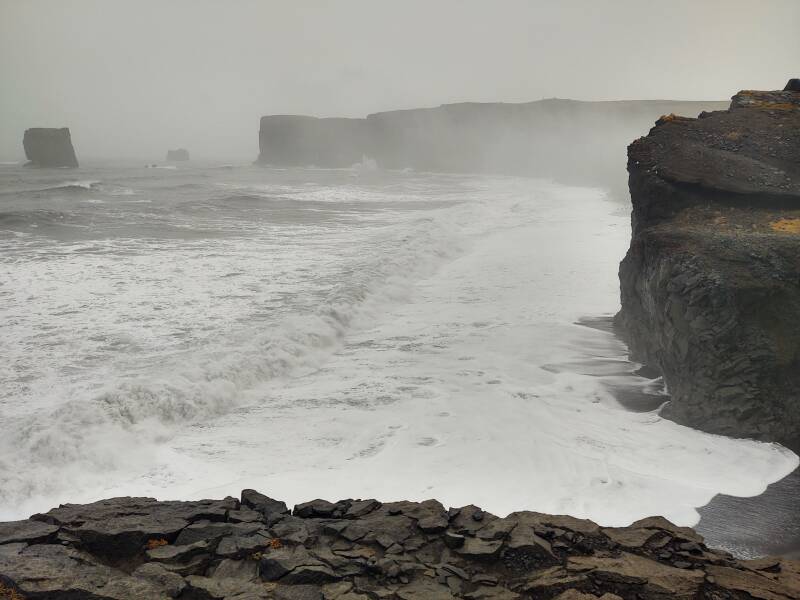 Hali
Here is the shared bathroom at the Skyhúsið Guesthouse in Hali.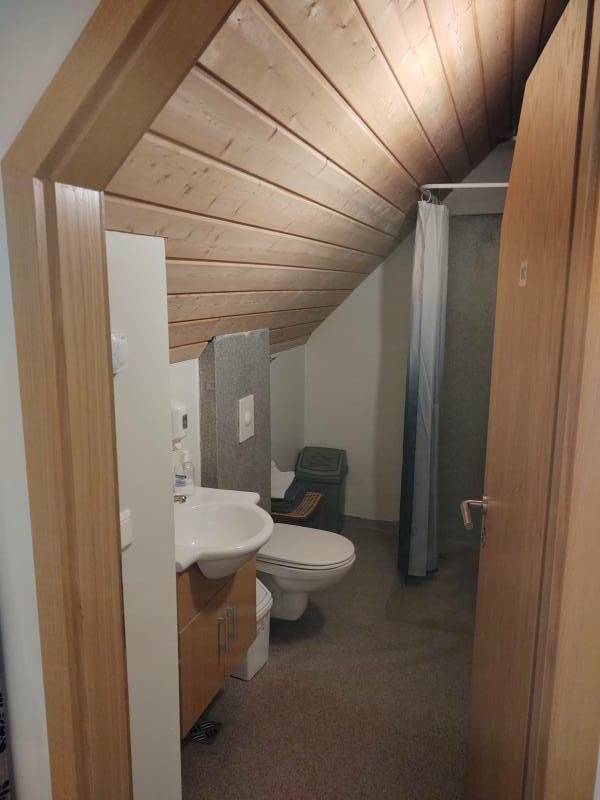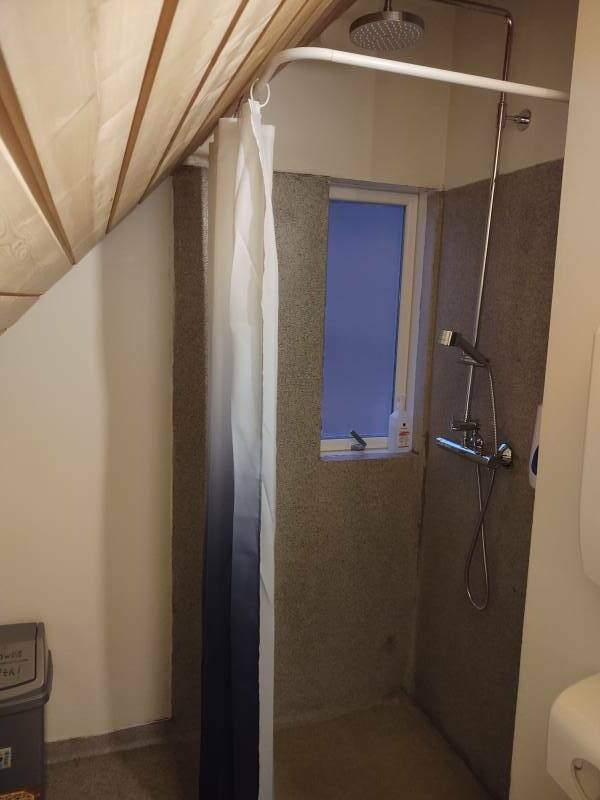 Höfn
Bistro Z in Höfn has a large steel trough urinal. Traditional and simple, but it's modernized with an infrared emitter / detector and reflector.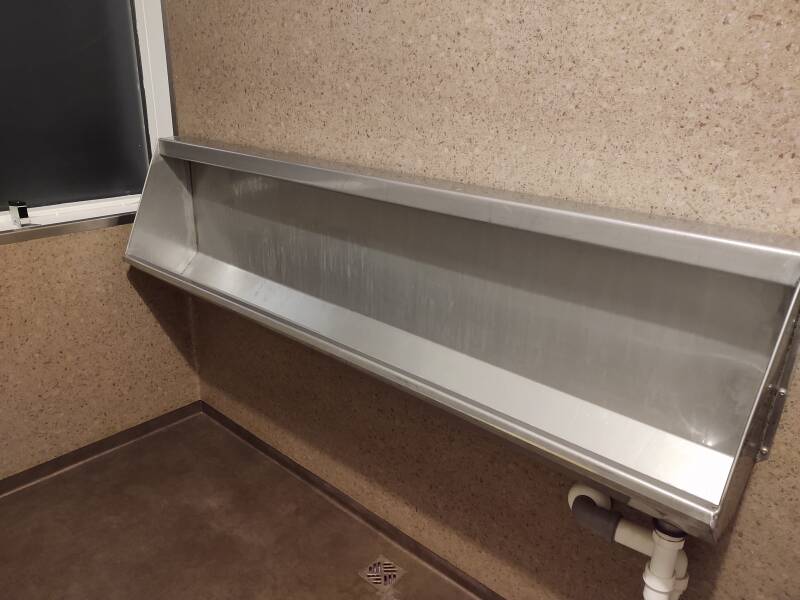 No need to touch anything, it starts flushing when you get close enough to break the beam.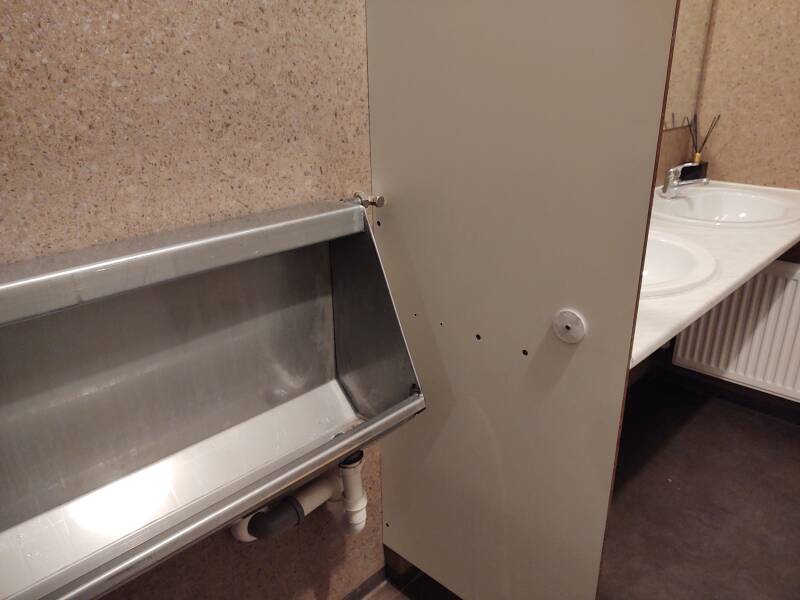 The shared bathroom at the Höfn Hostel is immaculately clean.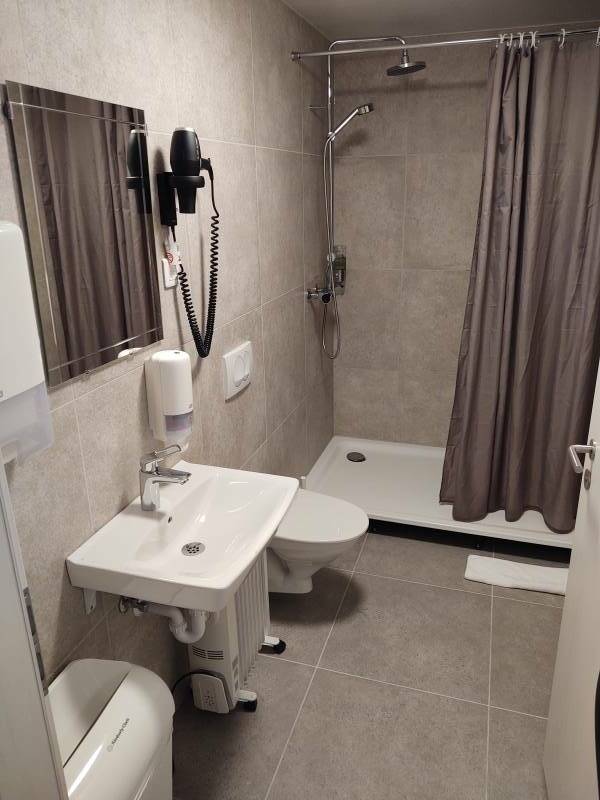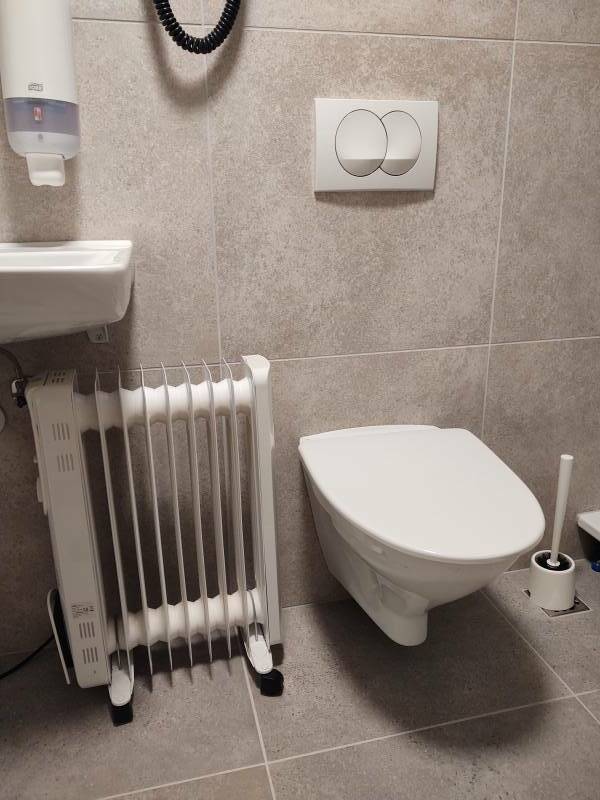 With, of course, a naturally heated towel warmer. Nice!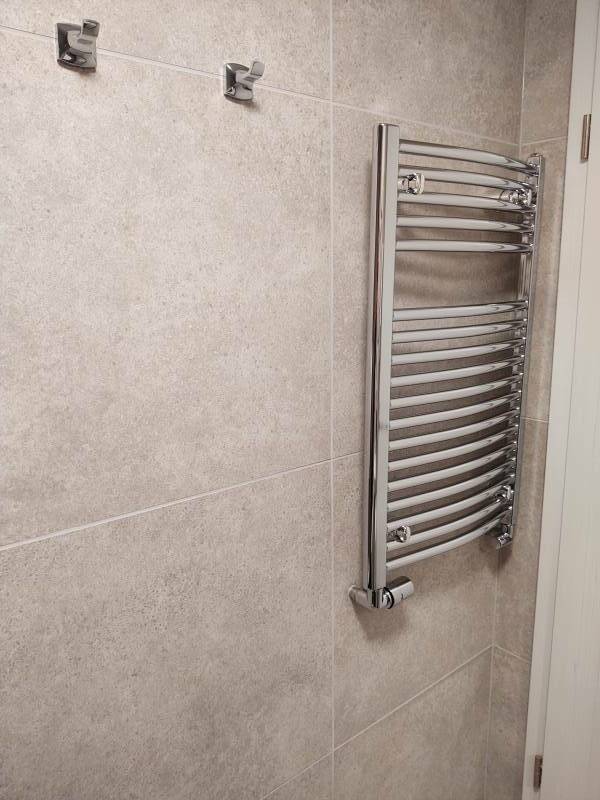 Breiðdalsvík
Continuing up the east coast through the Eastfjords region, I stayed at the Hotel Staðarborg outside Breiðdalsvík.
In winter, rather than have a small number of guests wandering around an almost entirely vacant hotel as if they're in The Shining, they rent two small cabins behind the hotel. Here's mine.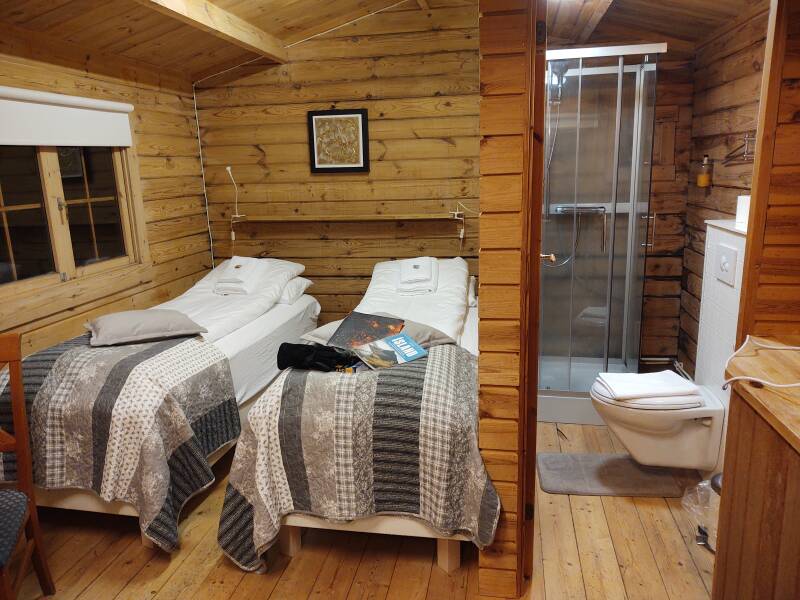 Yes, the cold water is running in the sink. My host instructed me to keep it running like that to keep the water supply line from freezing. It's OK, it's coming out of a spring and going back into the ground.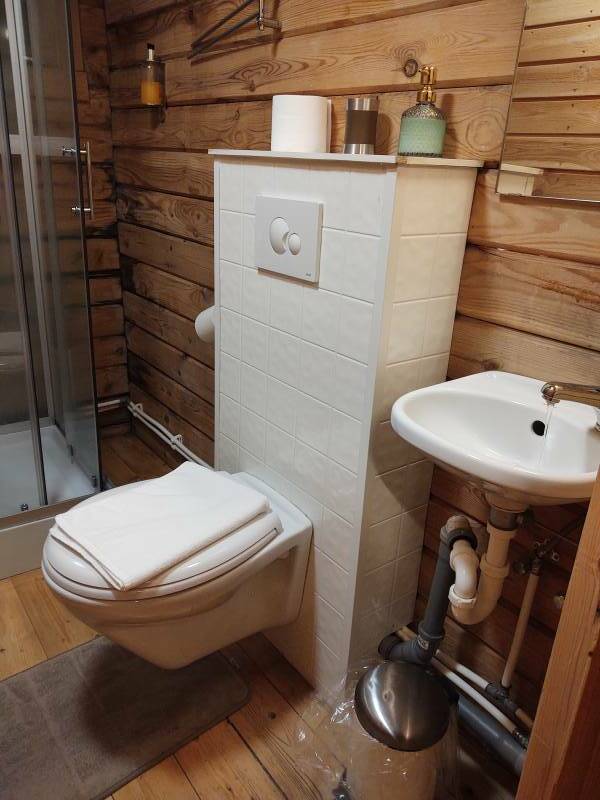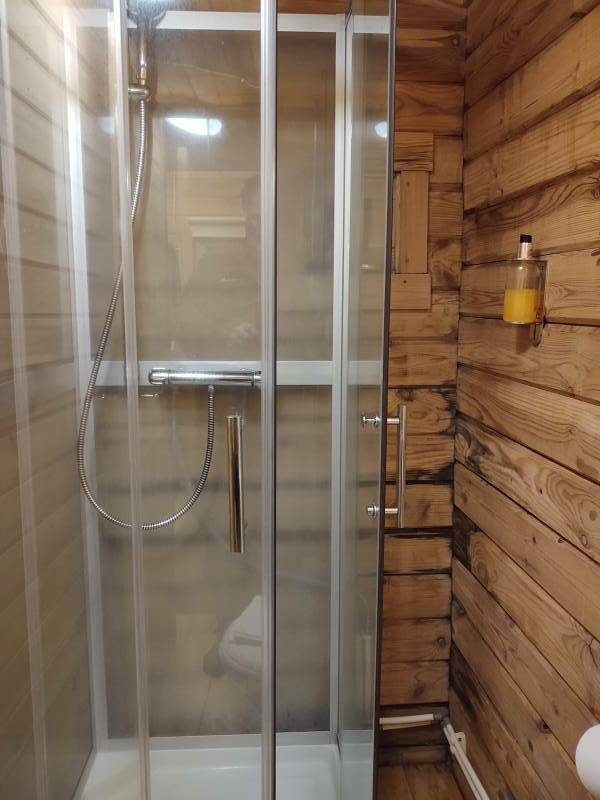 Seyðisfjörður
I continued north through the Eastfjords region, then driving inland to Egilsstaðir and then up over a mountain pass to Seyðisfjörður, an artistic community of 676 residents.
Here is my bathroom at the Seyðisfjörður Guesthouse. Why doesn't everyone follow this excellent design and make the entire bathroom floor drain into the shower?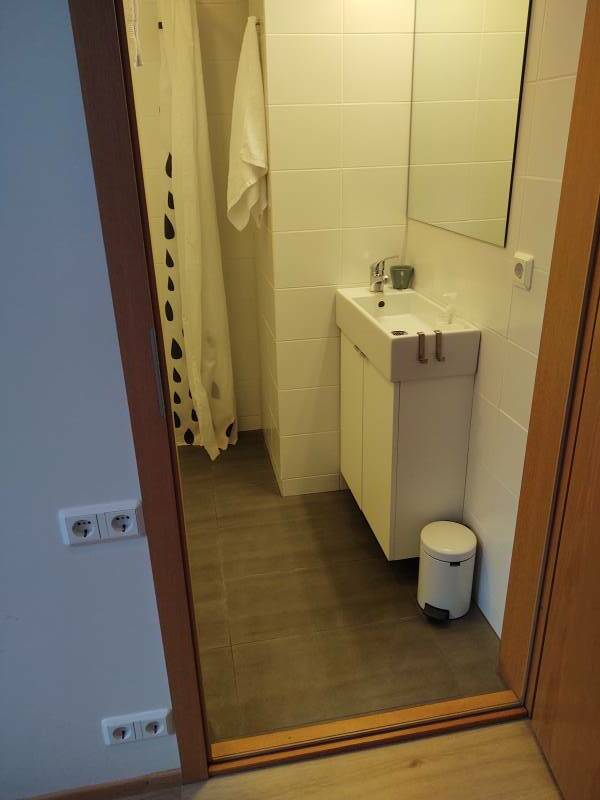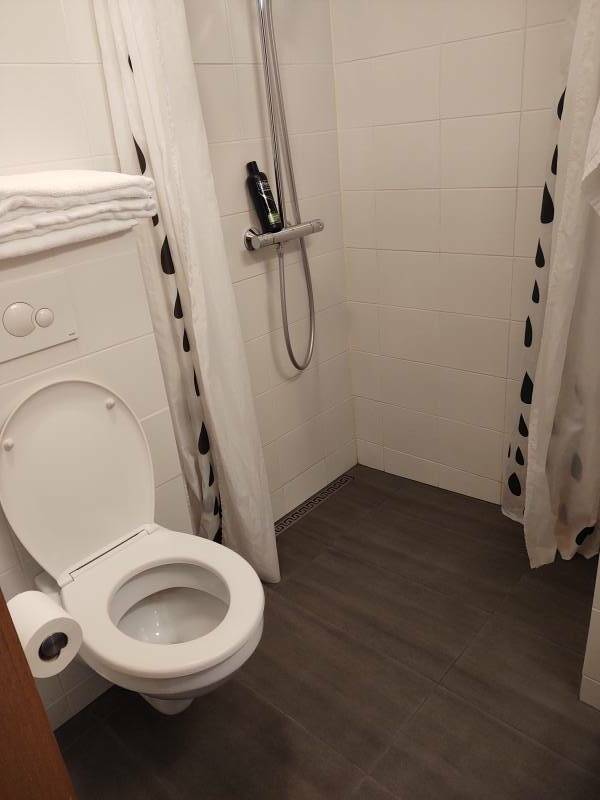 However, I could do without the trip hazard of the strip across the bottom of many Icelandic door frames. It's not specific to keeping water within the bathroom, there was also one to trip over between my room and the hallway.
Mývatn Geothermal Field
Lake Mývatn began forming during eruptions about 2,300 years ago. It is now a major geothermal power source, providing hot water to the region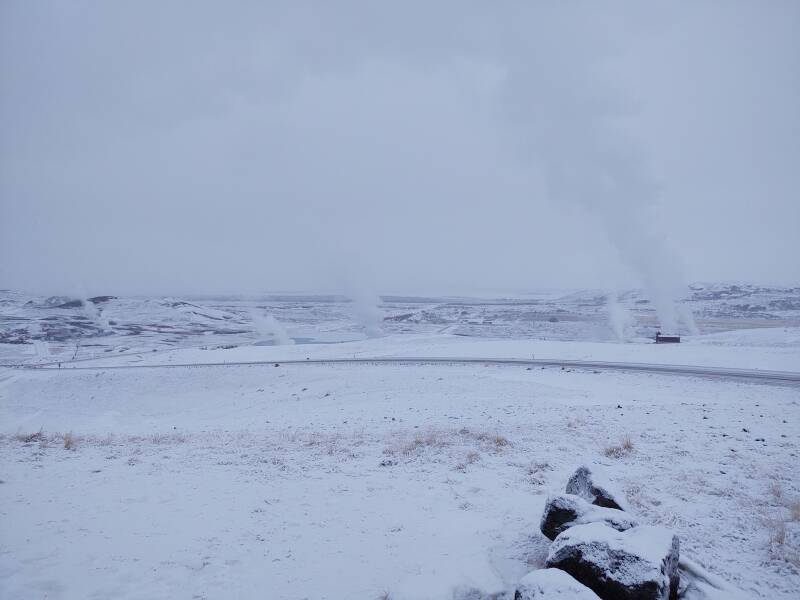 Lava flowed down over the forming lake, trapping water-logged lake sediment beneath it. Steam explosions then violently reformed the terrain.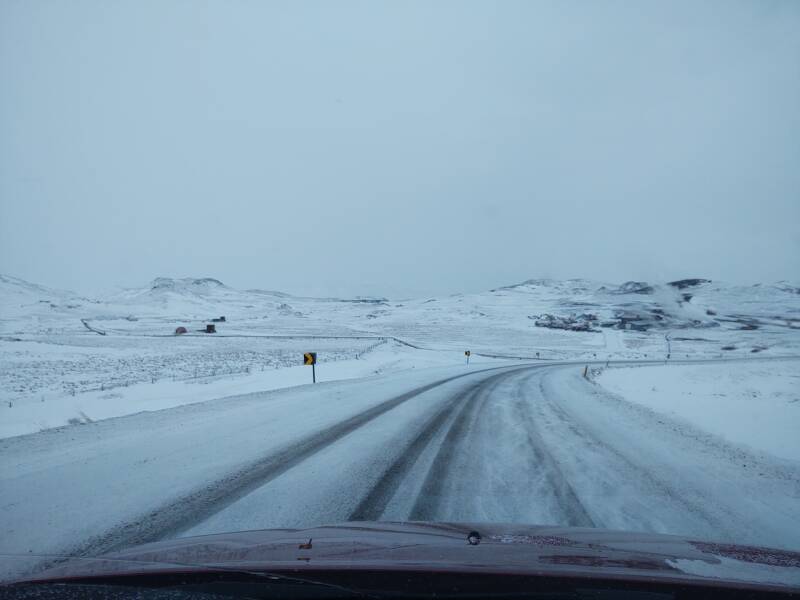 The resulting lake is large but shallow — 37 square kilometers in area, but with an average depth of just 2.5 meters.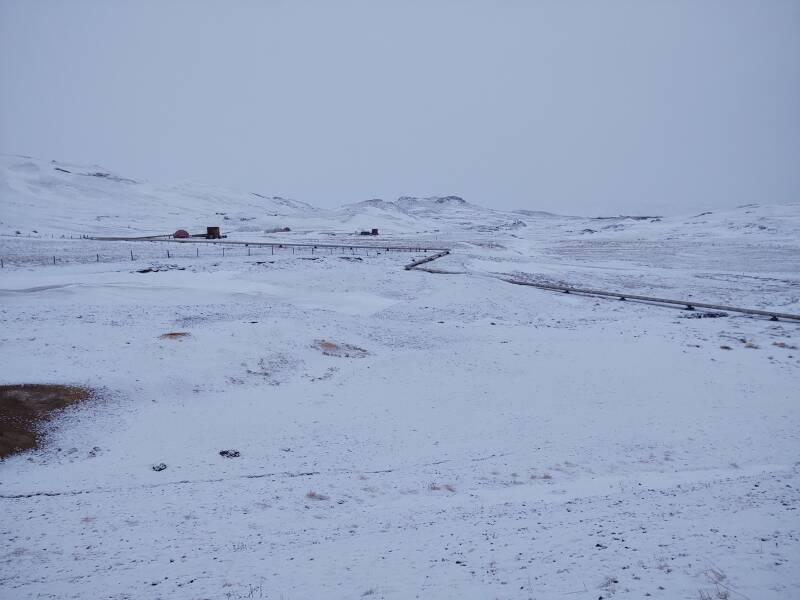 80% of Iceland's heating and hot water is provided by geothermal sources like this.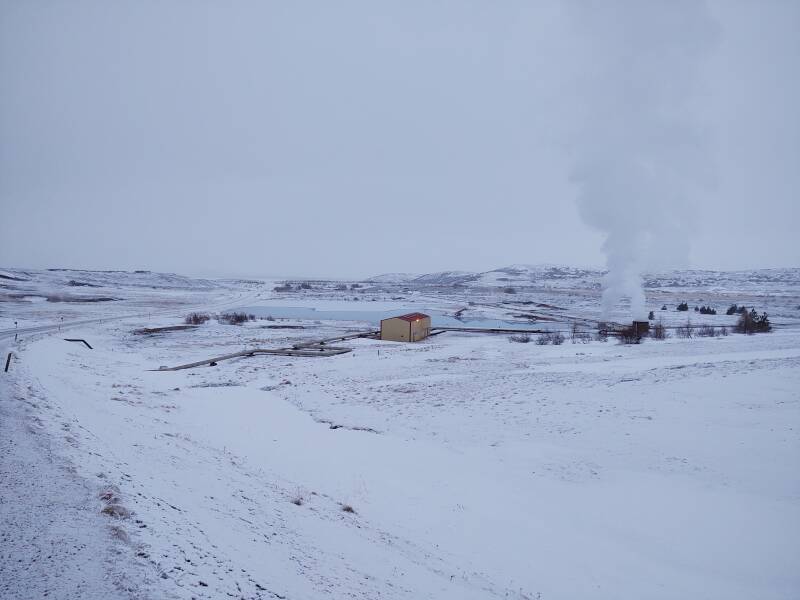 Akureyri
I stayed at the 600 Guesthouse in Akureyri. Hot water for heating and baths in Akureyri comes from a field of hot springs a short distance south of town. Here is one of their clean shared toilets, and toilet/shower combinations.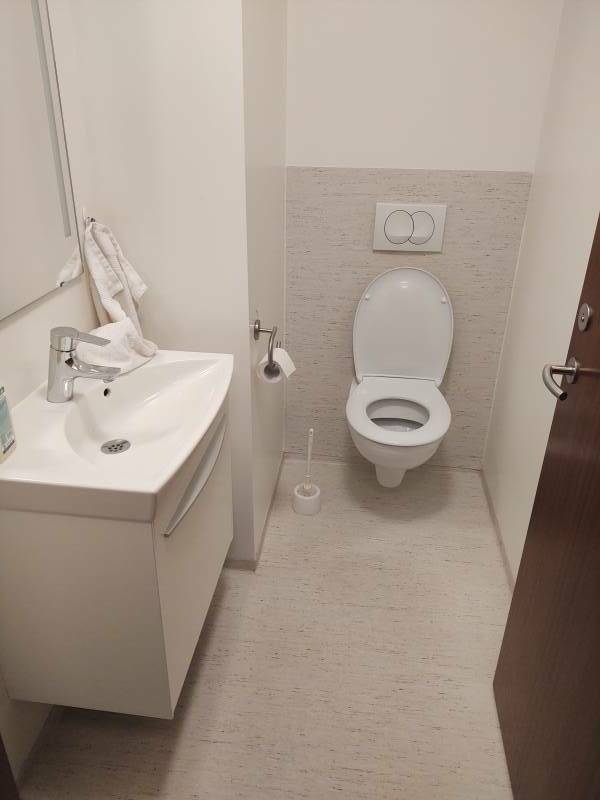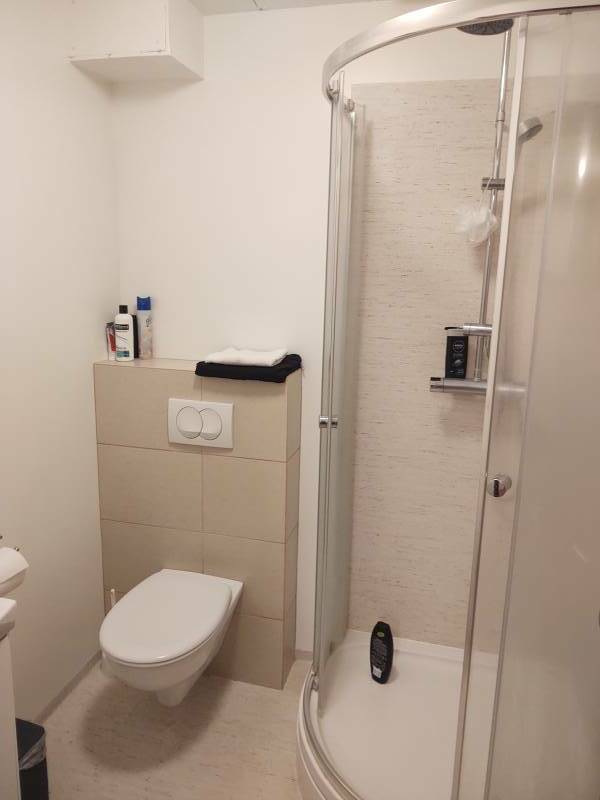 The Einstök Brewer's Lounge in Akureyri has a sleek toilet with a dual-flush system built into a rocker control atop its tank.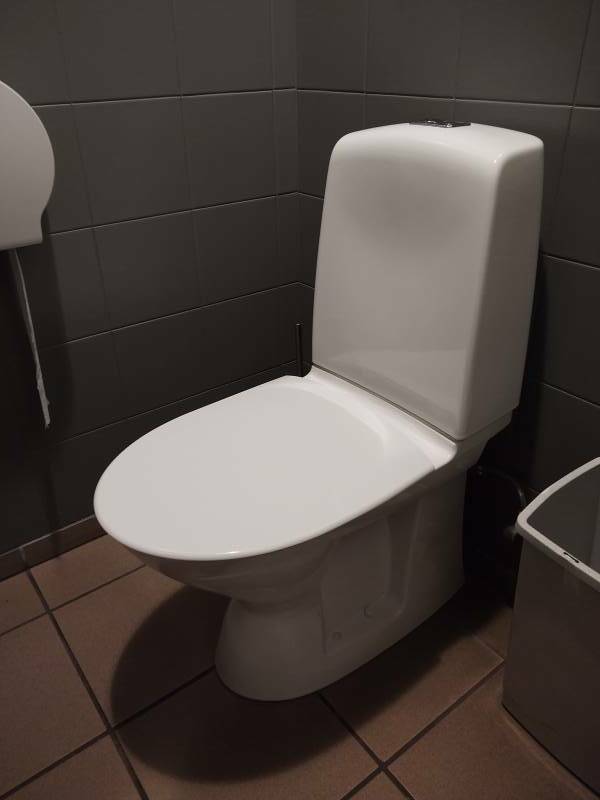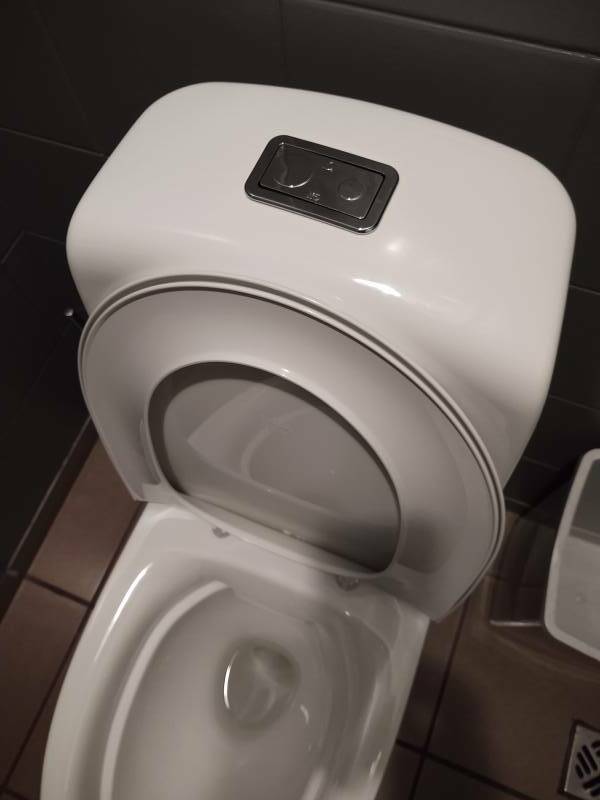 This hot water heating radiator at Akureyri Backpackers is typical.