Romanian Toilets
Romanian Toilets
I was disappointed by Romanian toilets, but in a good way. Let me explain. Travel guides routinely spin horrible tales of Romanian toilets, and I was ready for some epic plumbing. But I found Romanian toilets and other plumbing to be very nice.
Lonely Planet's guide to Romania and the closely related Moldova says:
Let's just say that public toilets in these countries won't be among your highlights. We even heard a tale of the Duke of Luxembourg getting uppity over one in Transylvania. The toilets at train and bus stations are often smelly holes in vile pits that will make you rush out gasping for fresh air.
Meanwhile the guide books were also promising huge packs of snarling feral dogs, "anywhere from 100,000 to 200,000" in Bucharest alone, according to the rather nervous Lonely Planet book. A Japanese traveler was killed by them in 2005! Another traveler was attacked and bitten while stepping off the bus as he arrived in the country!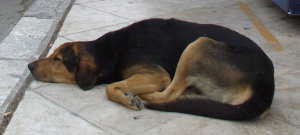 Bad toilets everywhere, huge packs of vicious dogs — none of that was true.
I'm sure that the toilets and the dogs used to be awful, but both are quite nice in these days long after Ceauşescu's demise.
If you want nasty toilets in eastern Europe, you'll need to head south to Greece.
Women
Femei
F
s
Men
Bărbaţi
B
t
Where is the toilet?
Unde este toaleta?
Romanian Toilet Logistics
As for the important logistical question of which door to use, you may see the Romanian word for "men" or "women", or the obvious abbreviation for either, or you might see another single letter (s versus t) whose origin I don't know. By the way, the Romanian letter "ţ" is pronounced like the "ts" in English "cats", and the final "-i" is usually not pronounced.
Bucureşti (Bucharest)
This is a toilet at Hotel Elizeu, near Gară de Nord, the main train station in Bucharest (or Bucureşti as it's known to the locals).
Very nice, with a huge and I would hope uncloggable drain pipe. Although, do remember that Romania is well to the east of the Paper Curtain, the Bin-Bowl Dividing Line, and all paper must go into the nearby waste bin and not into the toilet. Click here for further details on this important tissue issue.
A common Romanian toilet design is flushed with a push button at the center of the tank lid. It does not work if you press it gently — you need to give it a sharp shove. This is because it's a pneumatic system, the button is a plunger at the end of a flexible hose.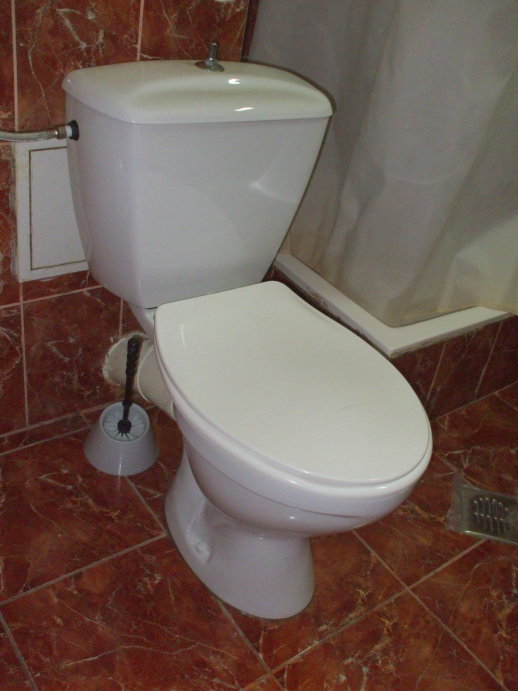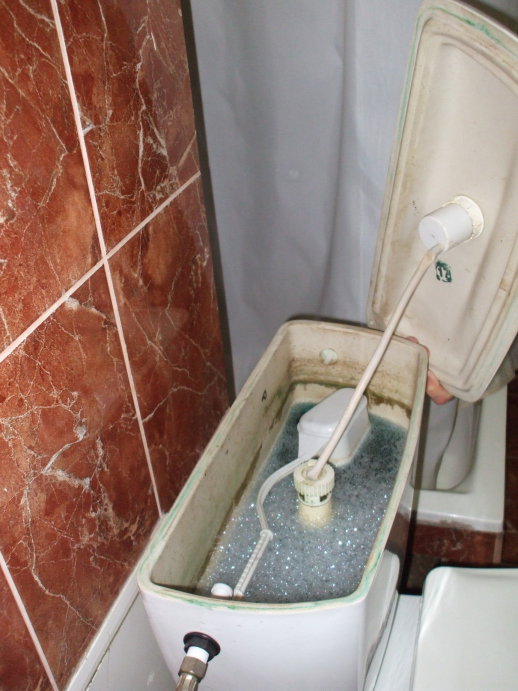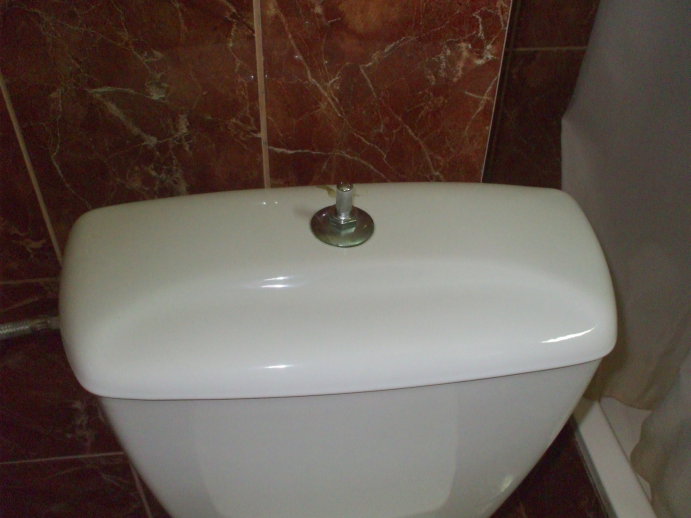 These are public facilities in the Unirea department store at Piaţa Unirii.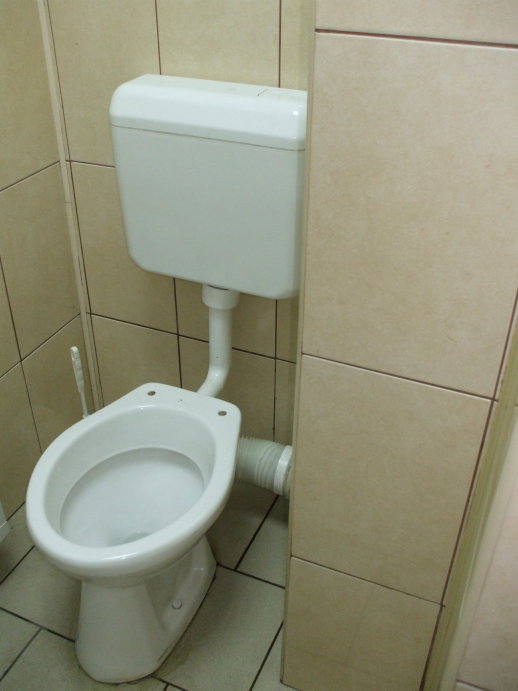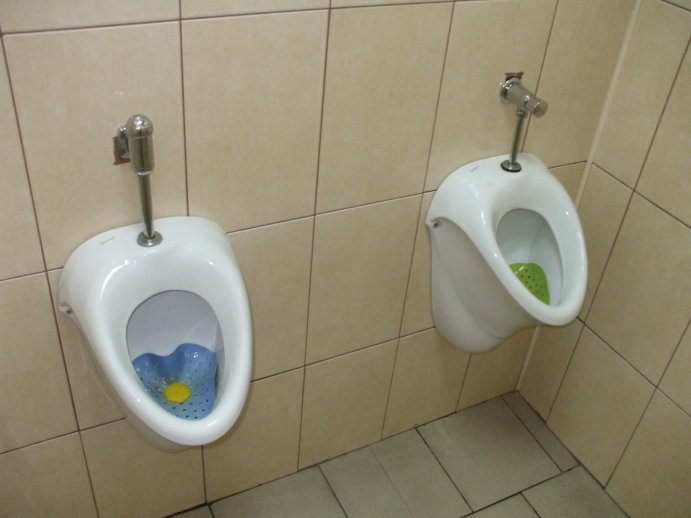 If there aren't enough public toilets, Bucharest will bring in portable ones until a permanent solution can be completed.
These are near the gigantic fountains at Piaţa Unirii, with a grand view of what everyone still calls the Palace of the People.
Nicolae Ceauşescu visited Pyongyang in the 1970s and saw how to really do megalomania. He later had a huge area of central Bucharest bulldozed and an enormous ornate palace and grand boulevard built. The palace is just barely smaller than the U.S. Pentagon, making it the second-largest office building in the world and the largest non-military one. But in addition to being enormous, it is also amazingly gaudy.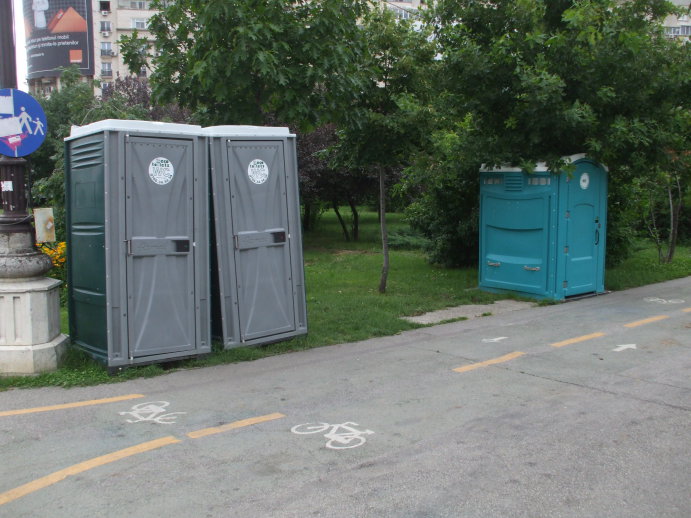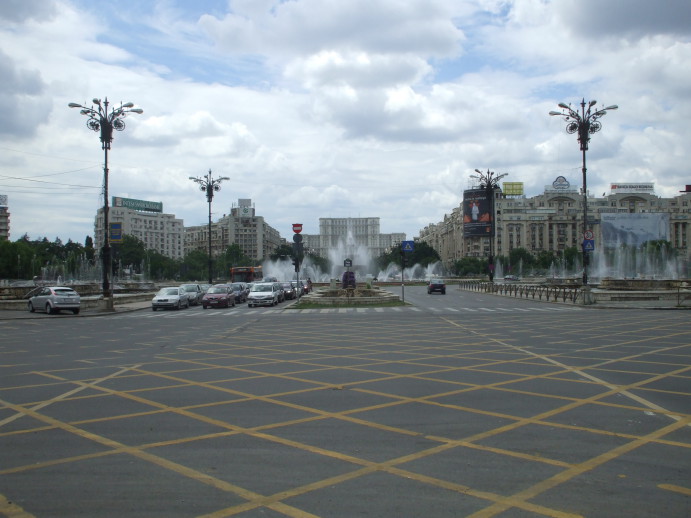 The whole B-dul Unirii is a monumemt to Ceauşescu's cult of personality. It's 3.5 kilometers of pavement and concrete buildings, intentionally just a half a meter wider than Paris' Champs Élysée.
Southern Oil Fields
This remote toilet sighting has me puzzled....
I was coming into southern Romania by train from Bulgaria. For details on the train, at least from a plumbing perspective, click here to see that section further down that page.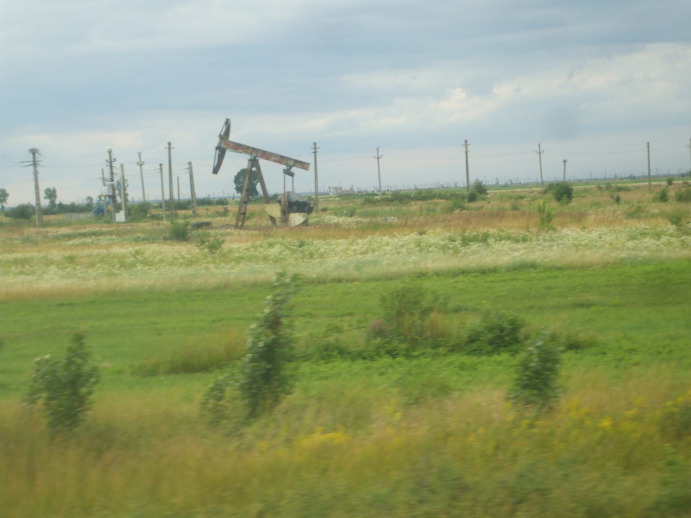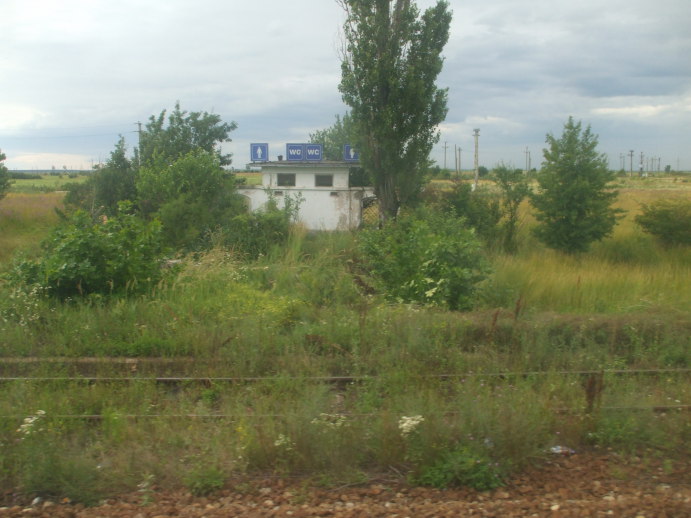 That brings you into the vast Romanian oil fields, starting pretty soon after you cross the Danube River, and continuing past Bucharest and Ploeşti to the southern Carpathian Mountains.
So yes, you expect to see oil wells and pumps, and pipelines, and power lines to run the pumps.
It's the isolated two-room toilet facility that was surprising....
Gura Humorului
Bucovina is a historical region now lying two-thirds in Ukraine and one-third in Romania. Within Romania, it's in the north-eastern corner, along the Ukrainian border and extending from the divide of the Carpathian mountains to Moldova.
This gets complicated.... Moldova is another historical region now overlapping current national borders. There is a region called Moldova within Romania, it's the part of Romania adjacent to the country of Moldova, the former Moldovan Soviet Republic. Often one of these is called "Moldova" and the other "Moldavia", but the names are assigned differently in different languages.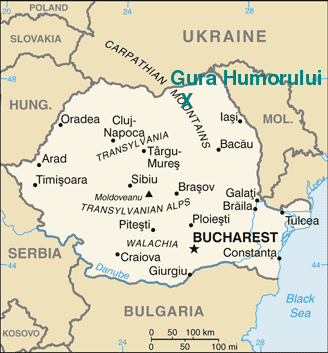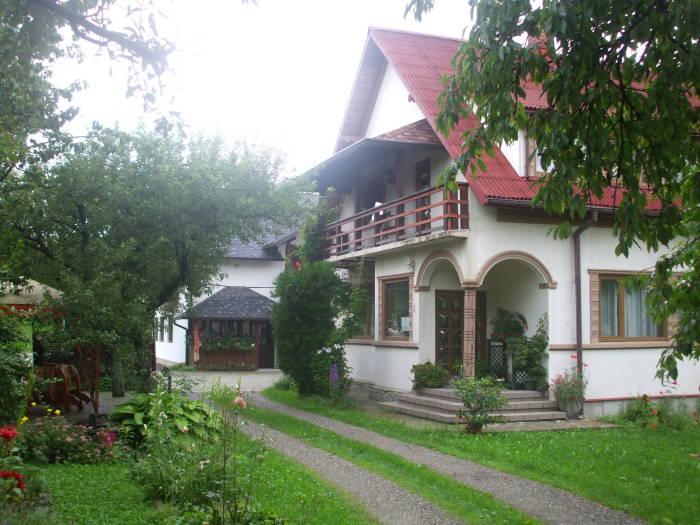 Anyway, Bucovina is famous for its painted churches, built in the period 1487-1532. See my travel page for many pictures of those.
The town of Gura Humorului makes an excellent base for exploring the area. Gura Humorului has a population just under 16,000. Suceava is a larger city with frequent train service, about 40 kilometers to its east.
Hilde's Residence is a great place to stay in Gura Humorului. It's at:
It's one of the nicest places I've ever stayed, a real "boutique hotel". This extends to all the details, including the plumbing. Some of the rooms have dual-seat toilets, ready for use by small children or adults.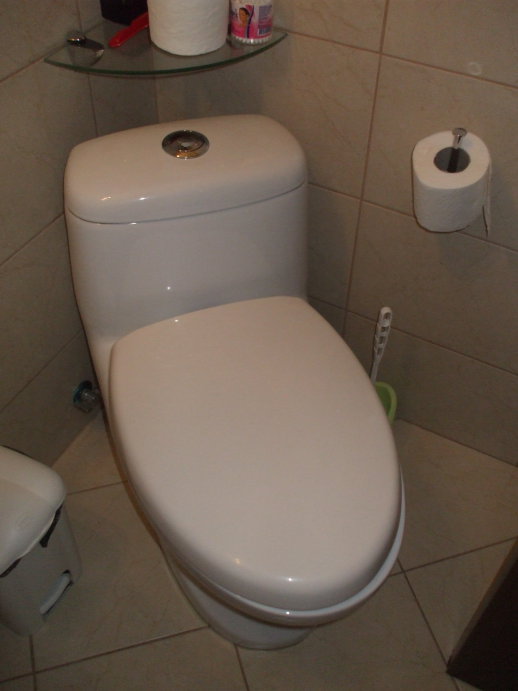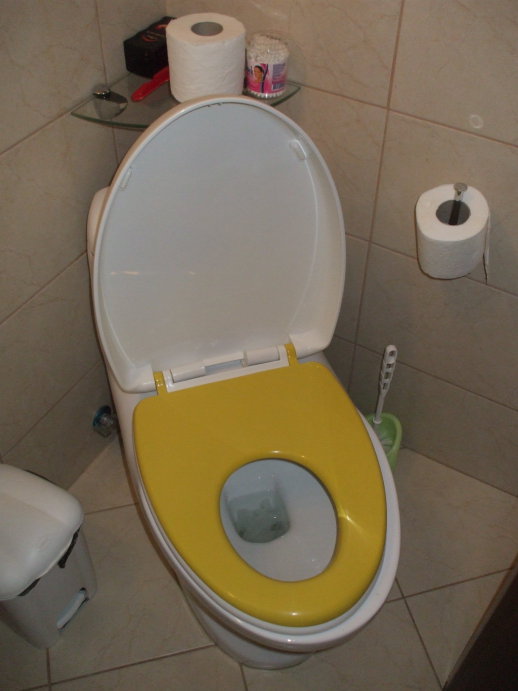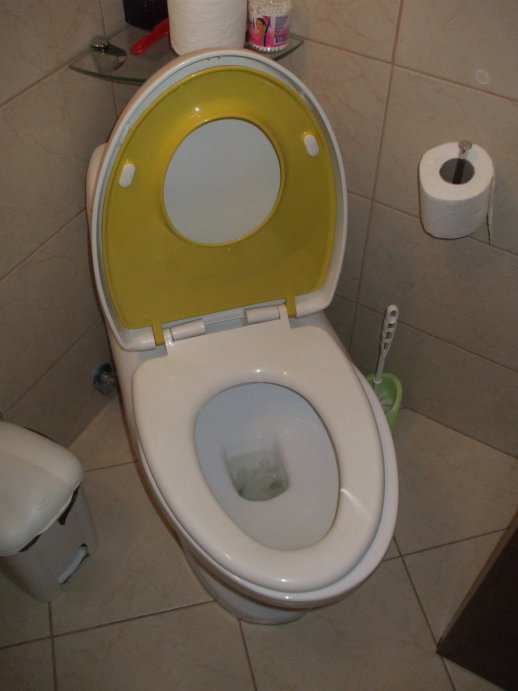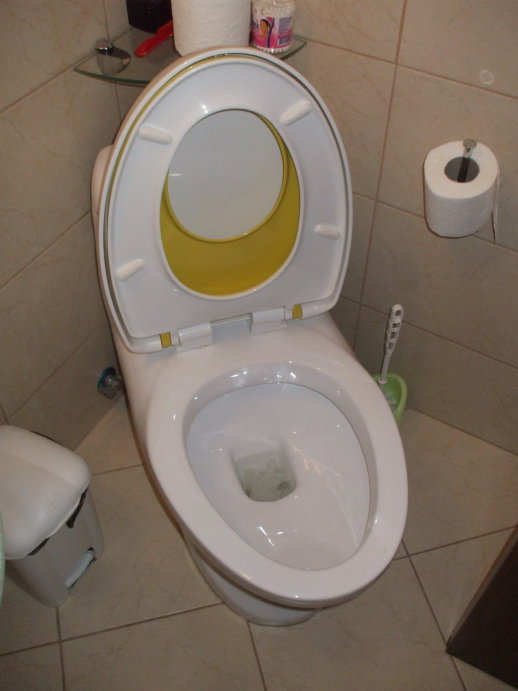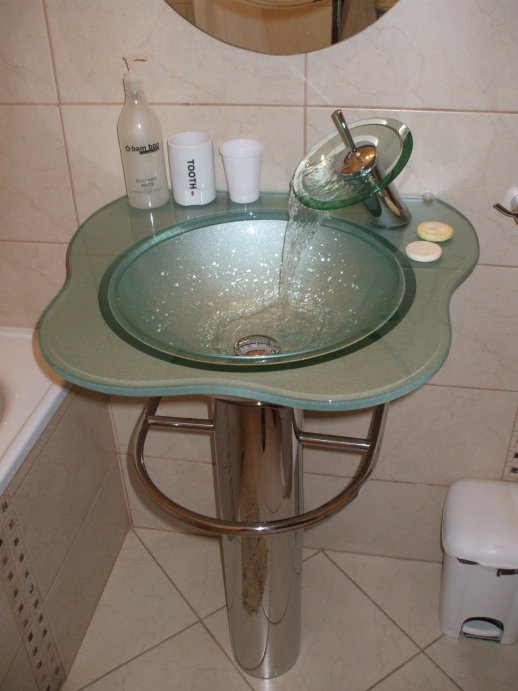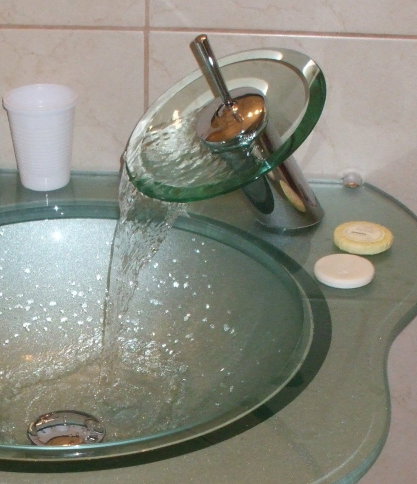 The sinks had the artistic style of faucet on which the water comes out as if it were being poured from a glass dish.
There are public toilets at the train station in Gura Humorului.
And watch out for that big ferocious dog on the platform!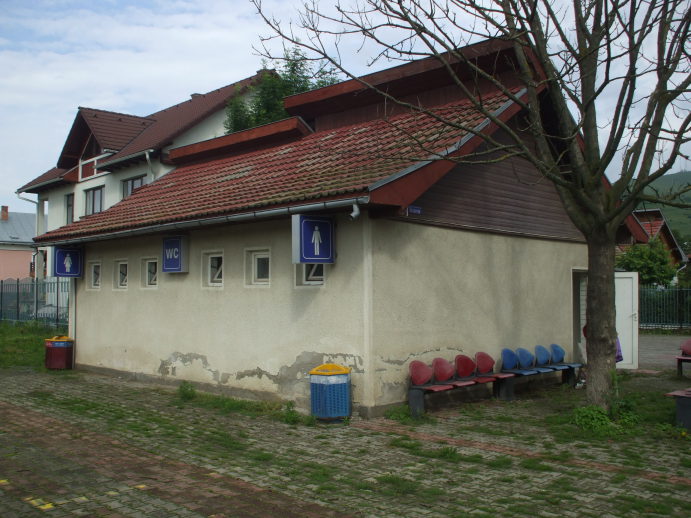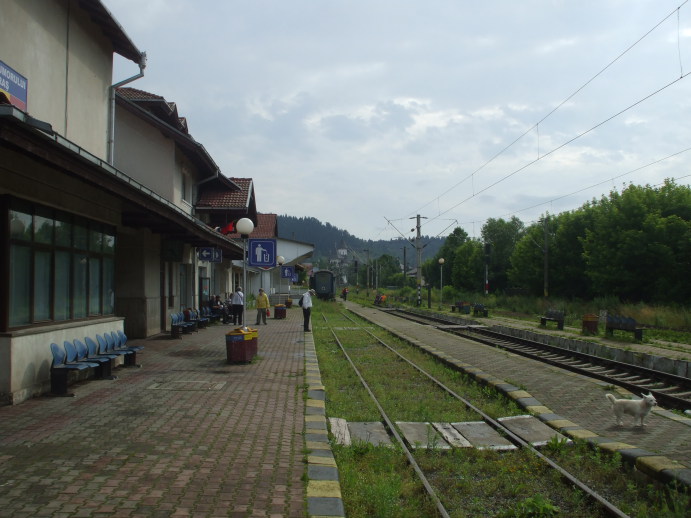 This is the Church of the Annuniciation at Moldoviţa Monastery, just outside the small town of Vatra Moldoviţei.
It was built in 1532 and is one of the famous painted churches of the Bucovina region, a UNESCO world heritage site.
Frescoes completely cover its exterior. As per the standard scheme of the painted churches, the porch depicts the Last Judgement, a "Tree of Jesse" is on the right (south) wall, and a large collection of saints, apostles, and martyrs proceed toward the apse.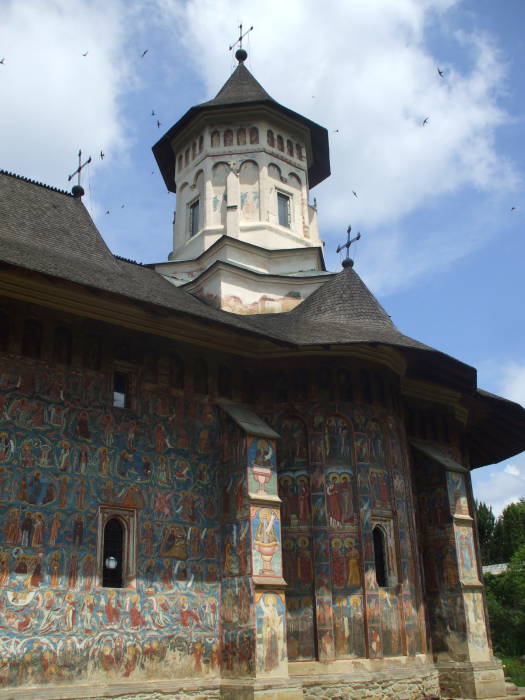 This particular church is famous for its added depiction of the Seige of Constantinople, apparently commemorating the intervention of the Virgin Mary in saving Constantinople from Persian attack in 626 AD. It really served to help recruit warriors to fight against the Ottoman Turks who had seized Constantinople, now İstanbul, in 1453, roughly 80 years earlier. The Ottomans were now pressing north through Bulgaria and across the Danube, and local leaders were raising armies to attempt to drive them back.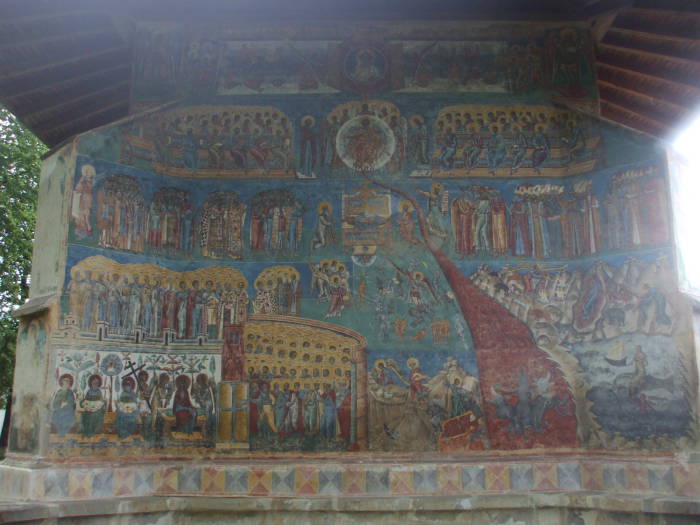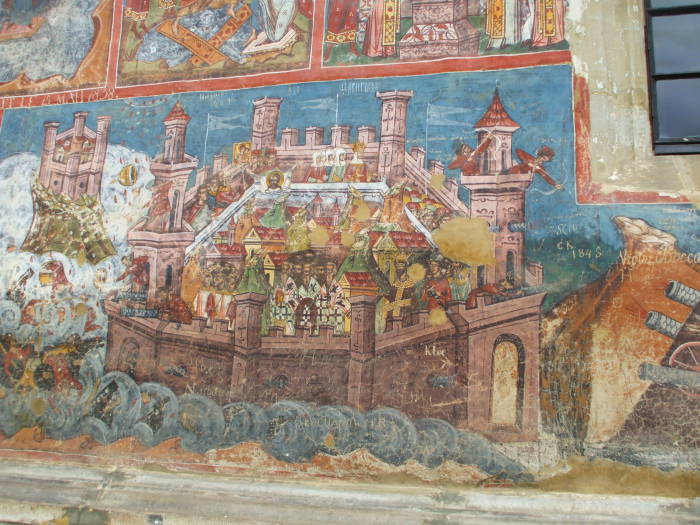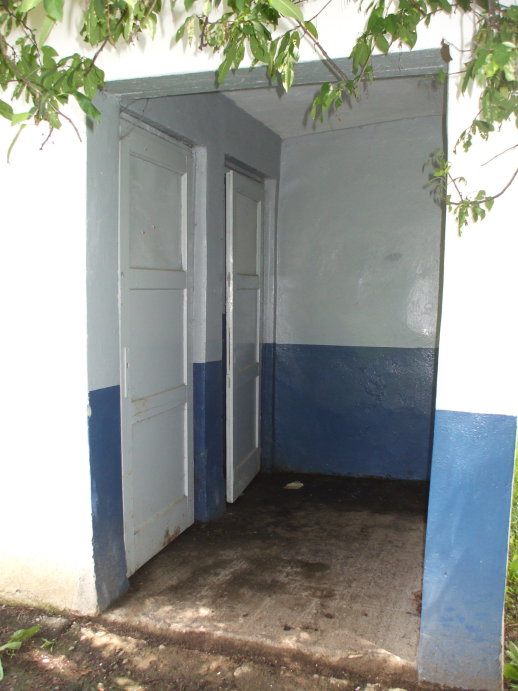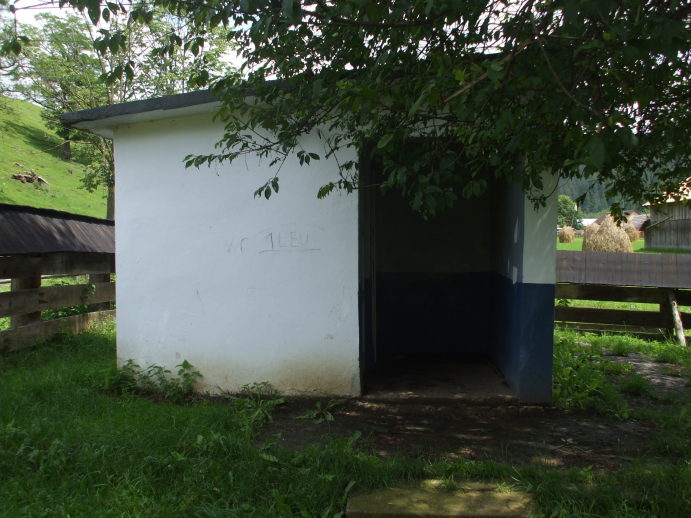 Despite the numerous warnings,
and contrary to good taste,
I want to see the awful picture.
These are the toilets available to visitors, outside the walls of the monastery. They are extremely basic, just very rudimentary squat toilets.
Yes, I do have pictures of the toilets themselves, but I recommend against viewing them.
Seriously. There's visible human waste. Look at the nice frescoes and move along.
However, if you insist on looking at an offensive image, it is available. Click on the button if you must.
---
Suceava
Here is the very respectable toilet at the train station in Suceava. The increasingly timid Lonely Planet really misunderstood the Romanian toilet situation.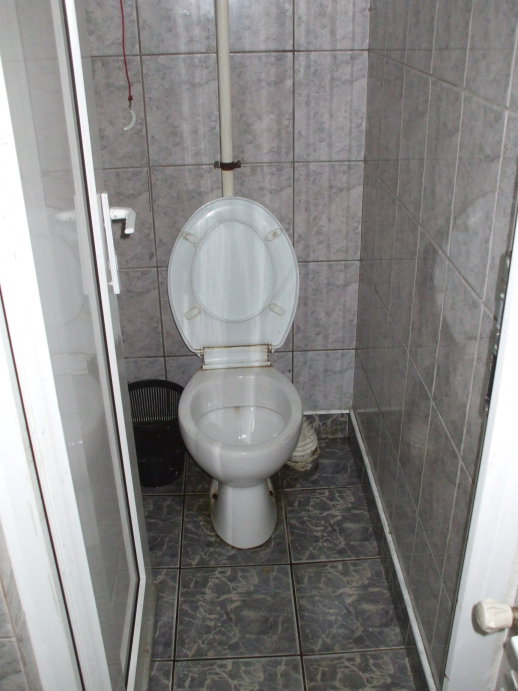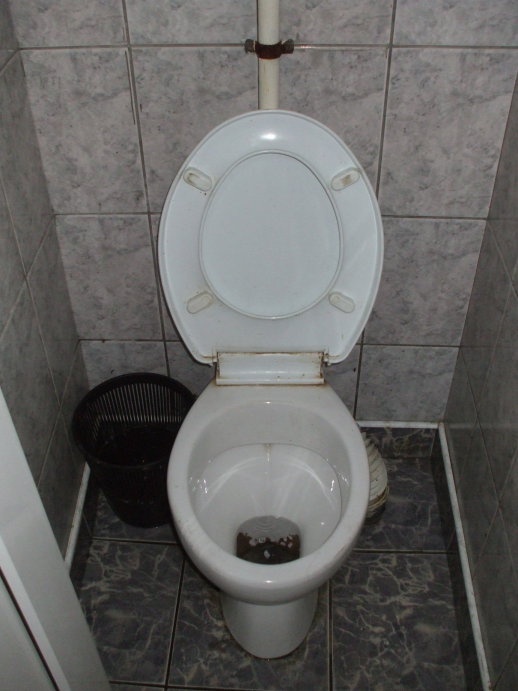 Here are views of the station and looking down the street in front of it.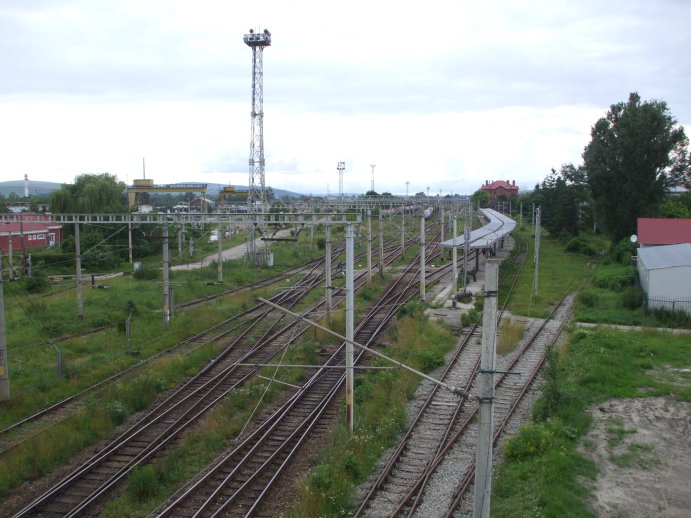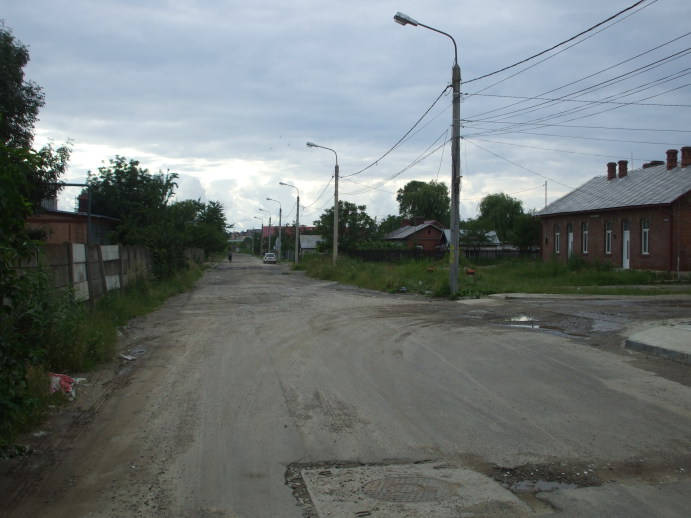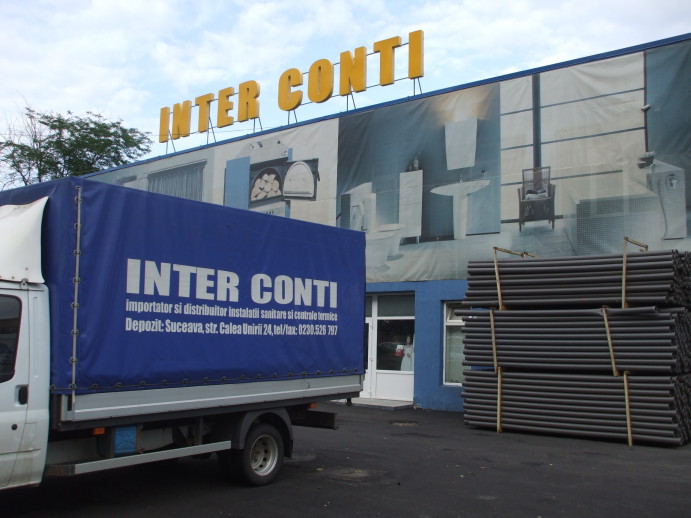 Why are Romanian toilets so nice?
Because Romanian plumbing supply companies like Inter Conti are selling quality products and Romanians know how to renovate bathrooms.
This plumbing supply business is in Suceava.
As the truck says:
Importator si distribuitor instalatii sanitare si centrale termice.
Now someone please send them to Moldoviţa Monastery.
---
Bistriţa
This is from a restaurant in Bistriţa.
I don't know what the sign means:
VA RUGAM FRUMOS NU ARUNCATI HARTIA IN TOALETA
However, I feel safe assuming that it has something to do with not clogging the plumbing with those heavy green paper hand towels.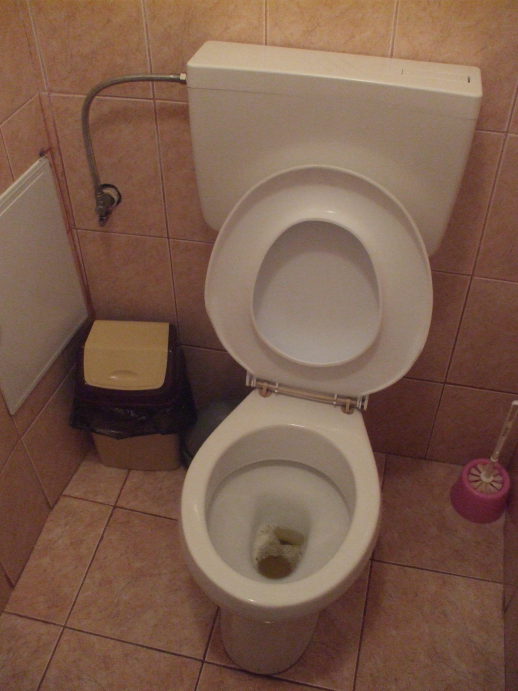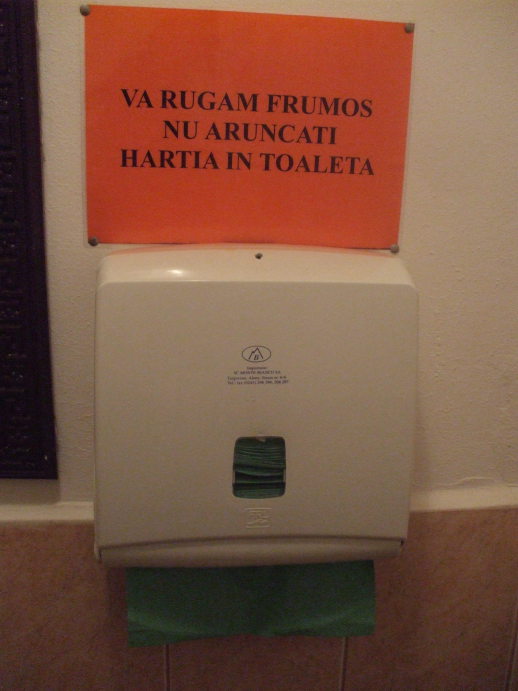 ---
---
Trains
This stainless steel toilet is on board a train running north from Bucharest to Suceava.
Below are instructions on how to flush it, in Romanian, French, German, and Italian.
This system seems similar to what you find on airliners. There are four downward pointing jets around the rim of the bowl, each spraying a fan of blue cleanser at least 120° wide. After they spray, the trapdoor at the bottom opens to a powerful vacuum.
With the holding tank system, there is no rule against using it in the station.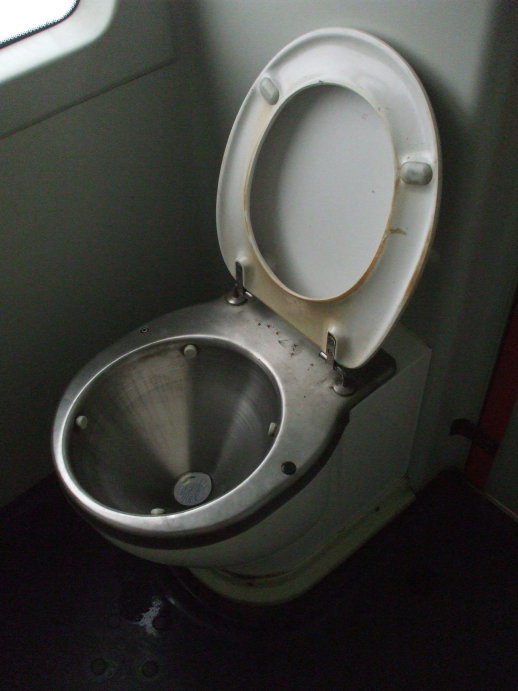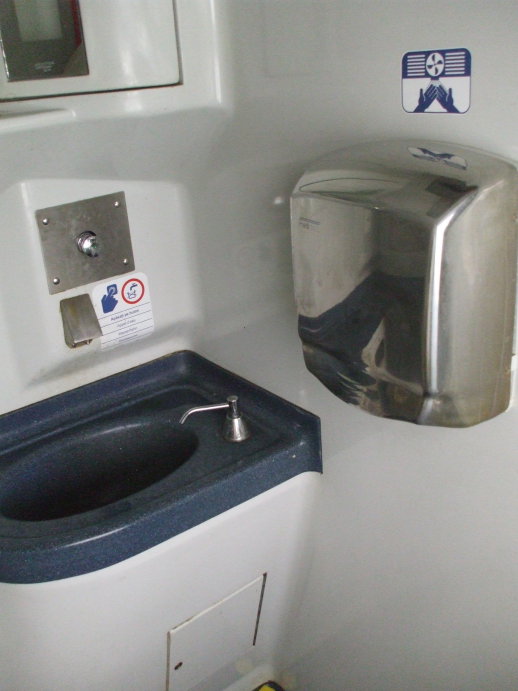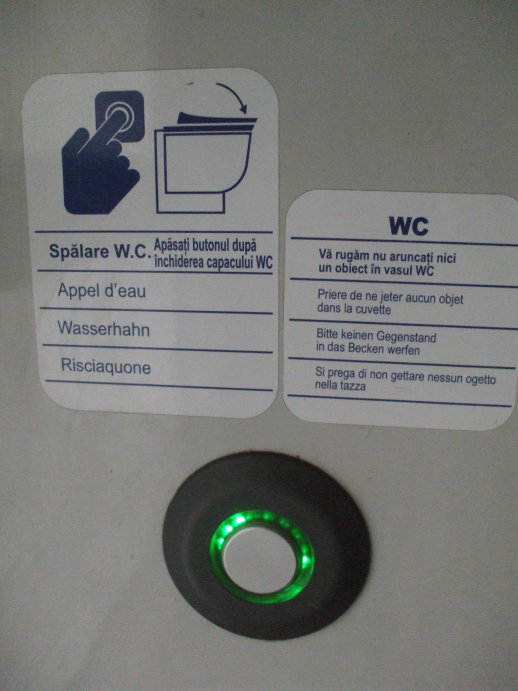 ---
The Bosfor Ekspresi is a Turkish train that runs from İstanbul to Bucharest, Romania. It leaves İstanbul with a sleeper car, a couchette car, and a coach car.
In Gorna Oryahovitsa, in central Bulgaria, it merges with a train out of Sofia. The train from Sofia is based on one that originated in Thessaloniki, Greece, and left its sleeper cars back in Sofia. The Bulgarian coaches and the Turkish sleeper and couchette are combined and pulled north toward Bucharest by a Bulgarian locomotive. Before crossing the Danube River into Romania, the Bulgarian locomotive is replaced by a Romanian one.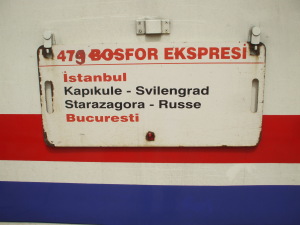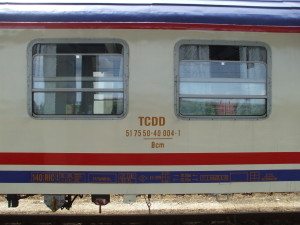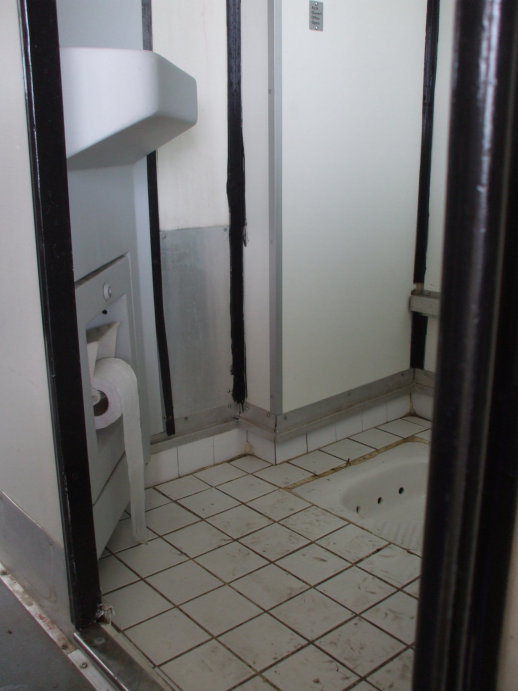 So, is this a Turkish train, a Bulgarian train, or a Romanian train? Yes!
The sleeper and couchette are definitely Turkish as they're owned by TCDD, the Turkish national rail company. And, its toilet at the end of the couchette car is in the Turkish style.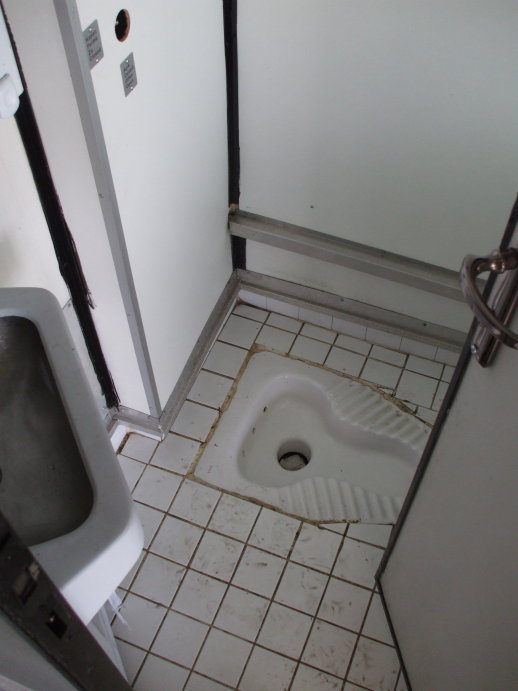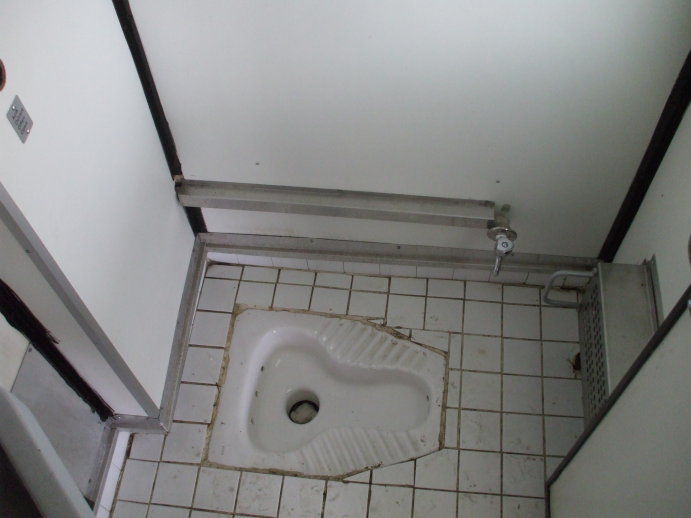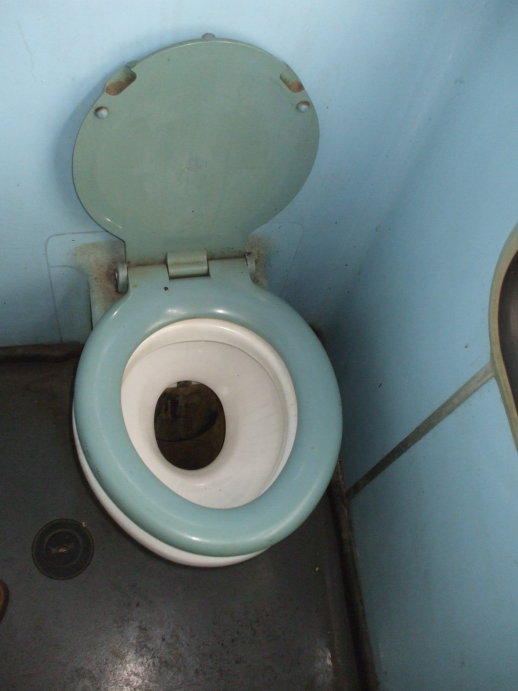 If you get on at Veliko Târnovo, you take a temporary seat in the coach. You're herded out onto the platform at Gorna Oryahovitsa as the Turkish coach is pulled off the train to wait to be connected to the next Bosfor Ekspresi bound back to İstanbul.
You're then told by the Bulgarian conductor to sit in an empty seat in the couchette car, as it will be an hour or so before the joining train arrives from Sofia. That gives the Turkish conductor plenty of time to try to scam you into paying a couchette supplement as, according to him, there will be no coaches arriving. Ignore him, it's a scam, and a rather clumsily attempted one at that.
Eventually the train from Sofia arrives and the two trains are merged. Then you find a Bulgarian owned coach with your assigned seat. And, the typically blue Bulgarian train toilet.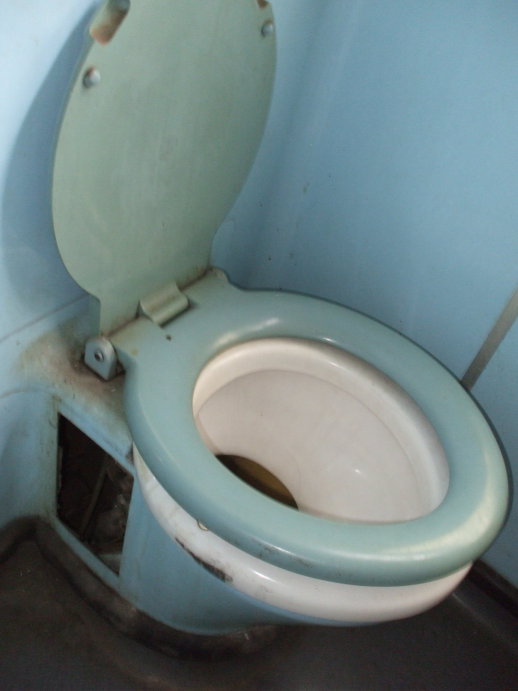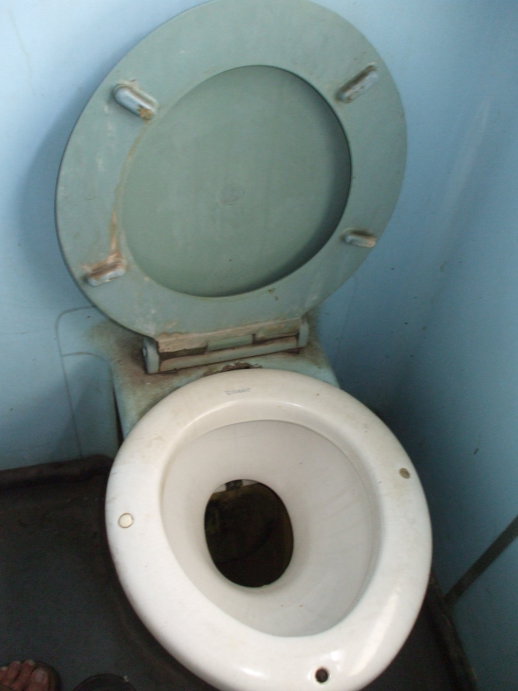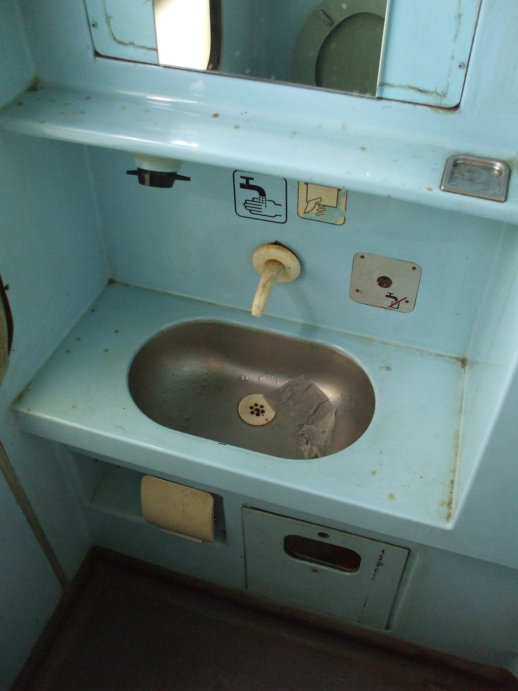 ---
The toilets on board the EuroNight 472 passenger train from Bucharest, Romania to Budapest, Hungary, are located at the ends of the car. Some are entered from the end of the corridor, as seen at left, others from the noisy space next to the entry door at the very end of the car.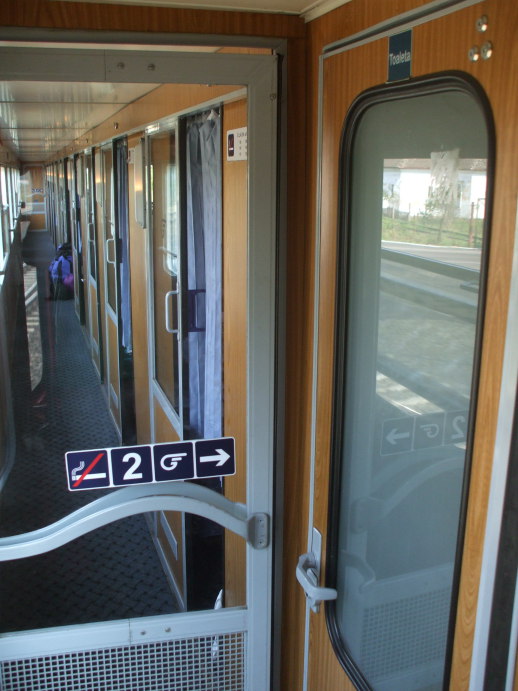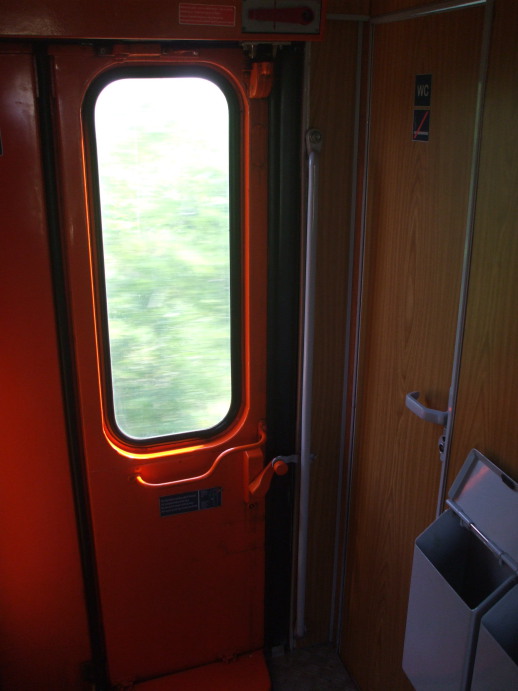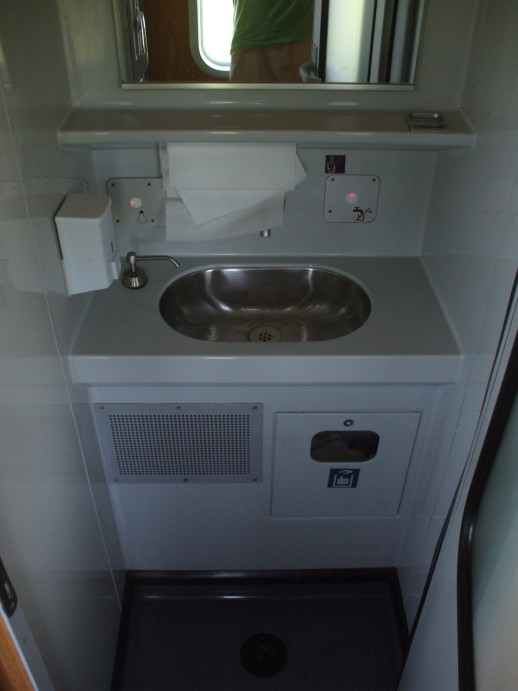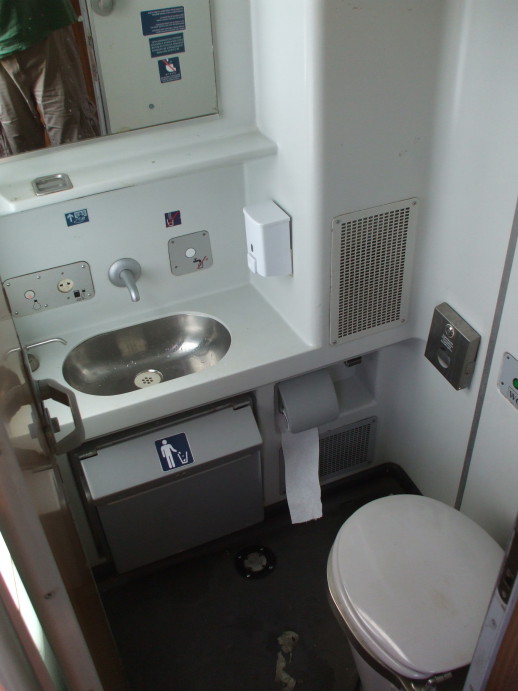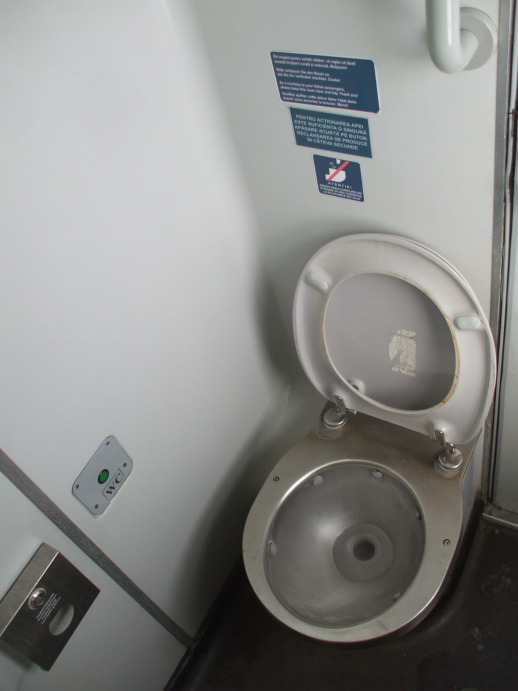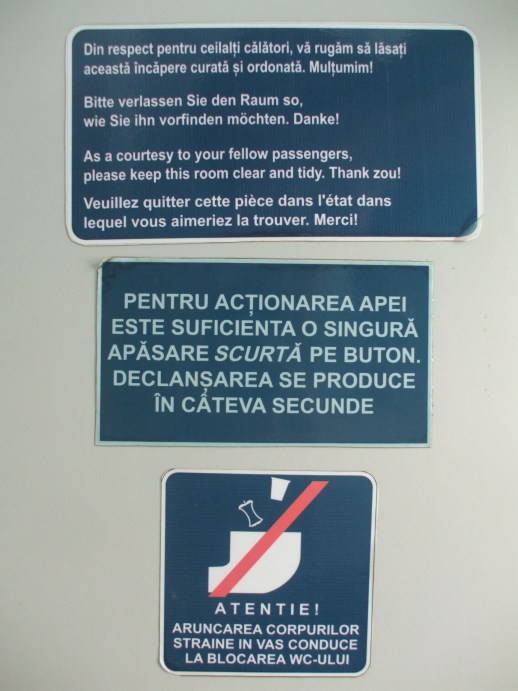 The Romanian cars have signs in Romanian, German, English, and French:
Din respect pentru ceilaţi călători, vă rugăm să lăsaţi această încăpere curată ordonată. Mulţumim!
Bitte verlassen Sie den Raum so, wie Sie ihn vorfinden möchten. Danke!
As a courtesy to your fellow passengers, please keep this room clear and tidy. Thank zou!
Veuillez quitter cette pièce dan l'état dan lequel vous aimeriez la trouver. Merci!
PENTRU ACŢIONAREA APEI ESTE SUFICIENTA O SINGURĂ APĂSARE SCURTĂ PE BUTON. DECLANŞAREA SE PRODUCE ÎN CĂTEVA SECUNDE
ATENTIE!
ARUNCAREA CORPURILOR STRAINE IN VAS CONDUCE LA BLOCAREA WC-ULUI