Jim Morrison's Bidet
Jim Morrison's Bidet and Sink
Jim Morrison lived for a while in a cheap hotel on the edge of the Latin Quarter in Paris in 1970. Before and after that he stayed at the luxury Hôtel George V, but in July 1970 he was at the Hôtel de Médicis on the Rue St. Jacques. Now you can see Jim Morrison's plumbing, or at least his bidet and sink — the toilets and showers are down the hall in cheap French hotels.
Hôtel de Médicis
I once stayed at the Hôtel de Médicis in the Latin Quarter of Paris. It was at 214 Rue Saint Jacques near the Luxembourg Metro station.
I was on a trip through the UK, France, and Germany. I had a contract to teach two one-week networking courses to EMC Corporation. One in London, then two weeks after that, one in Frankfurt. I told the training company that they would only have to buy me one round-trip trans-Atlantic airline ticket if they would pick up a series of train tickets and a cross-channel ferry ticket. I would spend the two weeks in between traveling through southern England and France.
I left London for Winchester in southern England. From there I continued to Portsmouth and took an overnight ferry across to Saint-Malo in Brittany. After a a few days there, I went to Mont-St-Michel. Then I took a train to Paris and looked up the cheapest hotel my Lonely Planet book mentioned.
Some time later I learned that I had stayed in a nearly identical room just upstairs from where Jim Morrison stayed in 1971. See my page on Travel in France for more details, including a chronology of the places Jim lived in Paris in 1970 and 1971, pictures of some of those places, and some pictures from Cimetiere de Pere Lachaise where he is buried.
Budget
Hotels
in France
Here are two views of the interior of my room at l'Hôtel de Médicis. The room had a green ceramic sink and a bidet. The toilets and showers were all down the hall at l'Hôtel de Médicis.
Of course, this page describes and shows what I experienced back in 2001. By 2009 the historic l'Hôtel de Médicis was gone. The building had been completely gutted out and a new luxury hotel built within the original façade. Nothing beyond the technicality of a specific street address remains from 1970.
See the wonderful book Grand Hotel: Redesigning Modern Life, which accompanied an exhibition at the Vancouver Art Gallery. They used high-resolution versions of some of my pictures in its chapter on the Hôtel de Médicis.
These pictures show how the room was equipped, with a white bidet and green pedestel sink. You cannot complain that the bidet failed to provide its user with a fine view of the adjacent buildings (and vice-versa)!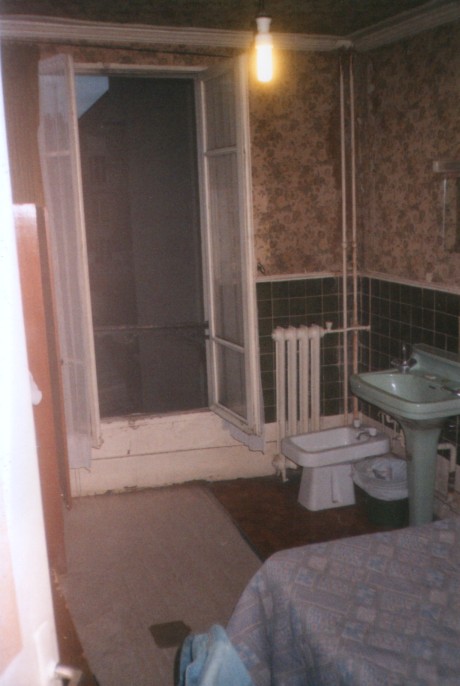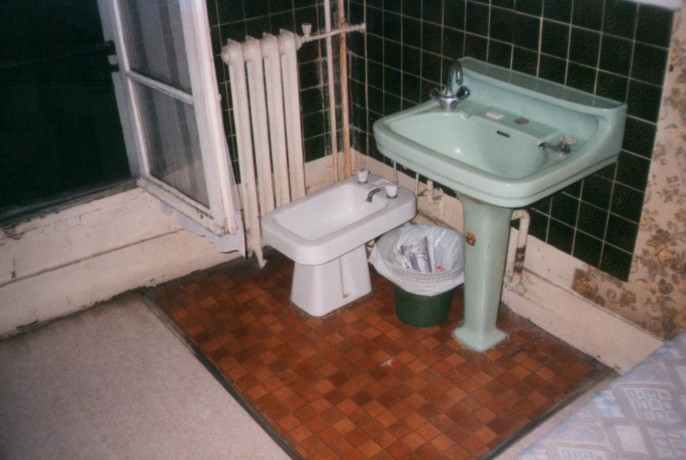 Cheaper French hotels have toilette au couloir. That is, "The toilet is in the corridor." There will be one small room with a toilet on each floor, serving the handful of rooms on that level.
Showers are even less numerous, there will likely be just one or two for the entire hotel. You must get the shower key from the front desk. You may be billed a small charge for taking a shower, and you may need to schedule it in advance to ensure that there will be hot water.
A page on my travel site has more detail about the hotel and lots more pictures of the places where Jim Morrison lived and is buried in Paris. From here you might want to learn about what a bidet is, to see other toilets in France, or to see toilets and other plumbing of musicians, artists, and writers.