Edgar Allan Poe's Washbasin
Poe's Plumbing
Edgar Allan Poe famously wrote horror and poetry. He is also one of the inventors of the modern detective story, and he was a prolific literary critic and columnist. Living in America from 1809 until 1849, his world largely lacked plumbing beyond basic wells and some pitchers and pots and bowls.
Edgar Allan Poe was born in Boston in 1809 to actors. His father abandoned the family the next year, and then his mother died of consumption (tuberculosis) the year after that.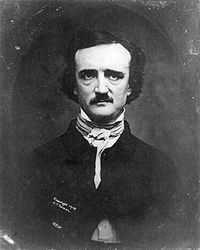 Orphaned before the age of three, Poe was taken in (but never adopted) by John and Frances Allan, of Richmond, Virginia. Poe's name was originally just Edgar Poe, he took the Allan from his foster father's name.
The Allan family sailed to Britain in 1815. Poe attended grammar school in Irvine, Scotland, where John Allan had been born, then rejoined the family in London in 1816. The Allans returned to Virginia in 1820.
John Allan remarried, and he and Poe had bitter arguments over all the illegitimate children Allan had fathered. John Allan finally completely disowned Poe. When he died, he left nothing to Poe but did leave money to some of his apparently numerous illegitimate children.
It doesn't seem like Poe had a very warm family life with the Allans. He got out of Richmond as soon as he could. He attended the University of Virginia for one semester. He left there due to a lack of money, and enlisted in the Army in 1827, using the pseudonym "Edgar A. Perry" and claiming to be 22 rather than his actual age of 18. After two years in the Army and rising to the rank of Sergeant Major for Artillery, Poe managed to be dismissed early from a five year enlistment to receive an appointment to West Point, the U.S. Military Academy.
Poe was discharged from the Army in 1829, and moved to Baltimore for a while. He stayed with his invalid grandmother, Elizabeth Cairnes Poe, along with his brother Henry, his widowed aunt Maria Clemm, and her daughter Virginia Eliza Clemm. They lived in a small home in today's Little Italy section, just east of the Inner Harbor.
Poe entered West Point in July of 1830. His foster mother had died during his military service, but his foster father hadn't bothered telling him. Nor had he responded to Poe's commanding officer, who had said that he would only allow Poe's discharge if he and Poe reconciled.
Poe decided to leave West Point in the winter of 1831, but you didn't simply get up and leave. He managed to get himself kicked out by refusing to attend formations, classes, and church services, leading to his being court-martialed for gross neglect of duty and disobedience of orders. Poe then pleaded not guilty, knowing that he would then be found guilty and dismissed.
A large number of his fellow West Point cadets donated money, raising $170 to help fund the publishing of Poe's third volume of poems.
His parents were long dead or disappeared, his adoptive parents were dead or had disowned him, and he had no money, no trade, and no reputation in his chosen field as a writer.
Poe returned to Baltimore in March, 1831. His grandmother had died. He moved in with his brother, aunt, and cousin. His brother Henry died in August, from ill health due to alcoholism.
They moved in 1832 to Amity Street in West Baltimore, then outside the city (and more recently smack in the middle of a pretty awful urban setting). The current street number is 203 Amity Street. The surviving Poe relatives lived there until 1835.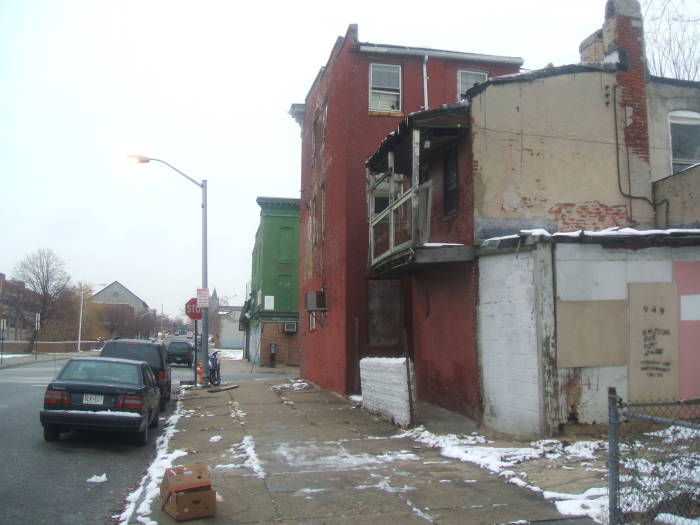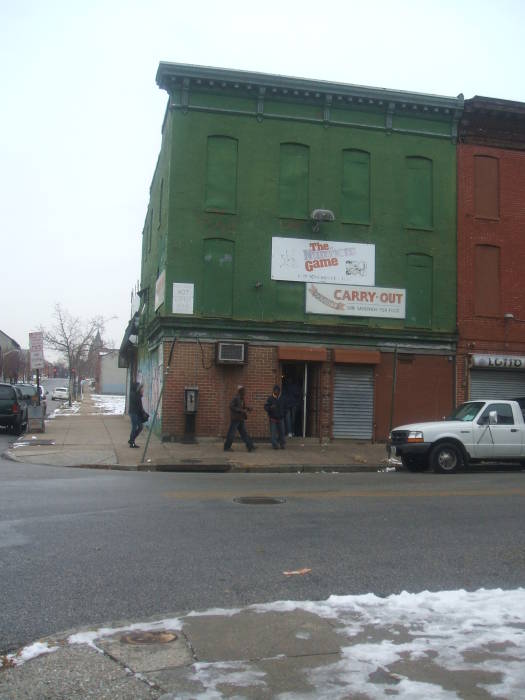 Poe decided to get serious about being a writer. This was a difficult time to do so. There was no international copyright law, so American publishers generally just printed copies of British works instead of paying Americans for new pieces of literature. There was a boom in American periodicals, or at least huge numbers of them were appearing. But most did not last beyond a few issues. Publishers often refused to pay writers, at least not as much or at the time promised.
In 1833, Poe won a literary contest sponsored by the Baltimore Saturday Visiter magazine for his story "MS. Found in a Bottle". That led to a short lived position as assistant editor of Richmond, Virginia's Southern Literary Messenger. He was fired within a few weeks for being drunk at work.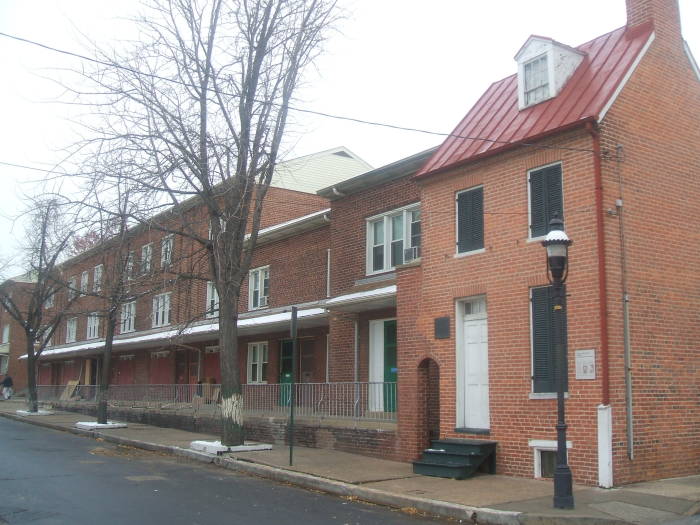 Poe returned to the little house in Baltimore and married his cousin Virginia in September, 1835. He was 26, she was 13.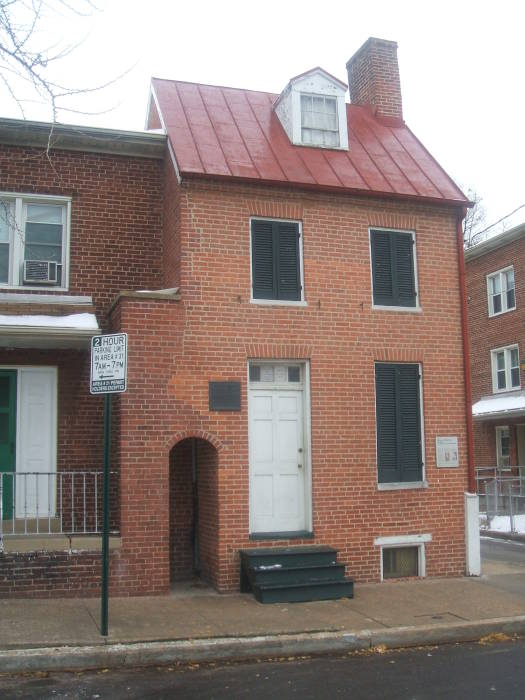 Poe promised his former boss in Richmond that he would behave in order to get his old job back, and the Poes moved away from Baltimore. All three of them — Poe kept supporting his aunt / mother-in-law and dragging her along on his many moves, even after Virginia died in 1847.
In October, 1849, Poe was living in New York but was passing through Baltimore. On the night of the 3rd, he was found on the streets delirious and "in great distress, and in need of immediate assistance." He was taken to the Washington College Hospital, where he died on the morning of the 7th without becoming coherent enough to explain how he had gotten into his dire state or why he was wearing someone else's clothes. Delirium tremens, heart disease, epilepsy, syphilis, meningitis, cholera, and rabies have all been blamed.
That is the history of Edgar Allan Poe the man.
But what about his plumbing?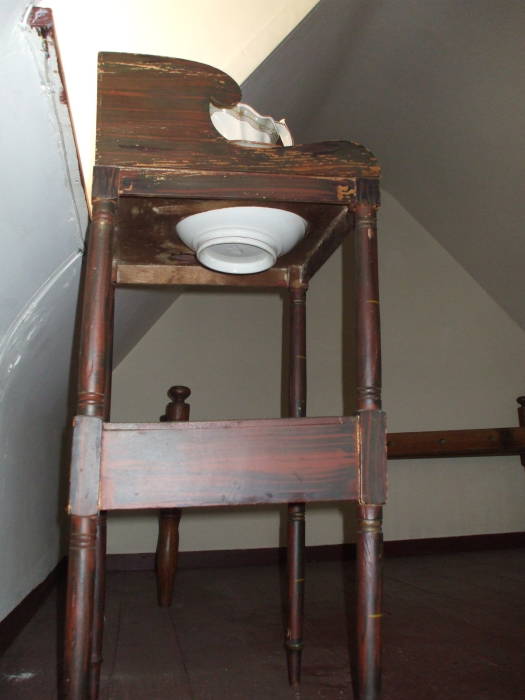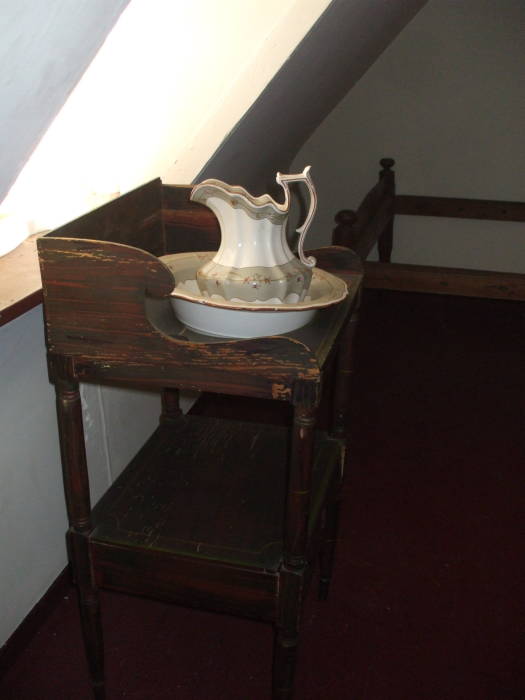 American homes did not have indoor plumbing in the 1830s. The Poes would have had chamber pots in the bedrooms and possibly a privy out back. But given the dire financial situation of the Poes, their privy may not have been much.
This is the small bedroom on the top floor. At left you see light entering from the small dormer visible in the exterior pictures above.
This ceramic bowl and pitcher are in a specially made wash stand.
This was the state of the art of indoor "plumbing" in America in the 1840s.
Click here for many more details about an earlier trip to Baltimore and a visit to Poe's home. I didn't get into the home that time, but on the same trip I also saw his homes in New York and Philadelphia.