Lady Gaga's Toilets
Welcome To The Johnson's Bar Toilets Used by Lady Gaga
Lady Gaga, whose real name is Stefani Joanne Angelina Germanotta, had an apartment for a while on Stanton Street on the Lower East Side of New York. She mentions places on Rivington Street, just one block south, in a number of her songs.
Lady Gaga's apartment was at 176 Stanton Street between Clinton Street and Attorney Street, in the building shown at right here.
The entry to the stairway leading to Lady Gaga's apartment at #176 is the brown door to the left of the red metal door.
As reported in Spin, real estate brokers listed the apartment for $1,850 per month in November 2011. They described it as a third-floor walk-up with one bedroom.
No, I don't have a picture of the toilet from that apartment. But consider this — the current resident hunkered down inside and refused to admit Anderson Cooper when he arrived with a 60 Minutes crew with Lady Gaga herself in tow.
I'm quite certain that even the Toilet Guru would have been left standing in the hallway.
Of course, when someone knocks at your door and claims to be Anderson Cooper and Lady Gaga, that's not really very likely to be true. So, hunkering down behind a locked door is probably the reasonable response in that case. Let alone if it's some nut claiming to be a Toilet Guru!
Some people would have you believe that Welcome To The Johnson's bar on Rivington just east of Essex is a hard-core punk sort of place. After all, it's where Lady Gaga hung out and did a number of her earliest shows. And, obviously, used these toilets. The larger of the two was probably an inpromptu dressing room at times.
Yeah, I guess it's a punk sort of place, in a way. Nothing at all threatening. I've been there a number of times and chatted with the locals about skating.
It's a nice place, not overly intense at all. As it's on the Lower East Side, so Pabst Blue Ribbon by the can is the featured beverage.
Meanwhile you're undoubtedly wondering: What are those toilets like at Welcome To The Johnson's bar?
Let's take a look.
Here they are. Two of the toilets and one of the sinks.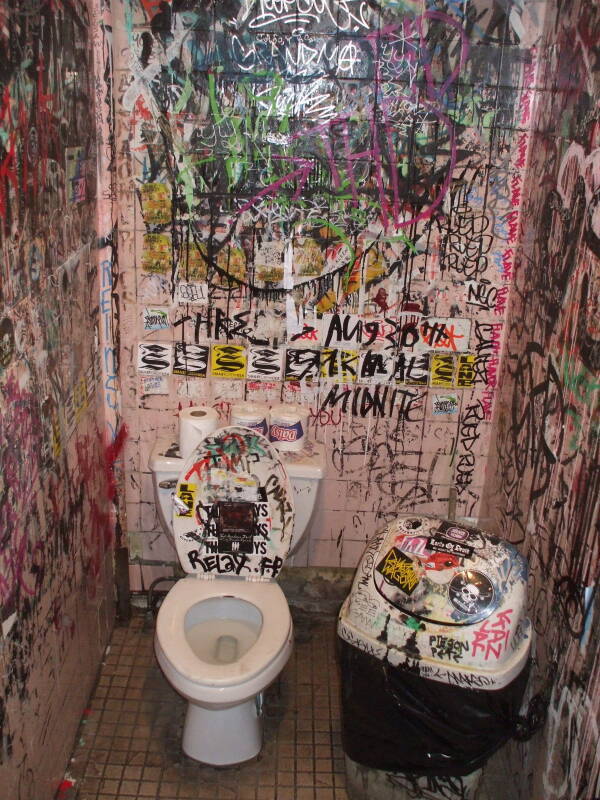 Just as with the urinals used by Hunter S. Thompson, these toilets are associated by use and not by ownership.
The New Yorker on
Welcome To The Johnson's
bar and its toilets
My lady, we have left the seat down for you. Mind the stickers.
The New Yorker magazine reviewed the Brooklyn outpost of Welcome To The Johnson's, Their review began:
There are plenty of corners of the Internet best left unexplored, but, should you find yourself, for some reason, investigating that not insignificant part of the Web devoted to New York City bar bathrooms, you might encounter passionate opinions about Welcome to the Johnsons, a grungy Lower East Side dive notorious for its kitsch clutter, plastic-covered sofas, and epically grimy, graffitied lavatories.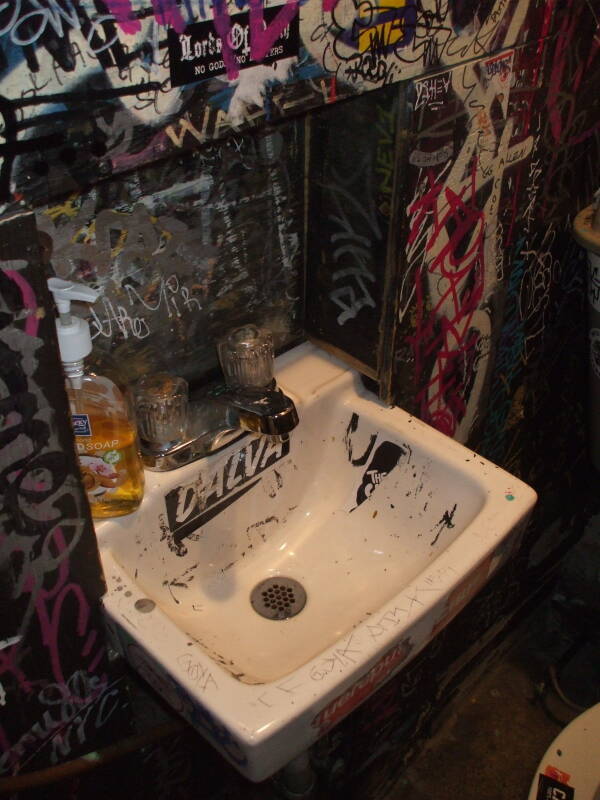 Then there's the passage in Thomas Pynchon's Bleeding Edge, in which a character with an unusually developed sense of smell and an associated obsession with scents has just come back from the washroom:
At which point Conkling comes back and the saccharimeter readings drop to a less alarming level.
"Fascinating toilet. Not quite the complexity of a Welcome to the Johnsons, say, but plenty of stories old and new."
To be complete, below is the other bathroom. It's a little larger, and the same decoration scheme.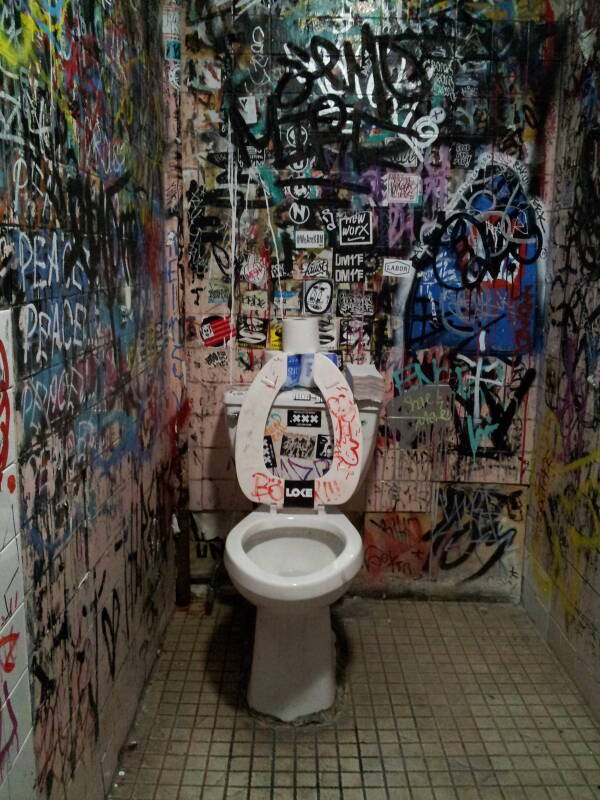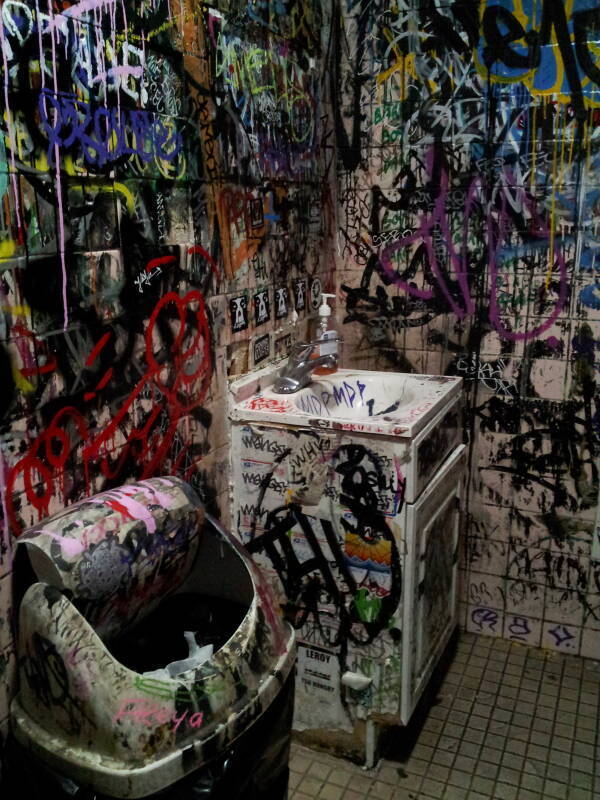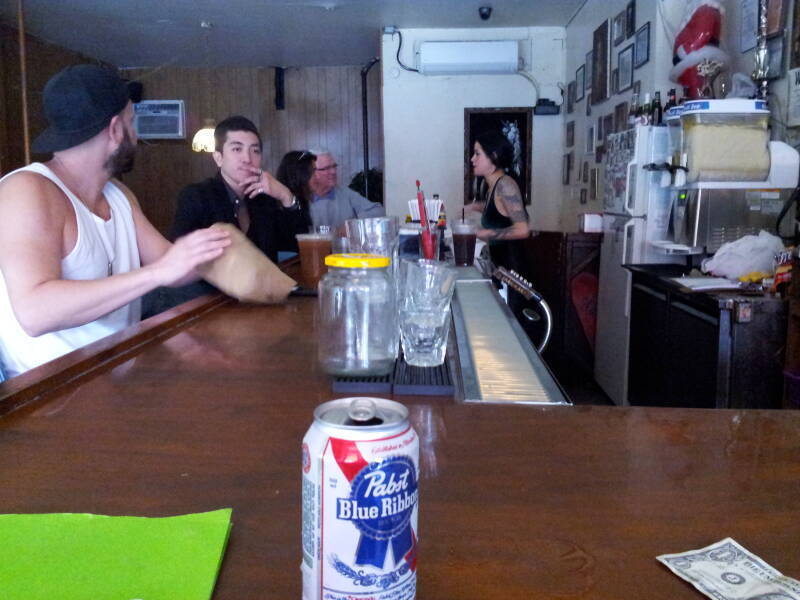 Stefani Germanotta grew up on the Upper West Side of Manhattan, and attended the Convent of the Sacred Heart private all-girls school on the Upper East Side. At 17, she was one of twenty students to gain early admission to the Collaborative Arts Project 21, a musical theatre program at NYU's Tisch School of the Arts.
She withdrew from that in the second semester of her second year, in order to focus on a musical career. She started a band, the Stefani Germanotta Band or SGBand, which played a variety of original and classic rock songs in various bars and other venues in Greenwich Village and the Lower East Side.
SGBand peaked around 2006 and then disbanded. She signed with Def Jam in September 2006 but was dropped by the label just three months later. She met the performance Lady Starlight, and the two began performing in downtown clubs as "Lady Gaga and the Starlight Revue", billed as "The Ultimate Pop Burlesque Rockshow", an intentionally low-fidelity tribute to 1970s variety acts.
They performed at the 2007 Lollapalooza festival, and Lady Gaga soon signed with Streamline records. The Fame was released in 2008 and her career really took off. Then it was The Fame Monster in 2009; The Remix (of The Fame) in 2010; and Born This Way, Born This Way: The Remix, and Lady Gaga Presents the Monster Ball Tour at Madison Square Garden in 2011. What, nothing in 2012?
Bradley Manning allegedly moved sensitive information off the U.S. Department of Defense's SIPRNET by burning it onto blank CD/DVD media that he carried in and out of his workplace in Iraq in Lady Gaga CD cases. This is the information that became the Cablegate collection.
The Pythian Temple was built in 1927 by the Knights of Pythias fraternal organization at 135 West 70th Street between Broadway and Columbus Avenue. That's its exterior in the first picture below, with the odd mix of ancient Assyrian and ancient Egyptian style decoration.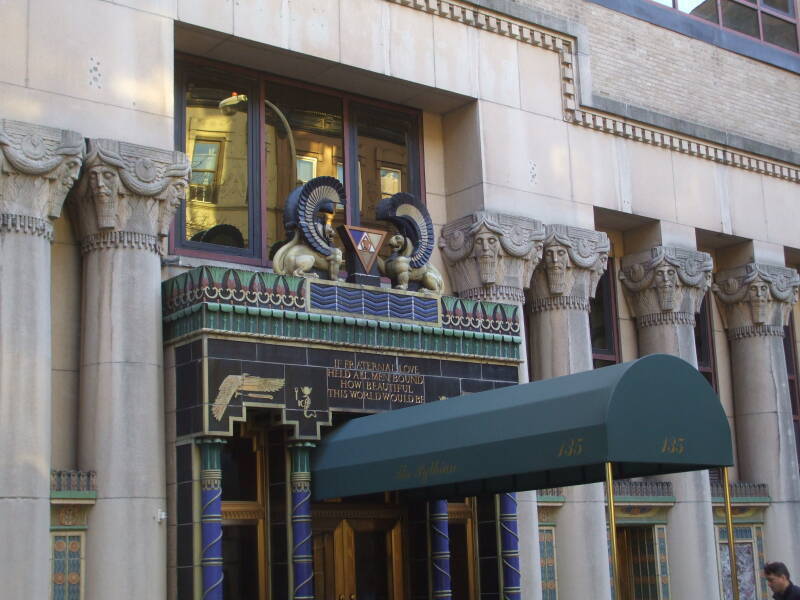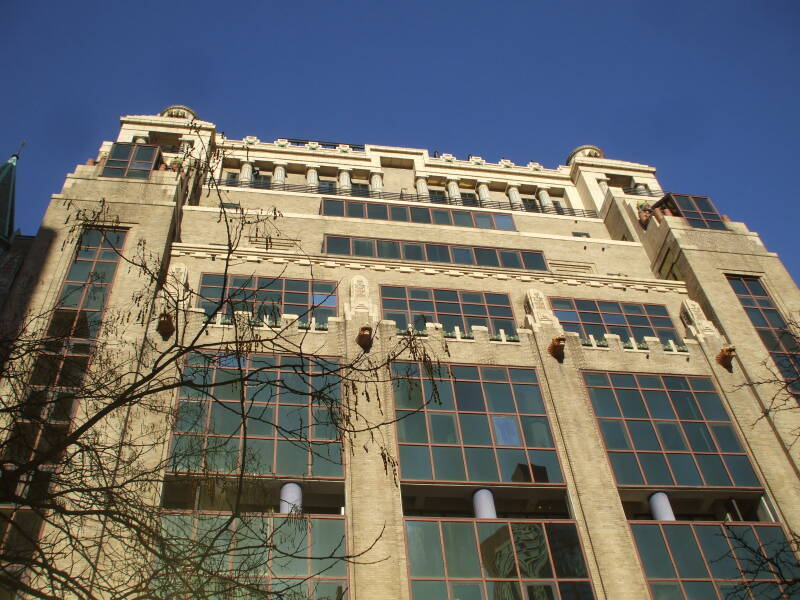 As the Knights of Pythias became less popular in the early 1940s, they leased space to Decca Records. Decca converted a large third floor auditorium into a music recording studio that came to be renowned for its acoustic qualities. Bill Haley and His Comets recorded Rock Around the Clock there, and Buddy Holly, Billie Holiday, Sammy Davis Jr and others recorded there.
It was purchased in 1958 by the New York Institute of Technology and used as its main campus. Then in 1986 it was converted into a luxury 88-unit condominium building called The Pythian. The Germanotta family, including Lady Gaga, moved into the building in 1993. Her parents still live there, or at least they still were there as of a 2009 New York Times story about the building and its unexpected musical connections.
It's a private building with doormen, I have not had the opportunity to examine its toilets. I would not be surprised if any surviving from the Pythian era were a bit unusual. Probably no stickers on the seats, though.