Hunter S. Thompson's Urinals
Hunter S. Thompson
Hunter S. Thompson is known for his experimental style of New Journalism in which the reporter becomes so involved in the action that he becomes a central figure in the story. This started with his 1970 article "The Kentucky Derby Is Decadent and Depraved". The most prominent example is his 1971 book Fear and Loathing in Las Vegas: A Savage Journey to the Heart of the American Dream, the work for which he is best known.
Hunter S Thompson in New York
He continued this approach of manic first-person highly subjective description through all his following work.
He lived in New York off and on between 1957 and 1962. He lived in a number of places on the Upper West Side, Greenwich Village, the East Village, and on the Upper East Side.
As for the plumbing, these aren't examples of outright ownership as in the case of Sebastian Junger's toilet.
They are urinals frequently used by Hunter S. Thompson when he was hanging out at McSorley's Old Ale House in the East Village.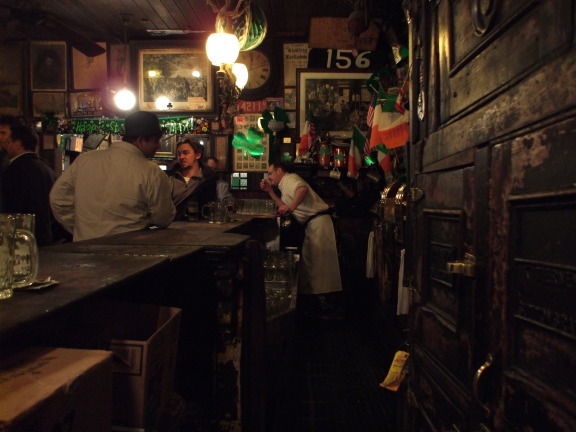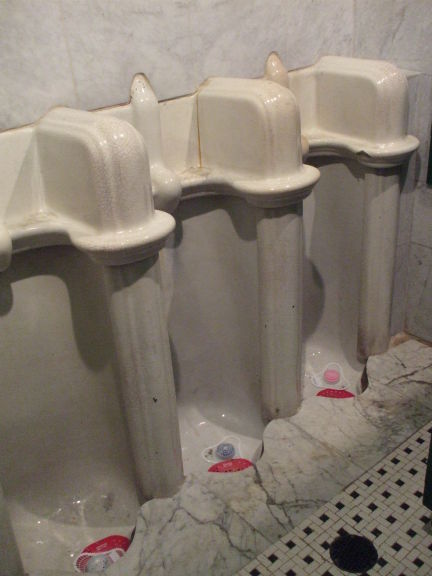 McSorley's Old Ale House is the oldest "Irish" tavern in New York and is regularly listed as one of the most historic taverns in the city. Both Abraham Lincoln and Theodore Roosevelt are known to have visited the bar, but they weren't regulars. Nothing has been removed from the walls since 1910, with many relics in the bar such as Houdini's handcuffs, locked to the bar rail. The proprieters have claimed that the bar opened in 1854, but historical research has shown that its site was a vacant lot in 1860 and 1861.
The New York City Landmarks Preservation Committee designated the area as the East Village / Lower East Side Historic District. The committee listed the buildings date of construction as "c.1865" in their report. Tax records show that there was a two-story building on the lot in by 1861, and the present five-story building was constructed by 1865. But they don't know if the two-story building was extended by adding three more stories on top, or if it was torn down and the five-story building completely built by 1865.
At any rate, it seems that a saloon called "The Old House At Home" was there by the 1860s, early enough for Abraham Lincoln to have visited.
McSorley's was one of the last of the "Men Only" pubs, barring women until legally forced to admit them in 1970. The one bathroom became unisex until a ladies' room was added in 1986.
e. e. cummings wrote a poem about McSorley's:
i was sitting in mcsorley's. outside it was New York and beautifully snowing.
Inside snug and evil. the slobbering walls filthily push witless creases of screaming warmth chuck pillows are noise funnily swallows swallowing revolvingly pompous a the swallowed mottle with smooth or a but of rapidly goes gobs the and of flecks of and a chatter sobbings intersect with which distinct disks of graceful oath, upsoarings the break on ceiling-flatness.
the Bar.tinking luscious jigs dint of ripe silver with warmlyish wetflat spluring smells waltz the glush of squirting taps plus slush of foam knocked off and a faint piddle-of-drops she says I ploc spittle what the lands thaz me kid in no sir hopping sawdust you kiddo he's a palping wreaths of badly Yep cigars who jim him why gluey grins topple together eyes pout gestures stickily point made glints squinting who's a wink bum-nothing and money fuzzily mouths take big wobbly foot-steps every goggle cent of it get out ears dribbles soft right old feller belch the chap hic summore eh chuckles skulch....
and i was sitting in the din thinking drinking the ale, which never lets you grow old blinking at the low ceiling my being pleasantly was punctuated by the always retchings of a worthless lamp.
when With a minute terrif iceffort one dirty squeal of soiling light yanKing from bushy obscurity a bald greenish foetal head established It suddenly upon the huge neck around whose unwashed sonorous muscle the filth of a collar hung gently.
(spattered) by the instant of semiluminous nausea A vast wordless nondescript genie of trunk trickled firmly in to one exactly-mutilated ghost of a chair,
a;domeshaped interval of complete plasticity, shoulders, sprouted the extraordinary arms through an angle of ridiculous velocity commenting upon an unclean table, and, whose distended immense Both paws slowly loved a dinted mug
gone Darkness it was so near to me, i ask of shadow won't you have a drink?
(the eternal perpetual question)
Inside snugandevil. i was sitting in mcsorley's It, did not answer.
outside. (it was New York and beautifully, snowing....
e.e. cummings
1922
Enough poetry, let's have a look at the bar and its plumbing.
The Old Town Bar in the Flatiron District is another place Hunter S. Thompson frequented. It is another of the oldest bars in New York, in continuous operation since 1892.
The marble and mahogany bar itself is 55 feet long, and dates from the bar's opening in 1892. The sixteen-foot ceiling is covered in the original tin. Most of the furnishings and decor are original, including the plumbing.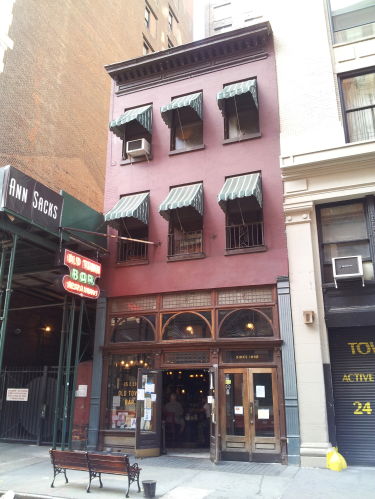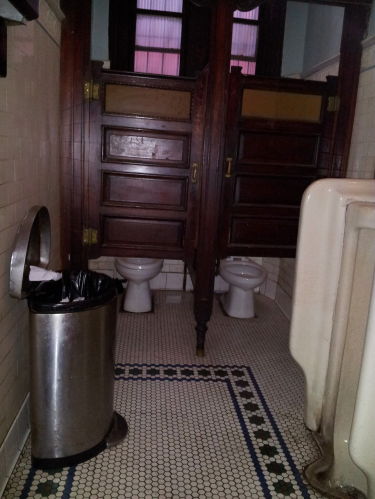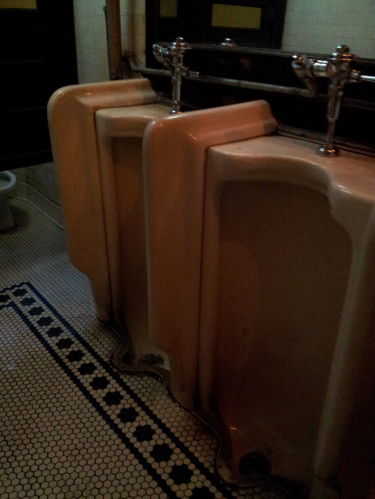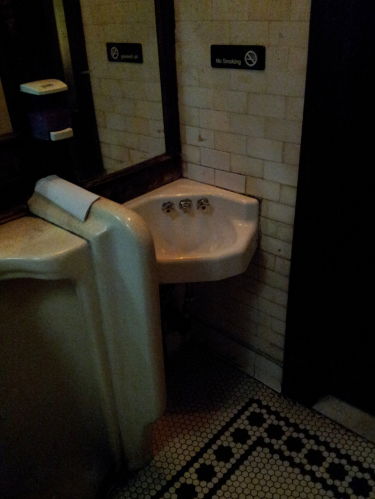 The large urinals are marked with a patent date of November 1, 1910, directly behind the water supply line.
The corner sink is another part of the original equipment.
The Old Town Bar is at 45 East 18th Street, one block north of Union Square. It is on a relatively short east-west block as Broadway cuts through at an angle, roughly bisecting 18th Street between Fifth Avenue and Park Avenue.
See my page of Hunter S. Thompson sites in New York for non-toilet-related pictures of McSorley's.
Also see Tom Wolfe Cops a Urination.