Toilets of the World
What is a Bidet?
The purpose and proper use of bidets, those mysterious European bathroom fixtures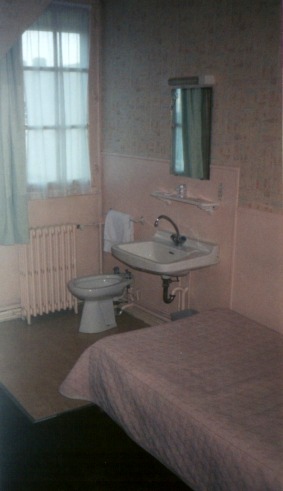 Americans traveling to Continental Europe, parts of the Middle East, and East Asia need to learn about the bidet. What is a bidet, how do you use one, and why do you find them in hotel rooms and homes? They may somewhat resemble a toilet, but they are only used for cleaning yourself. Do not use a bidet as if it were a toilet!
I was very startled to hear the following from someone who has traveled overseas quite a bit:
"I just don't understand the bidet. I don't think that a bowel movement would go down its drain easily."
STOP! Do NOT proceed with that plan!
Everyone needs to be very aware of a few crucial details:
A bidet is not a strangely named and plumbed toilet!
If you have a bidet, you still use the toilet for all the conventional purposes! No, a bowel movement probably would not go down the drain of a bidet, not without quite a bit of unpleasant assistance by the operator or some poor person who came along later. Nor would it be particularly helpful to poop in the sink or in the shower, while we're discussing inappropriate defecation.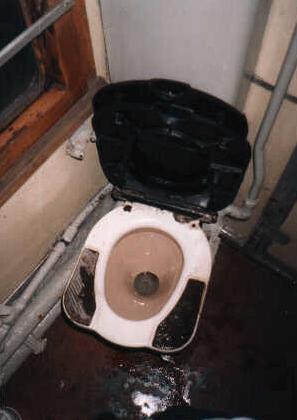 Notice the footpads on this toilet on board a
Latvian passenger train
. This passenger car was built in Russia during the days of the Soviet Union, when rail cars provided squatters for passengers from Central Asian Soviet republics.
Lower the seat and it's a raised throne. With the seat up, as seen here, it's an elevated squatter.
The tricky part is balancing on those foot pads as the train sways and bounces along poorly maintained rail lines! See the dedicated
train toilet page
for many examples from railroads around the world.
Check back tomorrow for another featured toilet!
Who is the Toilet Guru?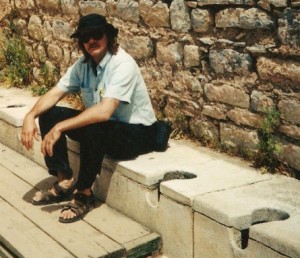 Who is the Toilet Guru? Is he obsessed? What is it like to be the Toilet Guru? Why does this site exist?
Read more
Let's visit the toilets!