Toilets of the World
Where do I put used toilet paper?
In the bowl or in the bin?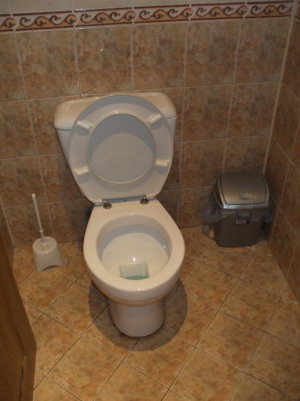 Do you know what to do with used toilet paper? If you start to say "Of course! You always put it in the...", then you are wrong! It varies from one country to the next, and sometimes it varies within a country. In some places you put it into the toilet and in other places it goes into a dedicated rubbish bin. Maybe you're anxiously looking this up on your smart phone while sitting on a toilet.
If so, look around you and see if there's a small rubbish container within arm's reach, probably lined with a plastic bag. Peep in there and see if it already contains used toilet paper. If so, put your paper there.
If there's no rubbish bin in sight, or if you're in the U.S., Canada, or Northwestern Europe, drop it in the toilet and hope for the best. For more details, keep reading!
Toilet paper should not be put into most squat toilets, as they are usually plumbed into systems not intended to handle paper. Squat toilets are common in countries in which water is the preferred personal cleaning method.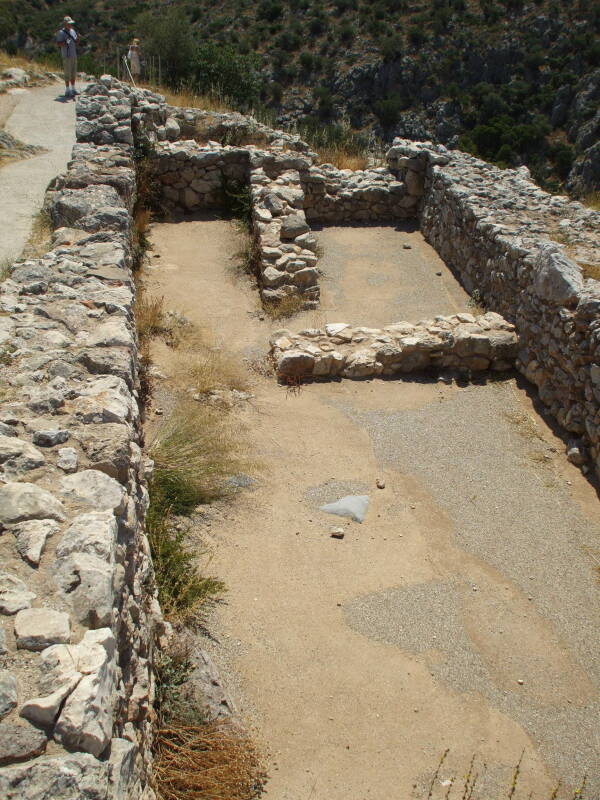 King Agamemnon
ruled the region's most powerful kingdom from the palace at Μυκήνες or Mycenae around the 14th Century BC. According to the legends, his brother was Menelaus, whose wife Helen was abducted by Paris of Troy. Agamemnon then commanded the Achaean forces (mislabeled as "Greek" today) in the Trojan War.
The picture above shows the innermost chamber of the main palace on Mycenae's hilltop citadel. This is where
Agamemnon's bed and chamber pot
would have been.
The page of Mycenae's plumbing
details Agamemnon's chambers as well as
the citadel's large cisterns
used to withstand protracted sieges. It also shows the
public latrines and cisterns
of the nearby Bronze Age citadel of Τίρυνς or Tiryns.
Check back tomorrow for another featured toilet!
Who is the Toilet Guru?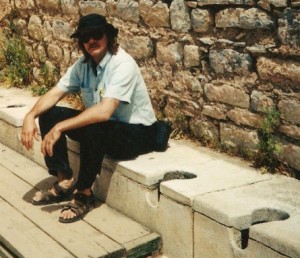 Who is the Toilet Guru? Is he obsessed? What is it like to be the Toilet Guru? Why does this site exist?
Read more
Let's visit the toilets!