Toilets of the World
Seatless Toilets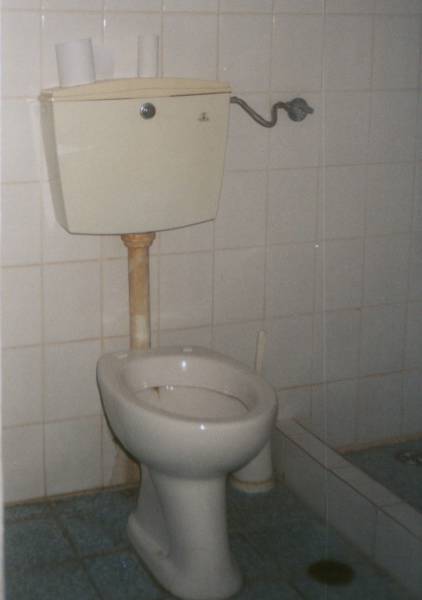 Who Took The Seat? Sometimes you will find that a toilet is missing its seat. I don't mean a squat toilet, but a raised porcelain commode that has holes for mounting a seat and lid but has neither. It seems to need a seat, but the seat is missing. Why does the owner do this? It's for hygiene. Toilets can be much cleaner without seats.
How are you going to use a raised porcelain commode style toilet with no seat?
Toilet seats are made of relatively soft and somewhat porous plastic or painted wood. That soft, porous surface provides plenty of opportunity for dirt and microorganisms to take hold, and it is nearly impossible to get it completely clean.
The bowl itself, however, is vitreous. That is, glass-like. A toilet bowl is extremely hard and non-porous. The outer surface of the bowl is a ceramic glaze that has been fired or baked to convert it to a material similar to glass.
You can be about as harsh or aggressive as you want, mechanically or chemically, in cleaning a toilet bowl.
Meanwhile the entirely non-porous glass-like surface provides no place for microorganisms to hide. So where do you sit? On the rim of the bowl, of course!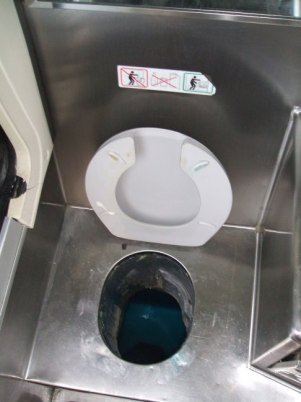 Inter-city buses
are not really the best setting for a
mobile toilet
. This example is from the U.S. Greyhound line.
U.S. buses
are not very nice ways to travel. The Greyhound line in particular seems to have a market whose brand loyalty is based on fond memories of rides home from prison. Megabus provides much nicer rides avoiding the Greyhound stations, which often are the worst places in cities. But their
on-board toilets
are almost identical.
National Express, Citylink, and other U.K. intercity lines have
much nicer on-board toilets
.
Check back tomorrow for another featured toilet!
Who is the Toilet Guru?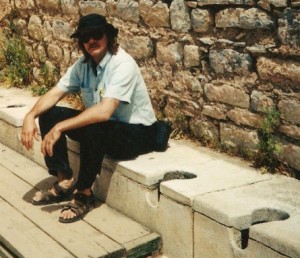 Who is the Toilet Guru? Is he obsessed? What is it like to be the Toilet Guru? Why does this site exist?
Read more
Let's visit the toilets!