Toilets of the World
Squat Toilets and Raised Commodes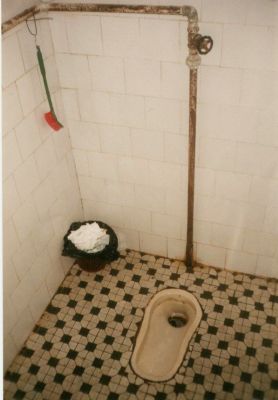 This is the biggest toilet question in the minds of most international travelers. For some potential travelers, especially Americans, it may be the biggest question of all and a large part of what keeps them from traveling out of their fear of the different and the unfamiliar:
When I visit that country, what will the toilets be like?
Will they be squat toilets, pans in the floor?
Or will they be raised commodes, like porcelain chairs?
For absolutely everything I have on the topic of toilets, arranged on a country by country basis, see my collection of international toilets. But allow me to attempt to summarize the distributions of squatters and commodes, of pans and thrones: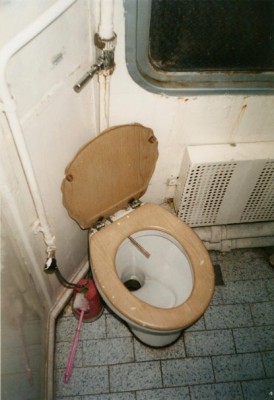 Some
Turkish toilets
are raised porcelain commodes, like many (but not all!) those found on trains and in hotels and restaurants catering to foreign visitors.
Turkish raised commodes
typically have a somewhat intrusive copper tube providing cleaning water, as seen here.
Turkish squat toilets
are accompanied by a water spigot and a small bucket or pitcher, which for mysterious reasons is almost always red.
Turks have traditionally used
water for cleaning
, with tissue paper only provided rarely for drying oneself. But a recent trend has rolls of toilet paper appearing throughout Turkey.
Check back tomorrow for another featured toilet!

Who is the Toilet Guru?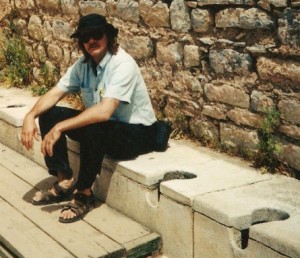 Who is the Toilet Guru? Is he obsessed? What is it like to be the Toilet Guru? How did Yahoo describe him? Why does this site exist?
Read more
Let's visit the toilets!