Toilets of the World
Where do I put used toilet paper?
In the bowl or in the bin?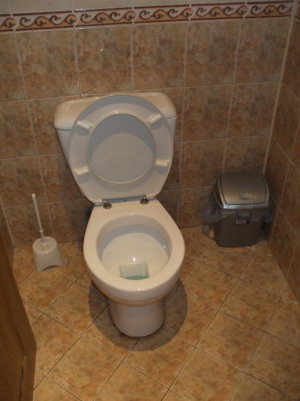 Do you know what to do with used toilet paper? If you start to say "Of course! You always put it in the...", then you are wrong! It varies from one country to the next, and sometimes it varies within a country. In some places you put it into the toilet and in other places it goes into a dedicated rubbish bin. Maybe you're anxiously looking this up on your smart phone while sitting on a toilet.
If so, look around you and see if there's a small rubbish container within arm's reach, probably lined with a plastic bag. Peep in there and see if it already contains used toilet paper. If so, put your paper there.
If there's no rubbish bin in sight, or if you're in the U.S., Canada, or Northwestern Europe, drop it in the toilet and hope for the best. For more details, keep reading!
Toilet paper should not be put into most squat toilets, as they are usually plumbed into systems not intended to handle paper. Squat toilets are common in countries in which water is the preferred personal cleaning method.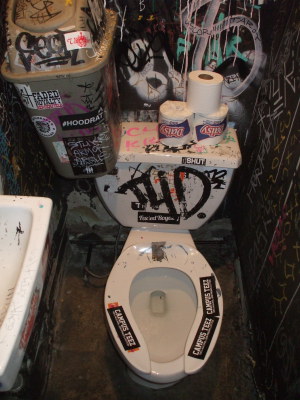 Lady Gaga
got her start at
Johnson's Bar
on Rivington Street on the Lower East Side of New York.
Johnson's is supposed a hard-core punk sort of place, but its
restrooms
aren't really that different from other LES places.
See the dedicated page
for the rest of Johnson's and its neighborhood!
Check back tomorrow for another featured toilet!
Who is the Toilet Guru?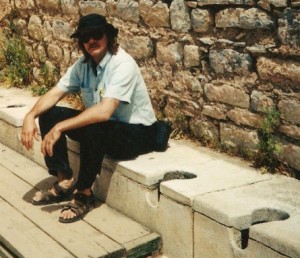 Who is the Toilet Guru? Is he obsessed? What is it like to be the Toilet Guru? Why does this site exist?
Read more
Let's visit the toilets!