Hong Kong Toilets
Hong Kong Toilets
I have been to Hong Kong twice on business, to teach courses in networking and information security. Both times I went a few days early to do some sightseeing and to get over the jet lag caused by flying from the U.S. to Hong Kong.
I arrived both times in Hong Kong late in the evening with no reservation and little plan beyond going to the Chungking Mansions and seeing what the touts would offer.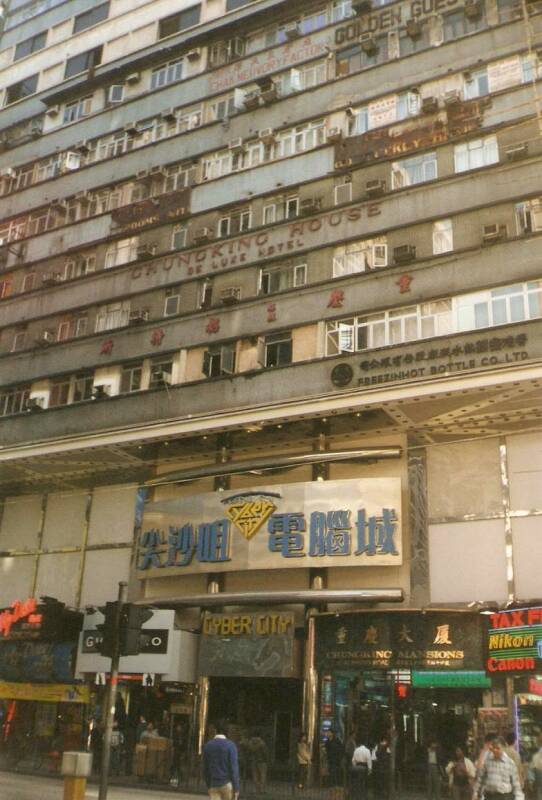 Yes, the company I was teaching for would pick up the bill for a nice room in a business-oriented hotel, but only for the time of the course itself. And the Holiday Inn on Nathan Road in the Tsim Sha Tsui area (pronounced "Jim Shaw Joy") is pretty much like a Holiday Inn anywhere. Meanwhile you could have a far more immersive experience (for a tiny fraction of the price!) just a block down Nathan Road at the Chungking Mansions.
Tsim Sha Tsui is in Kowloon, on a peninsula reaching into the harbor which is a strait between Hong Kong Island and the mainland.
You will have arrived after long flights at Chek Lap Kok International Airport, on the north shore of Lantau Island. Fast buses and a high-speed train connect the airport to Kowloon. So pick your transport, try to stay awake through the ride, and stagger out onto Nathan Road.
The Chungking Mansions are a dilapidated tenement block in Hong Kong, right in the middle of the tourist district on the Kowloon side of the harbor. The first two floors are a maze of passageways, not completely unlike a busy but very run-down Middle Eastern bus station. The remaining 14 floors have a bunch of guesthouses for budget housing, and some really good curry shops.
The first picture below shows my room — my entire room as photographed standing in the doorway — at the Fortunate Guesthouse.
Unlike the similarly-sized rooms at the Whitehouse budget hotel in New York, you get your own plumbing at the Chungking Mansion guesthouses. And compared to the on-board lavatory sized toilet and shower I had in another guesthouse on a later trip, this toilet is very spacious.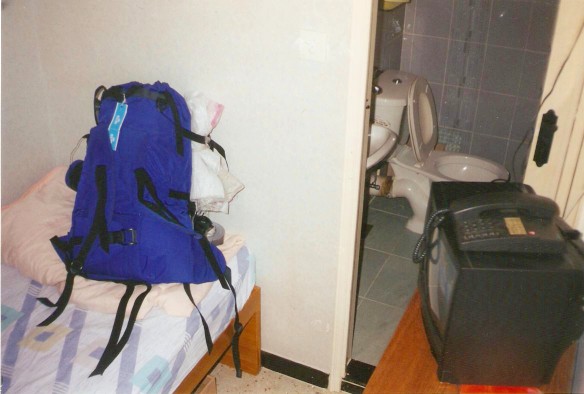 The second picture shows some of the lovely public toilets in the Chungking Mansions. This looks nasty, but it is not what struck me as the worst toilet in the world.
The Chungking Mansions are a fine place to eat and sleep, but the public toilets are dire.