Senator Larry Craig and the Men's Restroom at Minneapolis — St. Paul Airport
Senator Larry Craig's Men's Room
On June 11, 2007, U.S. Senator Larry Craig of Idaho was arrested for lewd conduct in a men's restroom at the Minneapolis — St. Paul International Airport (MSP).

According to the police report, there had been a pattern of complaints about sexual activity in this specific men's restroom. Surprisingly, it is not off in an obscure corner of the airport. It is just off the central concourse in the very busiest area of the entire airport.
A police officer sat in a bathroom stall while a detective waited outside in the concourse area.
After waiting about 13 minutes, the police officer observed Craig lingering outside his stall and frequently peeking through the crack of the stall door.
Craig then entered the stall to the officer's left. The police officer recorded the following observations in his report of the incident: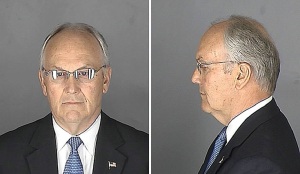 At 1216 hours, Craig tapped his right foot. I recognized this as a signal used by persons wishing to engage in lewd conduct. Craig tapped his toes several times and moved his foot closer to my foot. [...] The presence of others did not seem to deter Craig as he moved his right foot so that it touched the side of my left foot which was within my stall area.
At 1217 hours, I saw Craig swipe his hand under the stall divider for a few seconds. The swipe went in the direction from the front (door side) of the stall back towards the back wall. His palm was facing towards the ceiling as he guided it all [along] the stall divider. I was only able to see the tips of his fingers on my side of the stall divider. Craig swiped his hand again for a few seconds in the same motion to where I could see more of his fingers. Craig then swiped his hand in the same motion a third time for a few seconds. I could see that it was Craig's left hand due to the position of his thumb. I would also see Craig had a gold ring on his ring finger as his hand was on my side of the stall divider.
At about 1219 hours, I held my Police identification in my right hand down by the floor so that Craig could see it. With my left hand near the floor, I pointed towards the exit. Craig responded, "No!" I again pointed towards the exit. Craig exited the stall with his roller bags without flushing the toilet. Without causing a disturbance, I discretely motioned for Craig to exit the bathroom.
The police escorted Craig from the restroom to the airport police station and interviewed him. After Craig flashed a business card identifying him as a U.S. Senator, to no avail, he was asked first about the foot signaling. Sergeant Dave Karsnia's arrest report says, "Craig stated ... He has a wide stance when going to the bathroom and that his foot may have touched mine." Sgt. Karsnia asked: "Did you do anything with your feet?", and Craig replied: "Positioned them, I don't know. I don't know at the time. I'm a fairly wide guy."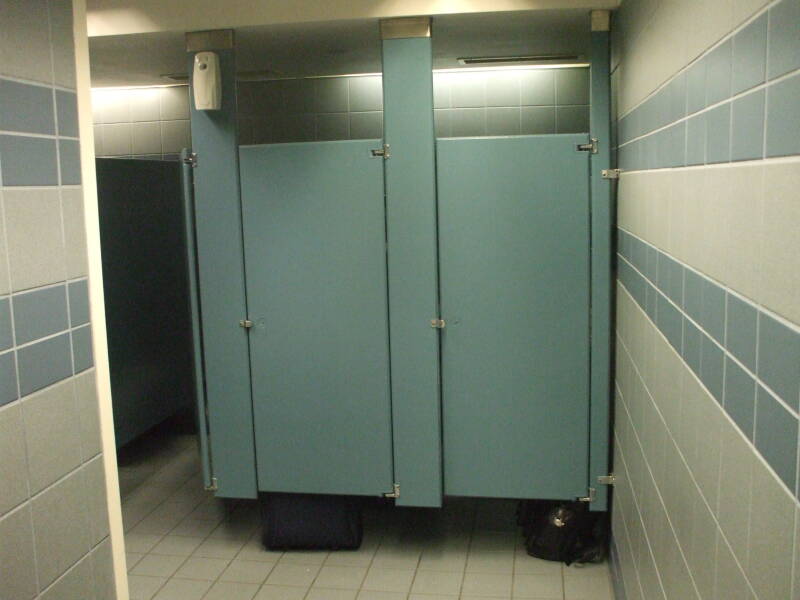 They then asked Craig about the hand signals, and he said that he had reached down to pick up a piece of paper that was on the floor. The police officer reported:
It should be noted that there was not a piece of paper on the bathroom floor, nor did Craig pick up a piece of paper.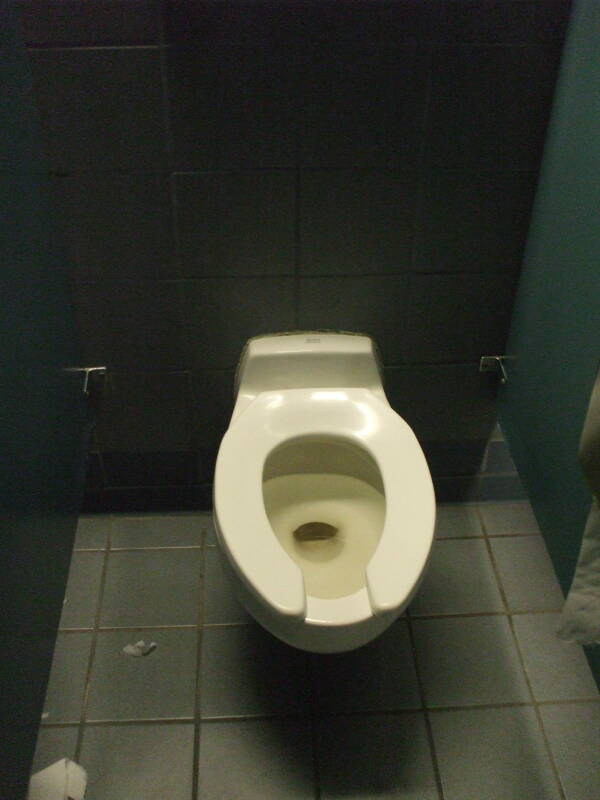 The following several months brought a long, sordid, and confusing sequence of angry denials, Craig's guilty plea to a misdemeanor charge of disorderly conduct (Aug 1), press conferences and more denials, a promise to resign (Sep 1), an attempt to withdraw the guilty plea (Sep 10), a statement that he would not resign after all (Sep 26), and a long series of men reporting that Craig had either solicited them for sex or had actually engaged in sex acts with them.
The American Civil Liberties Union then helpfully chimed with the legal argument that those engaging in sexual encounters in closed stalls in otherwise public restrooms "have a reasonable expectation of privacy", citing a previous case in the Minnesota State Supreme Court and therefore contradicting the state's claim that Craig was inviting the undercover police officer to have sex "in public".
I'm sure that Craig found their legal argument very helpful. Any Minneapolis or Cincinnati criminal defense lawyer would be amused that the ACLU had actually weakened the state's case against Craig.
In October 2007 Craig announced that he was going back on his promise to resign and would serve out the remainder of his Senate term in order to "continue my effort to clear my name in the Senate Ethics Committee — something that is not possible if I am not serving in the Senate."
Meanwhile, one year earlier in October 2006, a gay rights activist had reported on sexual liasons between Larry Craig and unnamed men in the men's room at Union Station, just a few blocks from the Senate office buildings in Washington, D.C. That report cites articles in The New York Times, in USA Today, in National Journal, and elsewhere, and references a news story from 1982 linking Craig to a Senate drugs and sex scandal.
Craig's arrest at the Minneapolis-Saint Paul airport in 2007 started unearthing even further reports of Craig's behavior, including an incident in Washington's Union Station, described in the article "Men's Room Arrest Reopens Questions About Sen. Larry Craig" in the Idaho Statesman on August 28, 2007.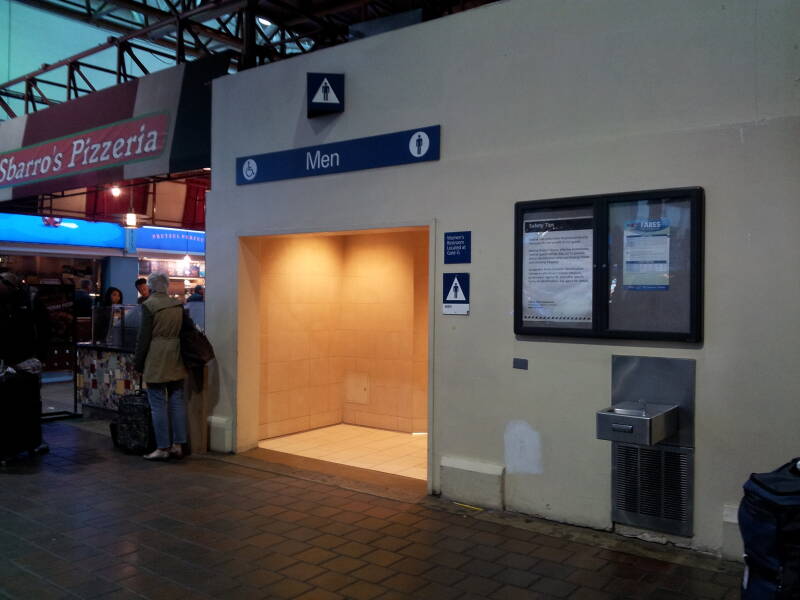 A December 2, 2007, story in the Idaho Statesman, "More gay men describe sexual encounters with U.S. Sen. Craig", was picked up by the Associated Press and the Washington Post and also carried by CBS News). It reported that "Eight men say they either had sex with Sen. Larry Craig or were targets of sexual advances by the Idaho lawmaker at various times during his political career."
In February 2008 the U.S. Senate Ethics Committee said that Craig's behavior was unacceptable even by U.S. Senate standards, saying that his "improper conduct" reflected "discreditably" on the United States Senate, and concluding that he had in fact committed the acts for which he had pleaded guilty, and that his attempts to withdraw his guilty plea were intended to evade the repercussions of his actions.
Finally, on January 3, 2009, Craig left office after not seeking re-election in 2008.
Three years after the arrest, I finally got the opportunity to photograph the notorious airport toilet when I managed to route some travel through MSP. I was a late arrival on the photographic scene according to a story in the Idaho Statesman, quoting airport workers a few months after his arrest as saying "People have been going inside, taking pictures of the stall, taking pictures outside the bathroom door ... man, it's been crazy", and "There've been a lot of people coming to see it, I've been asked several times to take photographs of people in front of the bathroom."
For more information see: