Toilet Signs
Toilet Signs
I'm always surprised by how many people are searching for pictures of toilet signs. They want signs that point to the toilet, signs for the men's and women's bathrooms, signs that explain how to use the toilet, signs that explain where to put your used toilet paper, and more. Well, I have several pictures of toilet signs. This sign points to the public toilets in Ueno Park in Tokyo.

This sign on this tree points to the public toilets at the Temple of the Six Banyan Trees in Guangzhou, People's Republic of China.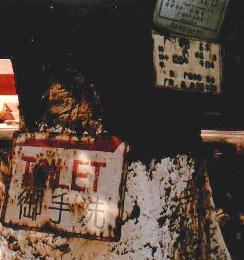 This is an abandoned public toilet in Veliko Târnovo, Bulgaria, with Bulgarian toilet signs. Click here for interior pictures of this one.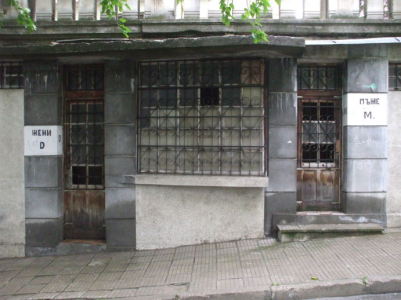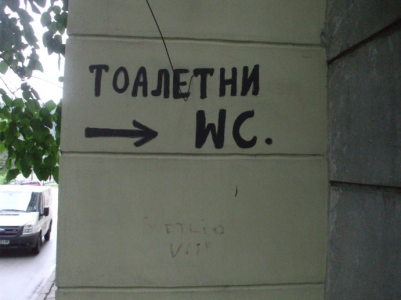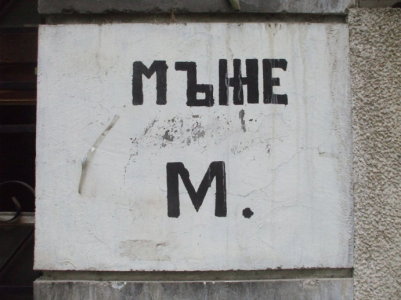 These signs point the way to public restrooms at the Whitney Museum in New York. See the page on Public Toilets, Private Space, and Gender for the history of public toilets and when they came to be segregated by sex.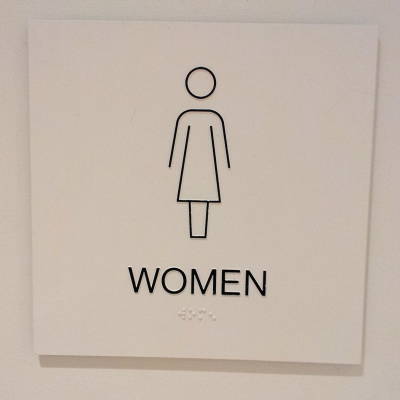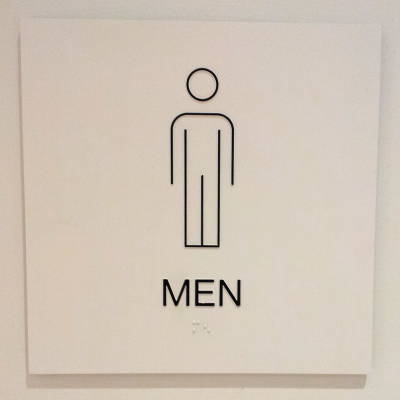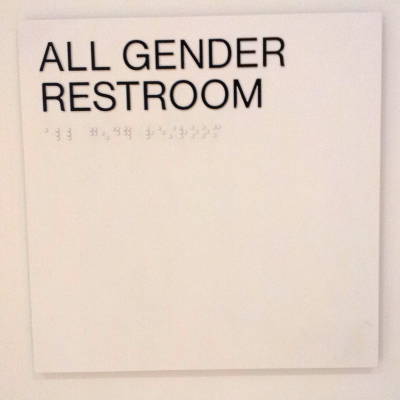 These signs indicate a uni-sex (or really pan-gender) public restroom at Purdue University: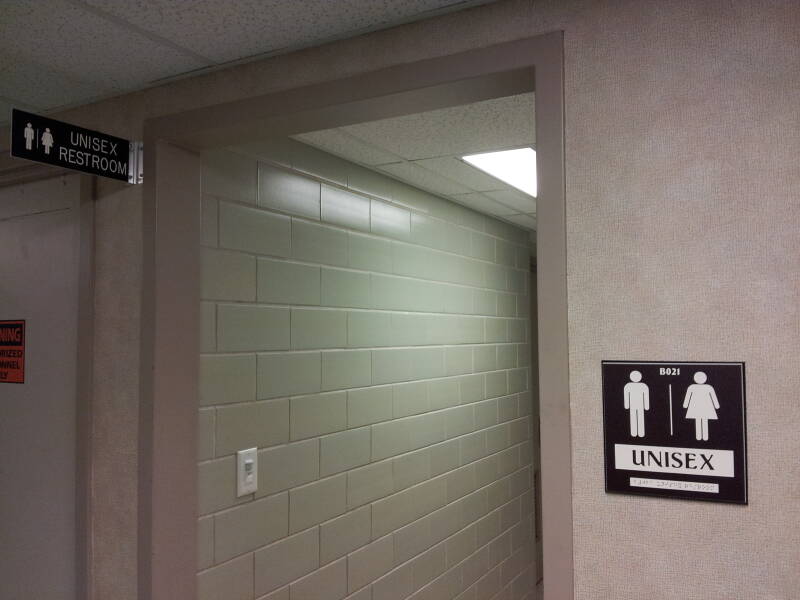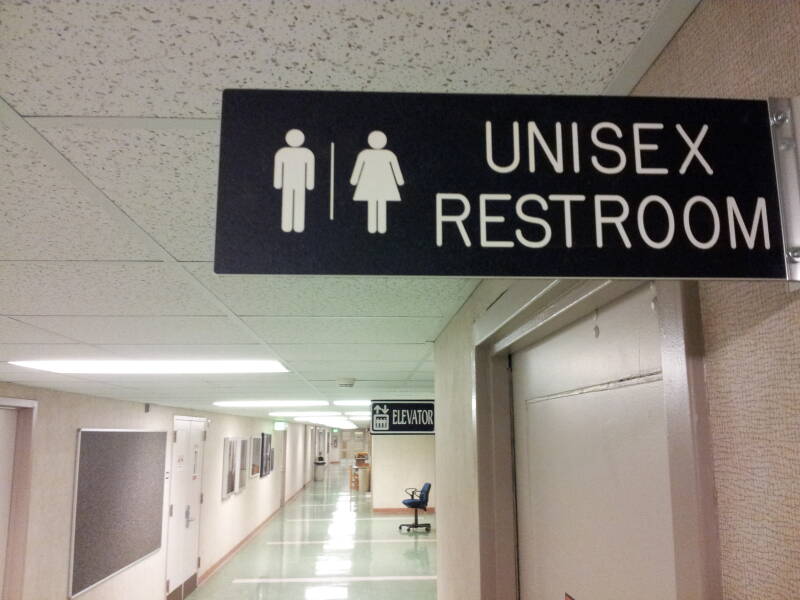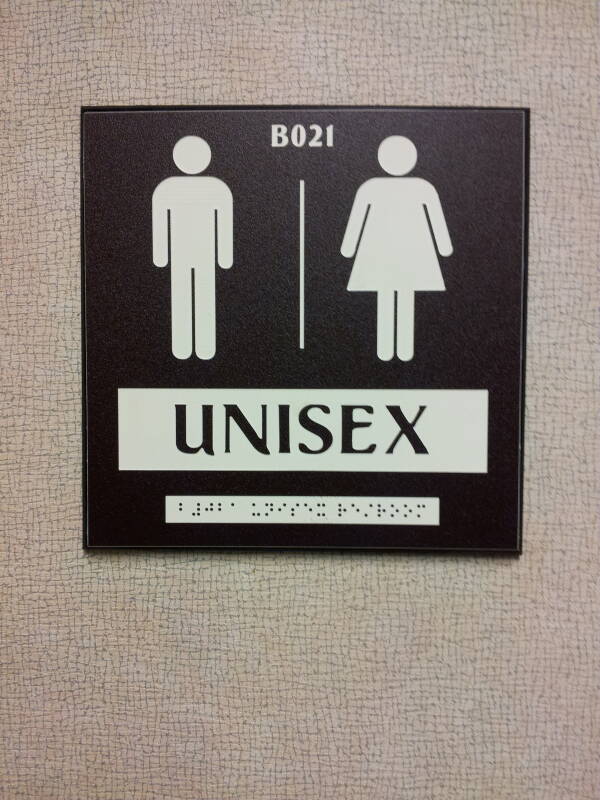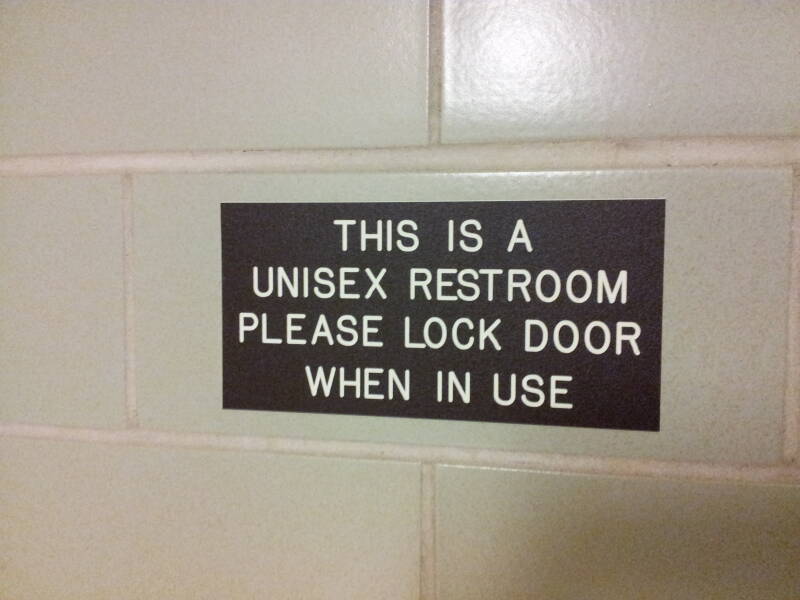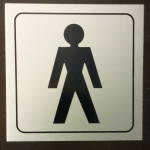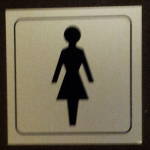 These signs are from Canada. Notice the more angular stick figures, more like Europe than what I'm used to seeing in the U.S.
Canadian toilet signs must be multilingual.
Canada keeps things green by preserving the environment whenever possible. For example, the War Museum in Ottawa uses unfiltered water from the adjacent Ottawa River for flushing. Why not?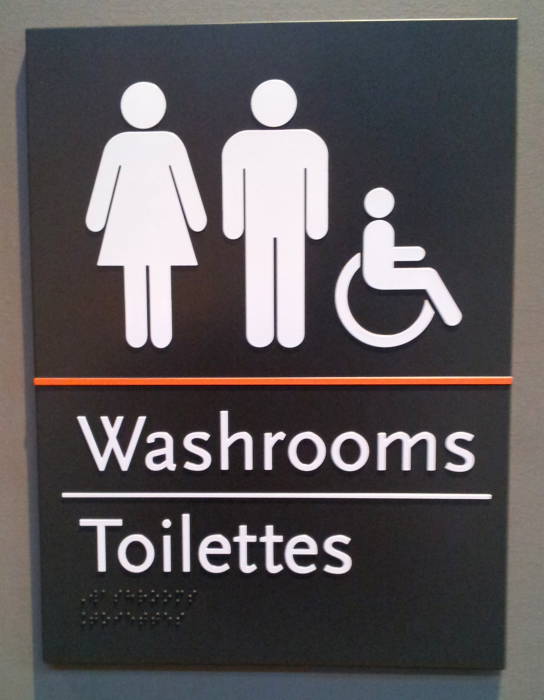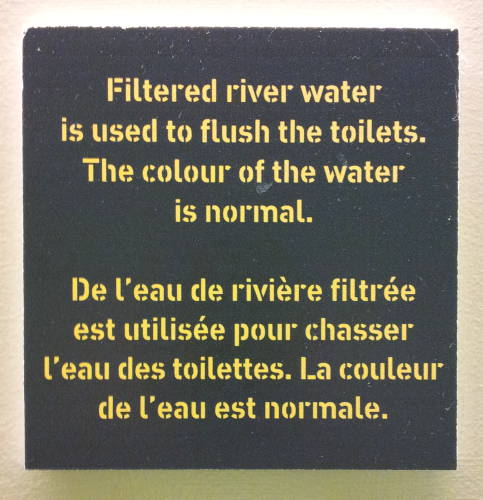 Aircraft toilets
The first sign below is on the inside of the door to a lavatory on board an MD-88 operated by Delta Airlines. See the aircraft lavatory page for details of toilets and other plumbing on board aircraft.
Fluxus
The second sign above is at the Guggenheim Museum in New York. It is unisex because it is uniperson. Because of Frank Lloyd Wright's impractical design of the building, the restrooms are very small and can accommodate just one person at a time. See the dedicated page on the fluxus movement for more on the toilets and plumbing-as-modern-art in Paris, New York, Toronto, and Lafayette.
Neither of these instructional signs are images I took myself, they came from somewhere out on the net. But for those of you needing to instruct people in the use of non-squat toilets, they might be useful. These are in Bahasa Malay and Arabic.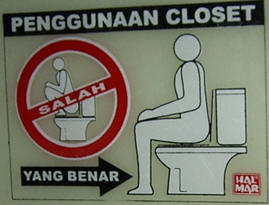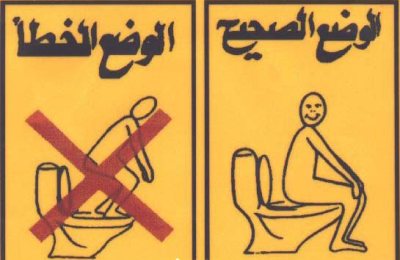 For the Malay one, thanks to Hamachi for the translation:
| | |
| --- | --- |
| Penggunaan closet | Using closet |
| Salah | Mistake |
| Yang benar | What's correct |
But you already knew that, right?
And if you can't teach your users how to sit, look into those ex-Soviet train toilets with the squat-pads on the rim.
Be aware that many public facilities in Paris close for a lunch break for the women who collect the entry fee, including this one at Place Madeleine.
Ouvert: 10h00 à12h00, et 13h00 à 18h15.
Plan ahead!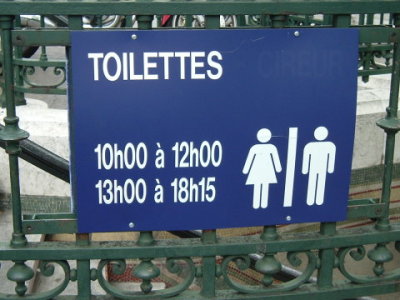 Here are two more signs indicating les toilettes publiques in the Paris Métro.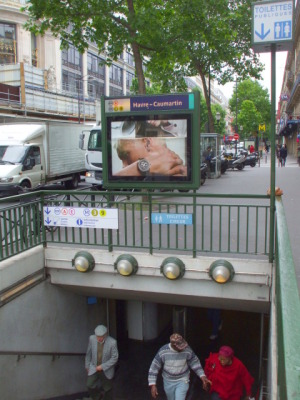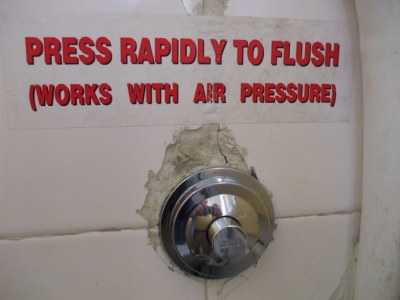 This sign indicates public toilets on the island of Mykonos.
δημοτικες
τουαλέτες

demotikes toualetes
public toilets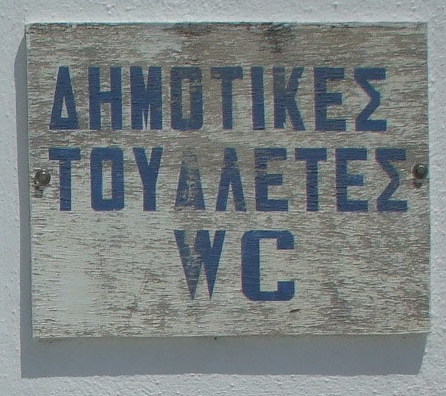 Magnets! MAGNETS!! LOOK OUT!!!
Some of the UK railways put magnets in their train toilet seats and lids.
They provide rather ominous warnings about it.
See the British Toilets page for more British toilets.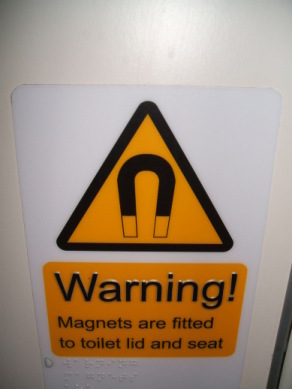 Below, we see that the nomenclature of "Number 1" and "Number 2" seems to be more than just grade-school euphemisms — it is used by no less a lavatorial authority than Sloan! And if you did not pay attention in grade school, "Number 1" is liquid waste and "Number 2" is solid.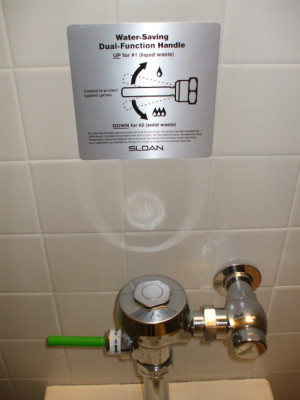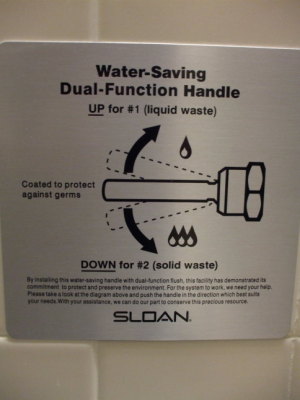 This was the first of these that I saw, in the public restrooms of a training company in Reston, Virginia, USA.
Water-Saving Dual-Function Handle
UP for #1 (liquid waste)
DOWN for #2 (solid waste)
The green plastic coating on the handle is "to protect against germs", and the sign goes on to courteously ask the reader to "Please take a look at the diagram above and push the handle in the direction which best suits your needs."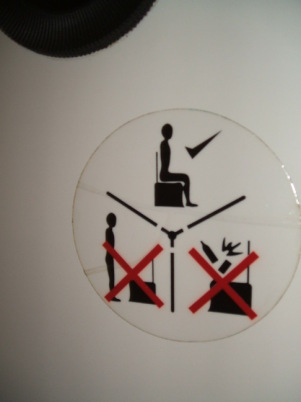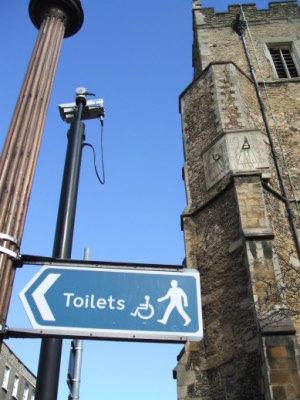 This sign was on the grounds of the U.S. Post Office in Chicago, between the Chicago River and the Rush Street entertainment area. I have no idea what it is supposed to mean.
If "curb your dog" means to prevent your dog from defecating on the sidewalk or grass, then what does "do not curb your dog" mean?
Should we force our dogs to defecate on their lawn? (And, while we're at it, any dogs that wander past while we're there?)
Or is this mysterious sign the work of the Anti-Animal-Constipation League, telling us that it's allowed (but not required) for our pets to relieve themselves there?
Also see the non-human toilet page.
Also see my Signs of Strangeness page.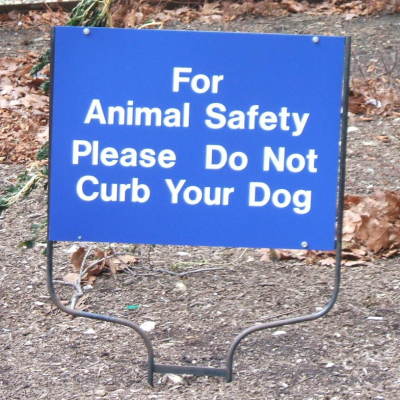 This sign is on board a Greek train from Athens to Kalambaka station, at Meteora.
As it says:
ΜΗ ΡΙΧΝΕΤΕ ΧΑΡΤΙΑ ΣΤΗ ΛΕΚΑΝΗ
MI RIKHNETE KHARTIA STI LEKANI
DON'T THROW PAPERS IN THE TOILET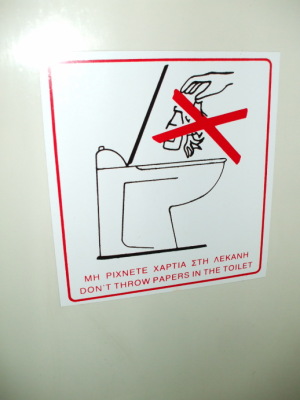 Here's a better look at another version of that same sign. This is a standard sticker available in Greek plumbing supply shops. This is specific instance is from the Philippi Hotel on the island of Mykonos.
Once again:
ΜΗ ΡΙΧΝΕΤΕ ΧΑΡΤΙΑ ΣΤΗ ΛΕΚΑΝΗ
MI RIKHNETE KHARTIA STI LEKANI
DON'T THROW PAPERS IN THE TOILET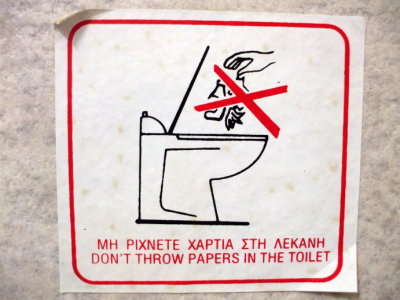 The Sydney Inn in Kastraki, Greece, under the rock pillars of Meteora, has nice bathrooms. They include a different version of the standard Greek bathroom sign:
Μη ρίχνετε χαρτιά στη λεκάνη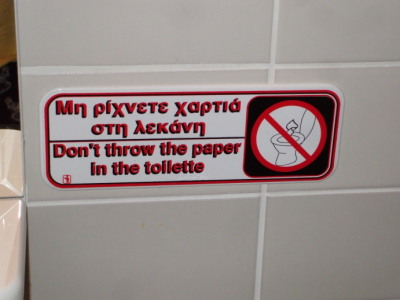 This is a Greek all-graphical admonition to put all paper into the waste bin. It's a sticker just below the centered flush button on the front of the tank.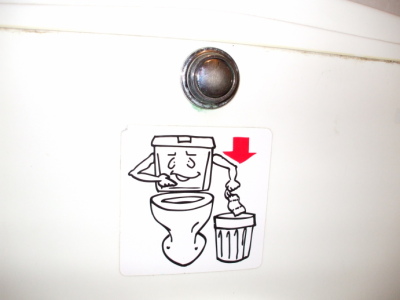 This is a strange sign carved in stone along a street in Amsterdam.
HOMO SAPIENS NON URINAT IN VENTUM
WISE MEN DO NOT URINATE INTO THE WIND
I was mystified by this sign until Thomas Wensing, an Actual Dutch Architect, saw this page and explained this project by Kees Spanjers:
"I am a Dutch architect, and whilst looking for toilets for one of our projects I happened upon your website. I have an answer to two of your questions. One is about the 'inspection plateau' which you will find on toilets in the Netherlands.i This is not due to the fact that we get our toilets from Germany, as a matter of fact we have quite a few sanitary manufacturers ourselves (Sphinx for instance). It is because we share a similar Teutonic hygienic neurosis and like to inspect our business before we flush it. So, there you have it, we're anal too."
"Secondly, the Latin inscription on the frieze. the apocryphal story is that the way that came about is that the architect of that particular building (it is a refurb of an old prison, btw.), Zaanen, Spanjers CS Architecten were so fed up with the red tape they had to cut during the planning process and grew wary of the vanity of developers and city hall alike that they cheekily decided to put it up there. They figured none of the councillors or dignitaries were clever enough to object to it during the planning process. And they didn't."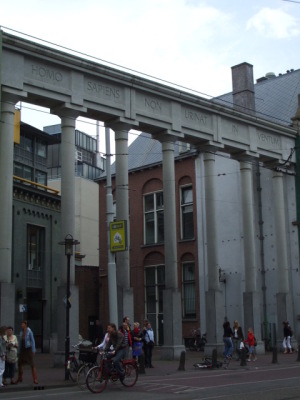 The next day he added some details:
"Dear Bob,

I have, in the mean time, done some web research and found the following quote from the architect, who designed the building:

"Roman gates are always carry Latin inscriptions. I chose this particular text, because there had been a lot of hassle in the run-up to the building. There were supporters and detractors, especially locals, no positions in-between. It nearly took fifteen years before the work could start. This is why I figured this to be an apt aphorism."

Translation by me, the original is from agenda.nl, the Dutch text reads:

"Romeinse poorten zijn altijd voorzien van een Latijnse tekst. Ik koos voor deze tekst omdat er nogal wat gehannes is geweest over de bouw van het Max Euweplein. Er waren vooren tegenstanders, vooral buurtbewoners, niets daar tussenin. Het heeft bijna vijftien jaar geduurd voordat de bouw door kon gaan. Ik vond dit spreekwoord daarom toepasselijk."

You can quote me in full in both instances. I do remember quite specifically that it was widely featured in the professional journals at the time, and that the venom of the architect wasn't only directed at the locals. I guess he toned it down a bit when he was interviewed in later years."
Also see my Signs of Strangeness page.
Sometimes toilets are modified to other purposes but keep their original signs. The Astor Place subway station between Greenwich Village and the East Village in New York was built with a pair of public toilets.
I'm sure those got pretty nasty in the 1970s and 1980s!
That space has been converted to a small shop. Notice the nicely carved stone lintels still in place above the two doors: "WOMEN" at left, to enter the shop, and "MEN" at right, to enter some maintenance space.
If you're moving about Turkey, it's probably by bus. Which means you'll eventually need to find the tuvalet when you're at an otogar. An actual Turkish otogarlu tuvalet can get pretty disgusting, even by Internet standards. So here is just the indication of one. See the sign?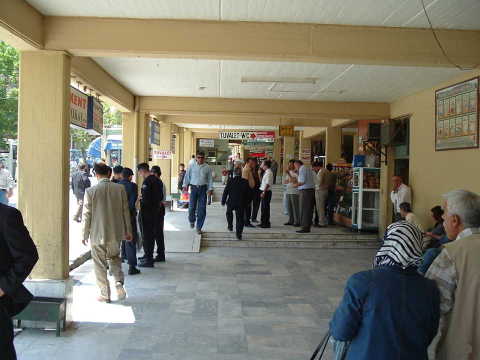 This non-judgemental sign is found at the HI hostel in Baltimore:
If this toilet overflows, please, please let us know.
Come to the desk and let us know. Ring the doorbell, wake us up and let us know. Because first it floods this bathroom, then it floods the bathroom downstairs by the kitchen, then it floods the private room's bathroom in the basement. That's three floors of damage. We won't judge you, we promise. It's an overflow-prone toilet. But we need to know when it happens.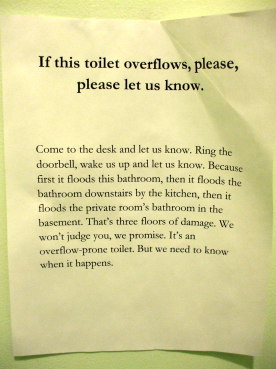 This cautionary and nautical themed sign is found at the Pacific Tradewinds hostel in San Francisco:
ATTENTION GUESTS:
The plumbing is over 100 years old. Please, Please, Please, Do not flush anything except pee, poop, vomit and toilet paper in the toilet. Tampons, sanitary napkins, condoms, wedding rings, microfilm, or stinky socks will not make it out.

The ship, she can't take it.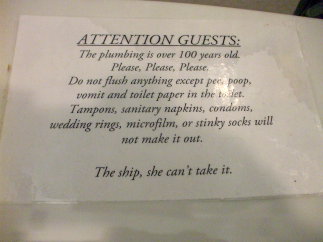 ---
Anti-Toilet Signs
The Bible (and also see the Toilets of the Hebrew Bible page) repeatedly warns against a certain sort of behavior:
Therefore, behold, I will bring evil upon the house of Jeroboam, and will cut off from Jeroboam him that pisseth against the wall, and him that is shut up and left in Israel, and will take away the remnant of the house of Jeroboam, as a man taketh away dung, till it be all gone.
— 1 Kings 14:10
Behold, I will bring evil upon thee, and will take away thy posterity, and will cut off from Ahab him that pisseth against the wall, and him that is shut up and left in Israel, And will make thine house like the house of Jeroboam the son of Nebat, and like the house of Baasha the son of Ahijah, for the provocation wherewith thou hast provoked me to anger, and made Israel to sin. — 1 Kings 21:21-22
For the whole house of Ahab shall perish: and I will cut off from Ahab him that pisseth against the wall, and him that is shut up and left in Israel: And I will make the house of Ahab like the house of Jeroboam the son of Nebat, and like the house of Baasha the son of Ahijah: And the dogs shall eat Jezebel in the portion of Jezreel, and there shall be none to bury her. And he opened the door, and fled. — 2 Kings 9:8-10
Modern communities sometimes warn of this, in more succinct ways that do not specify the punishments.
For example, Port of Spain, Trinidad & Tobago prohibits wall urination. However, it appears that removing your pants and leaving them there is OK: