Loos With Views
Keep an Eye on the World as You Go
Some toilets and urinals are surprisingly scenic. Not that they're necessarily much to look at, but they have a nice view to contemplate while you do your business.
The first of these is room 304 in the Recitation Building at Purdue University. Urinals, with no dividers, next to the sinks that are next to the windows.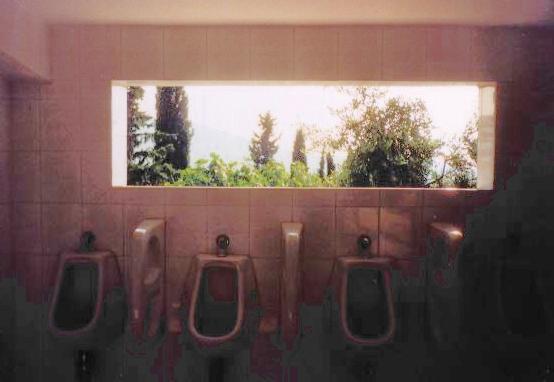 These surprisingly scenic urinals in the second picture are at Maryemana, on a mountain above Ephesus, in western Turkey. Also see the Middle Eastern section of this site for other Turkish plumbing. Someone else has photographed this one for a web site, and they have a better image at urinal.net.
Pissoirs
I hope that this will give no offense, but the French term for a simple public urinal really is pissoir.
Here is a pissior public in Avranches.
Wait, that's redundant. Tous les pissoirs sont publics.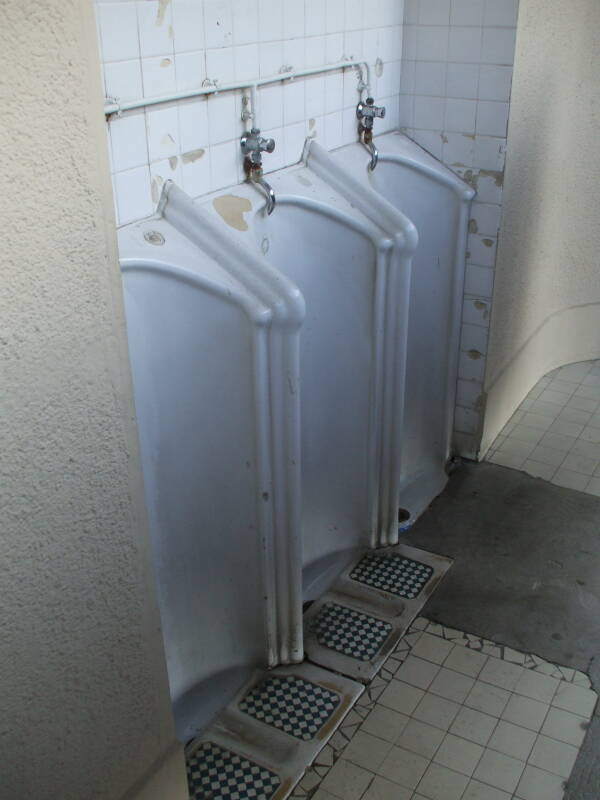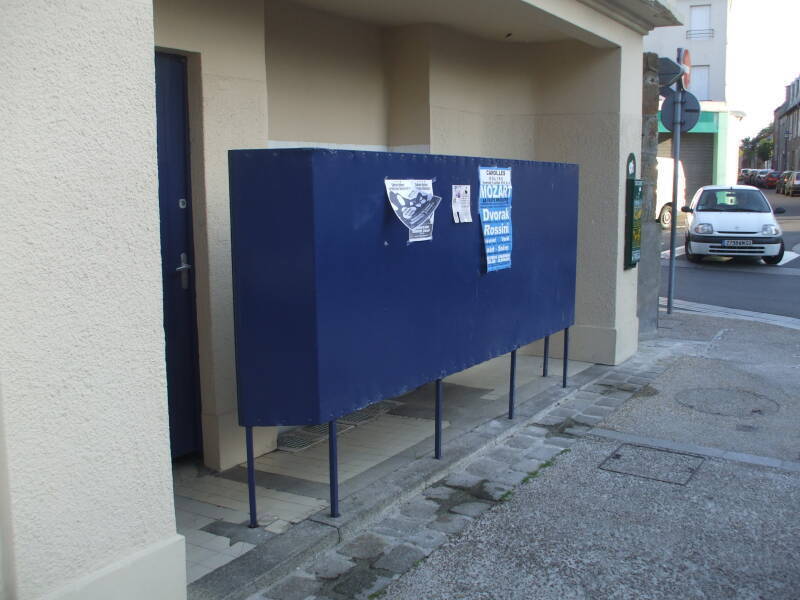 The Romans finished their Amphitheatre in Arles in Provence in 90 AD. It could seat 20,000 for entertainment spectacles including chariot races and gladiatorial combat.
Visiting
Arles
The Amphitheatre is large, 136 meters long and 109 meters wide with two levels of 120 arches each around its exterior.
At right you see one of the men's rooms.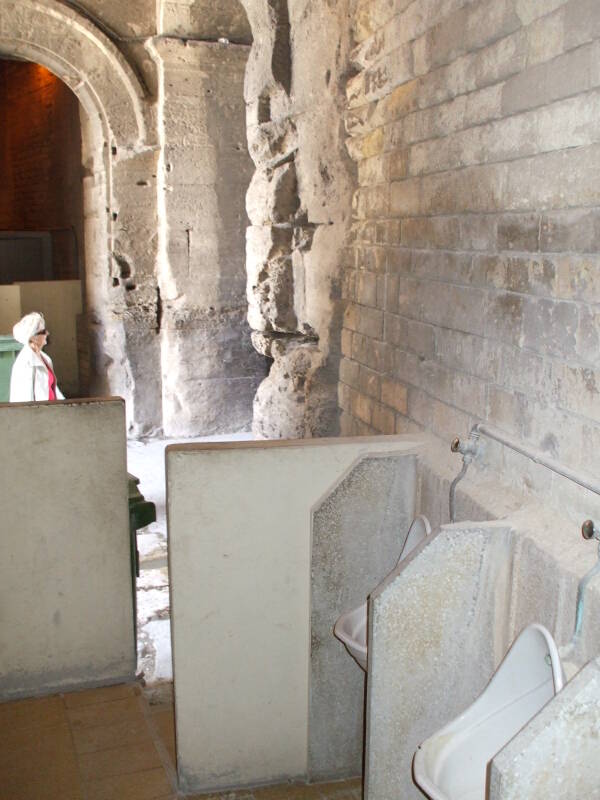 This urinal is around the 220' level in the Indianapolis Airport control tower.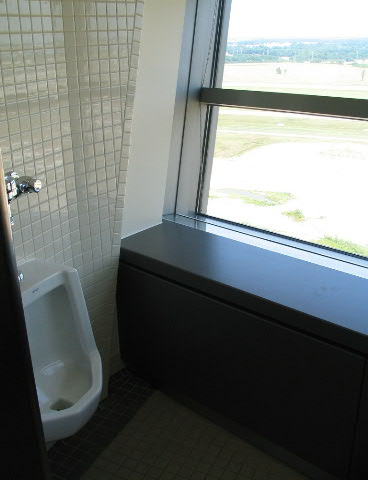 The outhouse behind the church in Angoville au Plain, in Normandy, has a limited view through a window.
Of course there were toilets in the formerly secret UK government bunkers tunneled into the cliffs above Dover.
Some of the tunnels date from the Napoleanic Wars, but they were greatly expanded during World War II. The UK anti-aircraft operations were controlled from here — radar and other data was gathered and interceptors were dispatched from here. See my page with many pictures from there.
Also see Winston Churchill's chamber pot.
This pit toilet was constructed from local rubble, just below the summit of Mt Sinai, Egypt.
It's not actually from the era of Moses, thought to be approximately 1450 BC, but the mountain has been a major pilgrimage site at least since when the Byzantine Empress Helena (ruled 313-328 AD) established a monastery at the base of the mountain.
Visiting
Mt Sinai
Toilets of the
Hebrew Bible
You would think that during close to 1,700 years they'd have had time to put doors and a roof on the thing!
And yes, the sani-flush blue background does indicate that I have used this toilet, just as it means on all my other pages.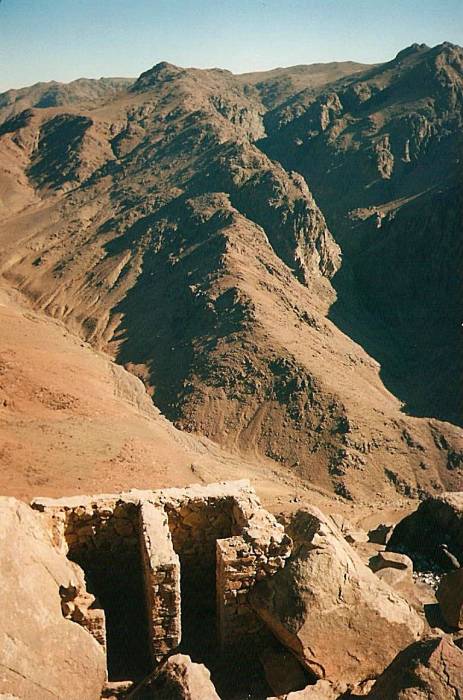 One may find these facilities when trekking in the Beşparmak Dağları, or the Five Fingers mountain range in Turkey.
Note how the waist-high enclosure provides both stunning views of the mountains for a user, and stunning views of the user for a passerby.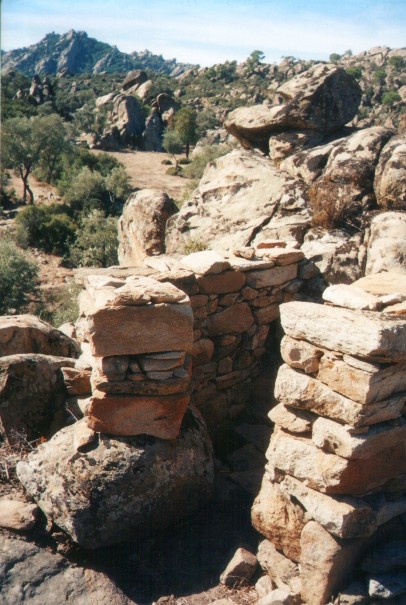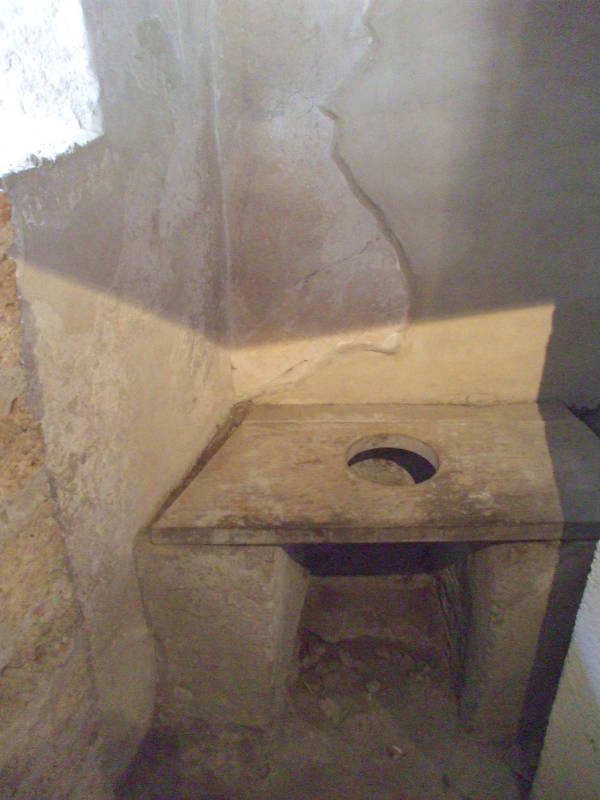 This is a pit toilet in the Boundary Waters Canoe Area Wilderness in Minnesota along the Canadian border.
While National Park Service pit toilets are pretty standardized, in the interest of completeness this one is at a campsite on an island in the northern part of Crooked Lake, around UTM 0589359 5339141.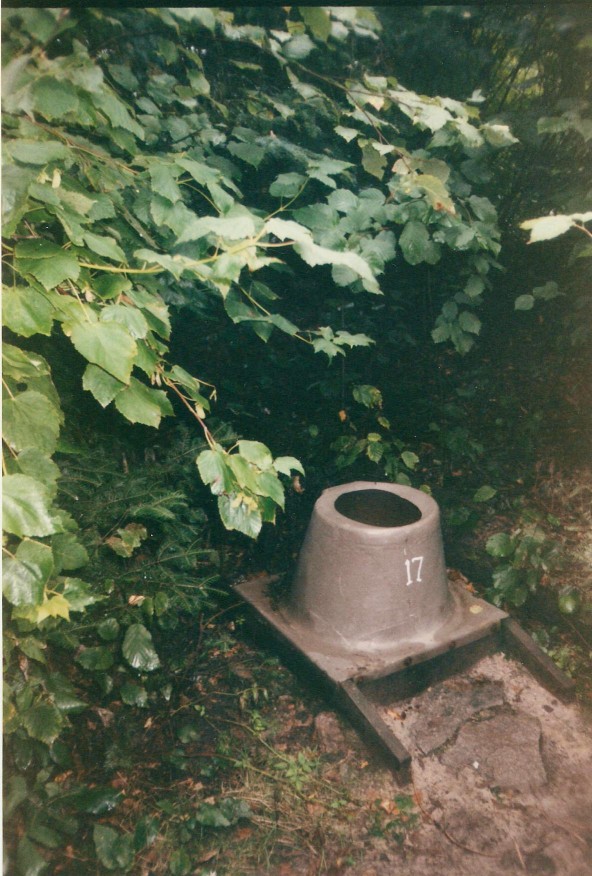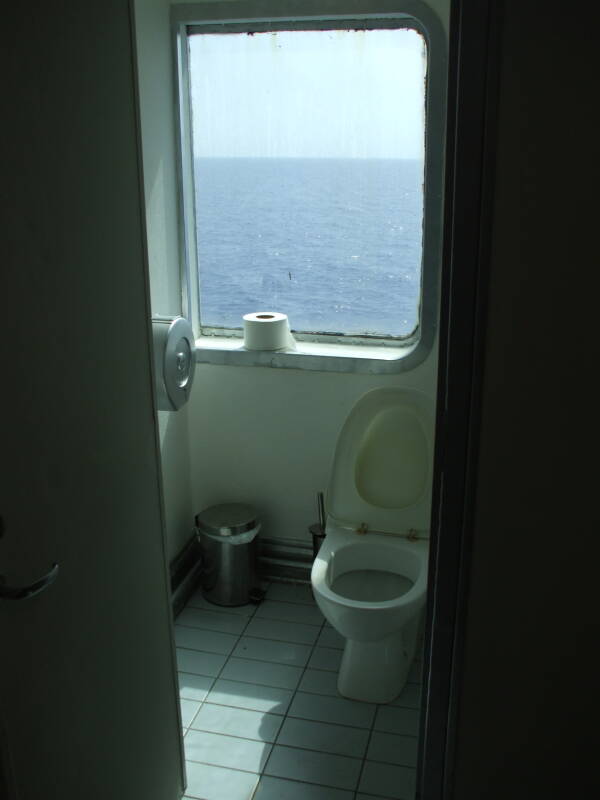 Pissoirs
Amsterdam has lots of open-air urinals. In some districts you find them on every corner.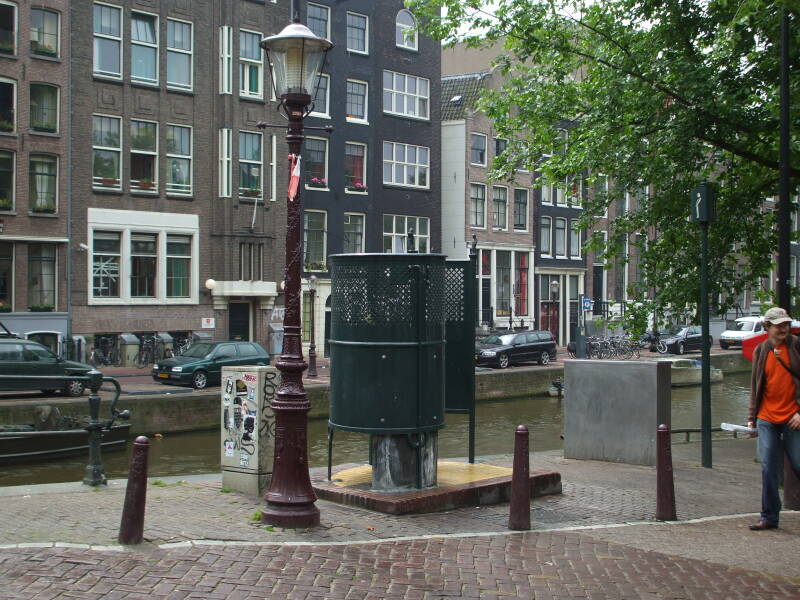 These are the old design: a lead-coated vertical panel enclosed within a spiral steel screen.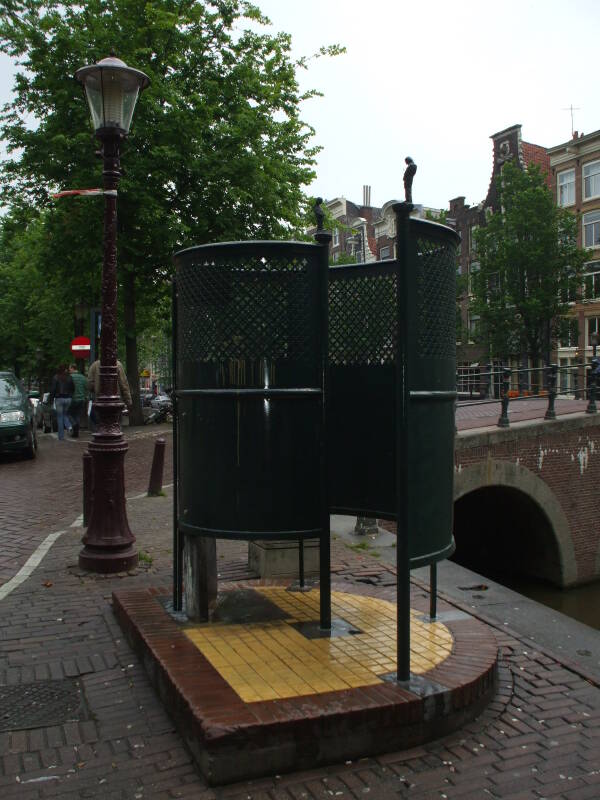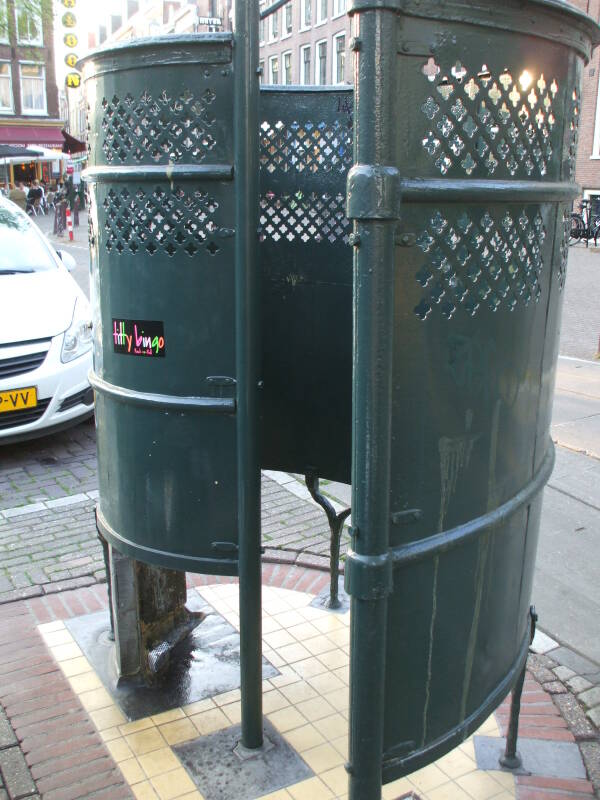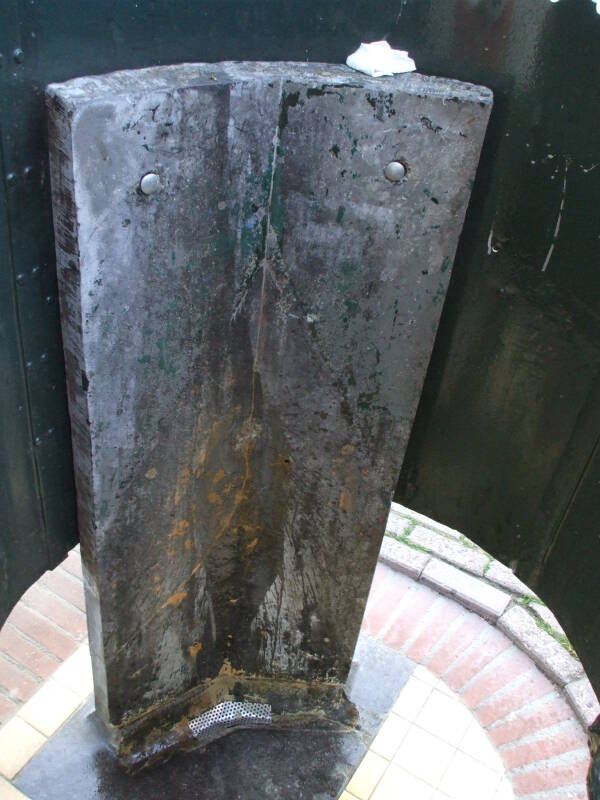 Then there are the new ones, shown below.
They are a plastic pillar type design with a steel hook at the top to move them. And yes, this is all there is to it.
It's awfully close to just peeing on a lightpole along the street.
"Performance anxiety" can be a problem. Note the blue border, I know what I'm talking about.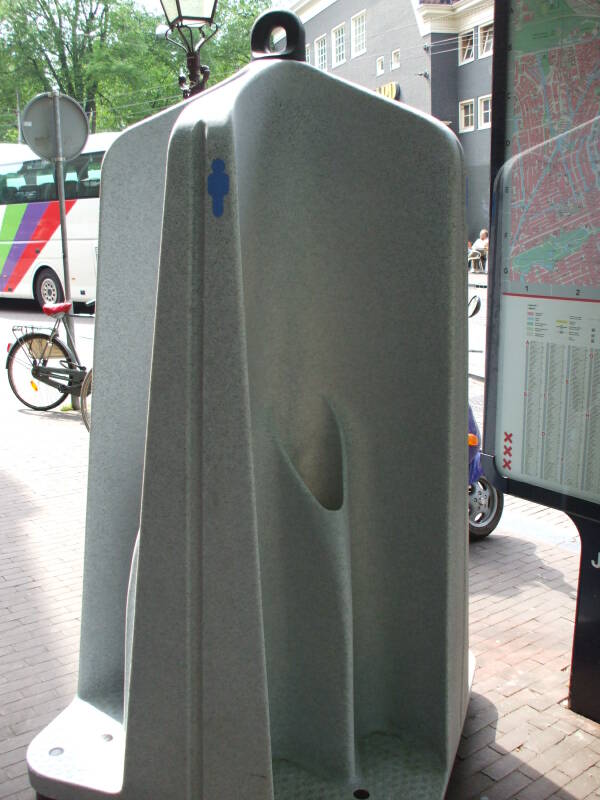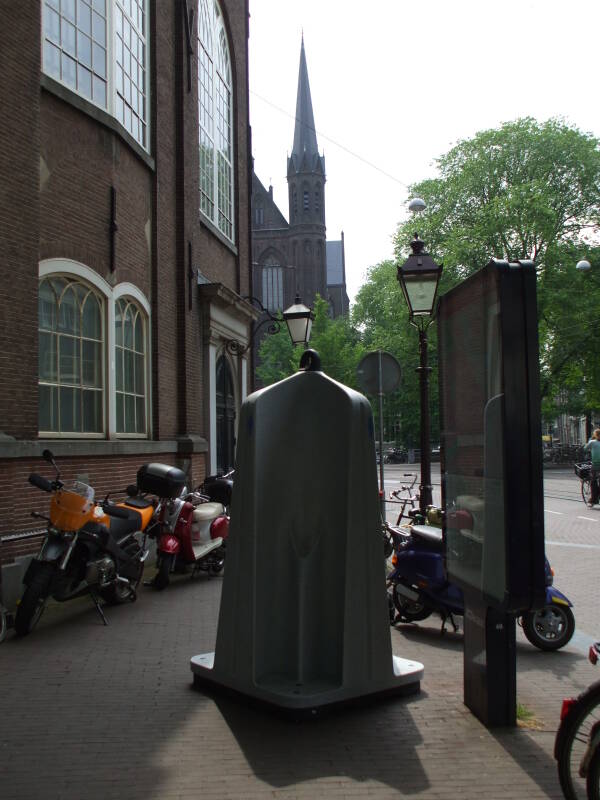 These examples are portable. A permanent but part-time public urinal solution has been invented by a Dutch company, the Urilift. They have been installed in a number of locations in Europe, including Denmark and the U.K.
The idea is that you have a cylindrical public urinal, about two meters tall and of a generally cylindrical shape. It is embedded in a sidewalk or the surface of a plaza. By day it is retracted down below the surface, looking like nothing but a manhole cover. At night, either under the control of nearby bar owners or triggered by a timer, it rises up.
They are installed to greatly reduce the incidence of public urination in areas with lots or bars or around nightclubs. They have been around at least since 2004.
This nicely decorated men's room is on the 25th floor of the Galt House hotel in Louisville, Kentucky, near their RIVUE restaurant and lounge.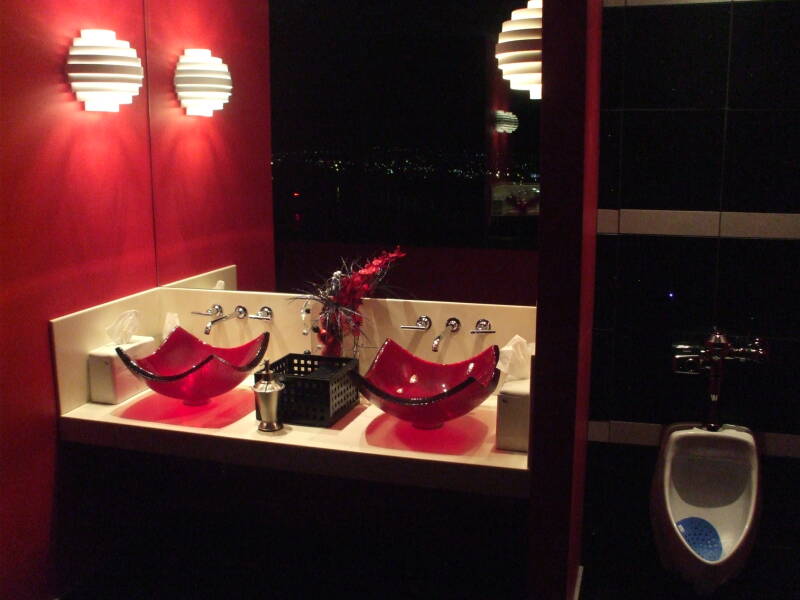 Large windows provide sweeping views of Louisville, the Ohio River, and across the river into Indiana.
Osaka Public Toilets
These toilets in Osaka, Japan are a little more open to the public than some foreign visitors are accustomed to.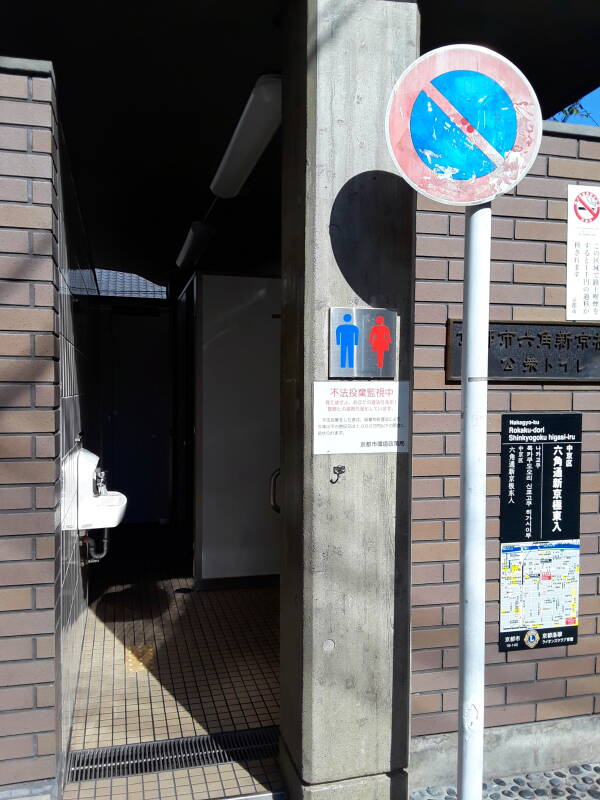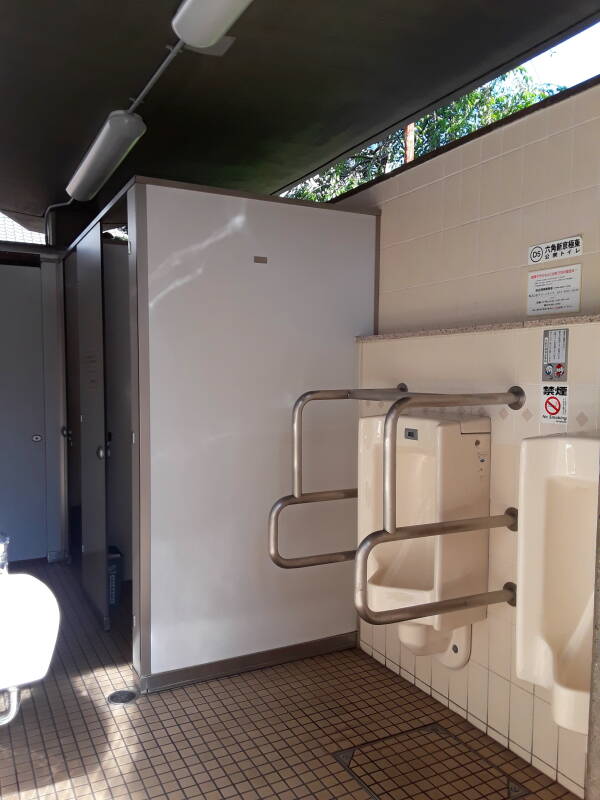 Dyrhólaey, Iceland
Icelandic
Toilets
Dyrhólaey is a promontory outside Vík. It is the southernmost point of Iceland, a former island formed by a volcanic eruption about 100,000 years ago.
Here are the urinals and sinks at the parking area.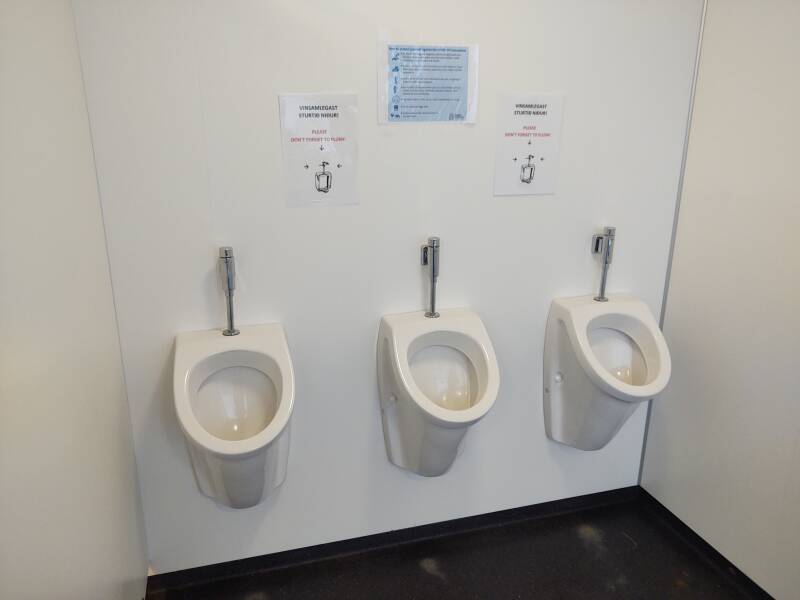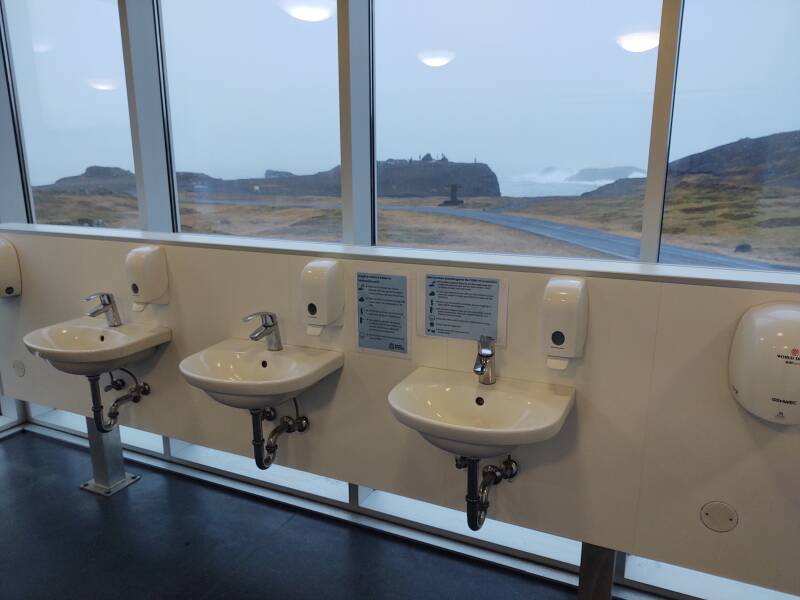 Þingvellir, Iceland
Iceland has the oldest Parliament in the world, their Alþing was founded in 930 CE. It originally met at Þingvellir, which is a rift structure of the Mid-Atlantic Ridge. That's the North American Plate on the left, and the Eurasian plate on the right. The flagpole marks the Law Rock where the national laws were recited at every annual meeting.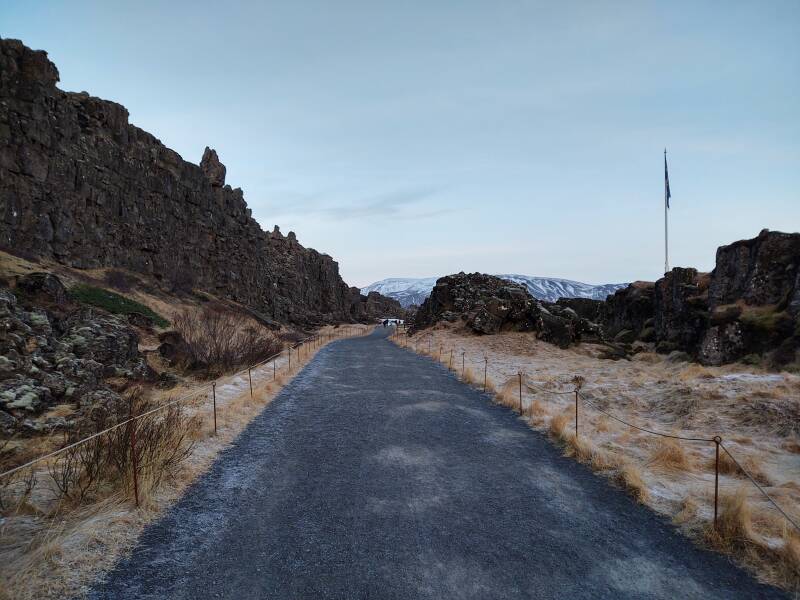 It's close to Reykjavík and a popular place to visit, so they have some nice public restrooms.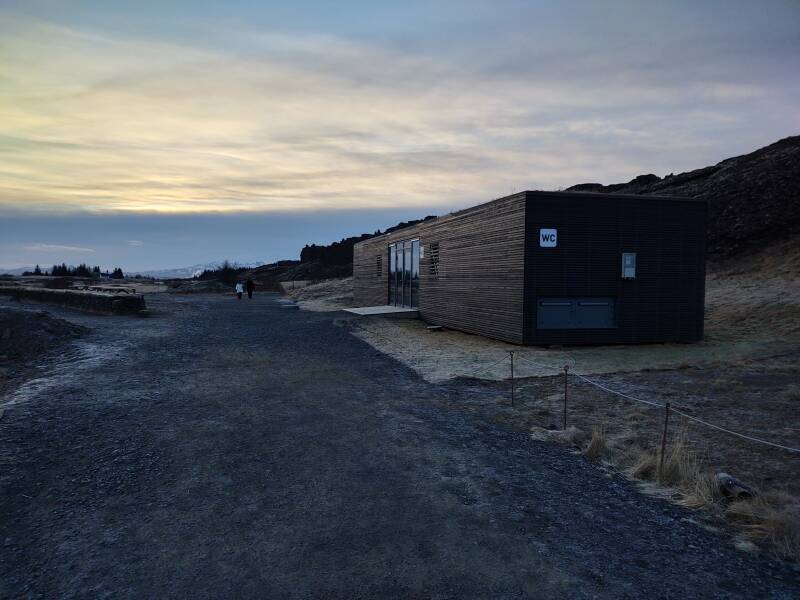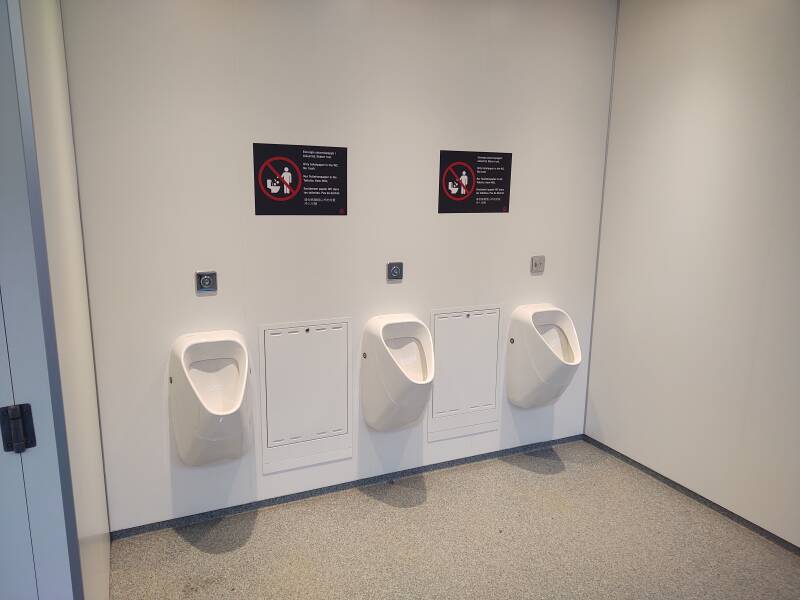 From the sinks you look right out into the historical site.